In Memory
John Dawson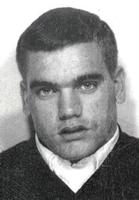 John Carl "Deacon" Dawson, 73, of Vermilion, died Wednesday, March 6, 2019 at The Abbewood, Elyria after a lengthy illness.
He was born October 18, 1945 in Cleveland and had been a Vermilion resident since 1971 moving from Lorain.
John worked as an Air Traffic Controller for the Oberlin Center for 10 years. He then became a Financial Analyst for the Department of Defense where he worked until he took an early retirement and started working at the Ohio Turnpike.
He was a member of St. Mary Catholic Church, Vermilion. John coached his daughters when they were in sports and enjoyed officiating high school and college football and high school basketball. He loved genealogy and studying the Civil War. He was writing a book about his families travels during the Civil War. He especially enjoyed his cats and spending time with his grandchildren and watching their sporting activities. He will be remembered as a prankster with a great sense of humor.
He is survived by his mother, Elva R. (nee Links) Dawson; daughters, Elizabeth "Betsy" Burger of Vermilion, Tracy (Fred Kehl) Dawson of Vermilion, and Cindy Duprey of Norwalk; grandchildren: Tara, Cody, Jessica, Eva, Jake, Kayla, and Ian; great-grandchildren: Adrian, Ellie, Marleigh, Maddax, and Zander; brother, Jeffery R. Dawson; and his sister, Christine G. Piskunoff.
He was preceded in death by his wife, Mary "Sam" Dawson in 2016; father, Robert E. Dawson; and his granddaughter, Hunter Isabella Kehl.
The family will receive friends on Sunday, March 10, 2019 from 12 noon until the time of a Memorial Service at 2:00 pm at the Riddle Funeral Home, 5345 South Street, Vermilion, Ohio. The Reverend Ron Brickner will officiate. Private inurnment will take place at Maple Grove Cemetery, Vermilion.
The family suggests memorial contributions to the Vermilion High School Athletic Department, 1250 Sanford St., Vermilion, OH 44089 .
Online condolences may be made at www.riddlefuneralhome.com.