In Memory
Janet Gould (Sternberg)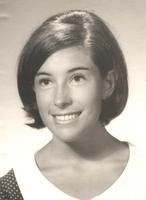 Janet G. Sternberg Born: July 11, 1945 Died: July 29, 2016
Janet G. Sternberg, age 71, of Batavia, formerly of St. Charles passed away Friday, July 29, 2016 at her residence. She was born July 11, 1945 in Lakewood, Ohio to James and Ruth Gould.
Janet was a member of Hosanna! Lutheran Church in St. Charles.
Mrs. Sternberg is survived by her husband, Dr. Richard Sternberg; two daughters, Laura (Rick) Beutler of Murphysboro, Tennessee and Stephanie Lynch of Rockton; two sons, Gregory Sternberg of Elgin and Matthew (Karla) Sternberg of Phoenix, Arizona; four grandchildren, Kristine Lynch, Andrew and Ryan Beutler and Tyler Sternberg. She was preceded in death by her parents; and a sister, Susan Small.