Memory Scrapbook
Wait until you see some of these!
We have various elementary school pics, some high school pics, a few from the 35th, and a few from the Class 60th Birthday. A bunch of pictures from the 40th reunion are on Picasa slideshow. Click here to see them ->
This is just a start

- PLEASE send your photos as an email attachment (jpg file the best, but a scanned picture can be posted) and we will upload them. This page will be a favorite if we can all look for our
early snapshots, high school and reunion photos and send them in to share with everyone.
(Can you sing along with the RRHS Alma Mater?)
Really old photos
...why not send some of yours?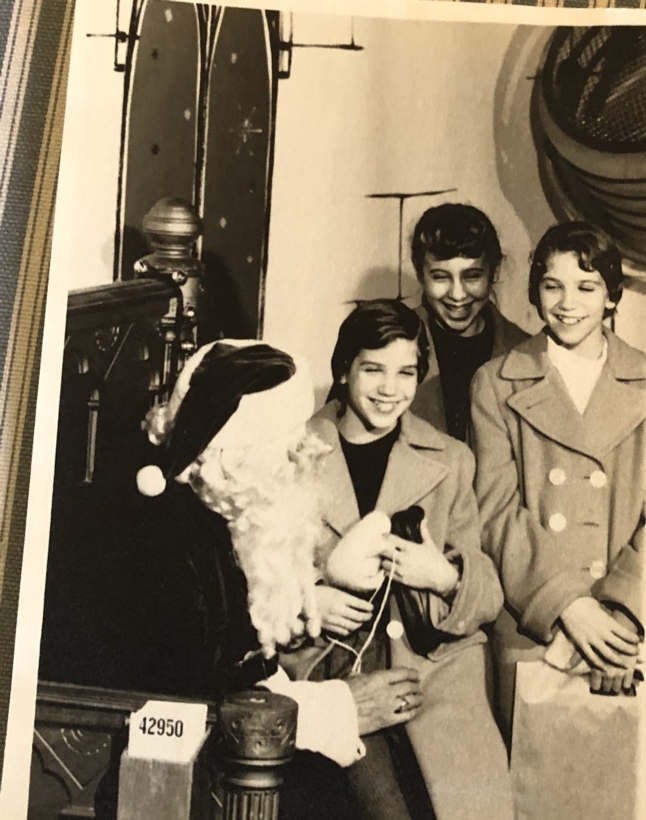 Kid's Day Senior Year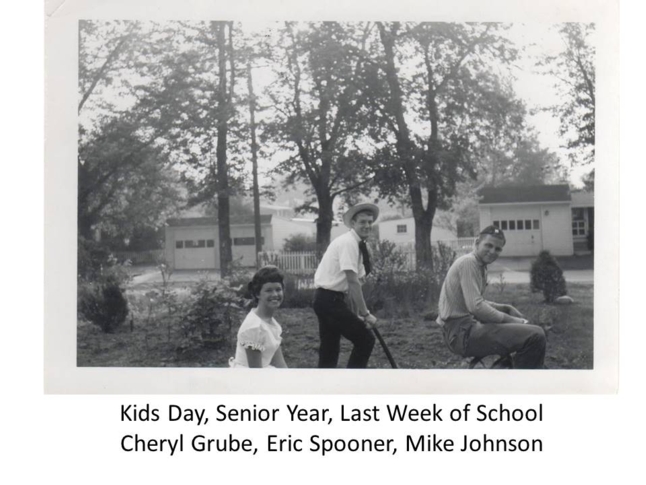 Brownie Troop 754 probably 3rd grade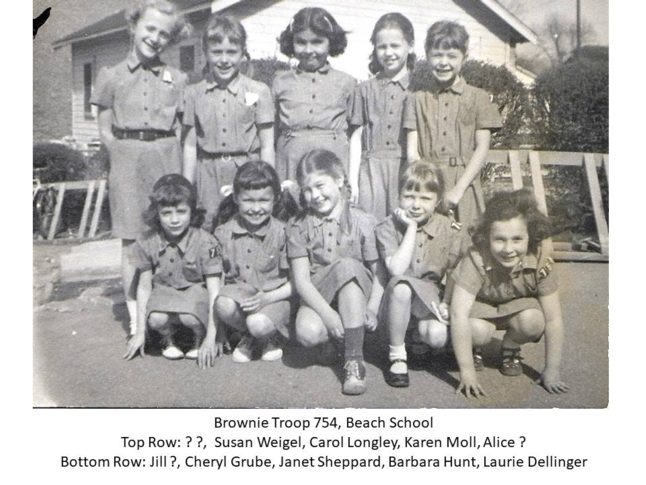 Beach School - 2nd Grade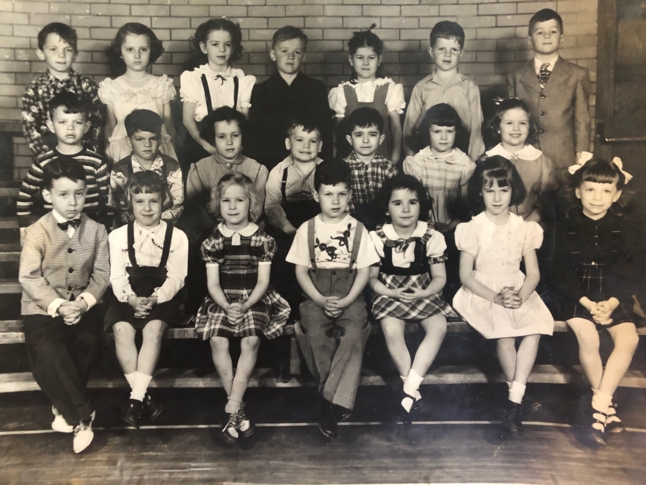 Beach School - 3rd Grade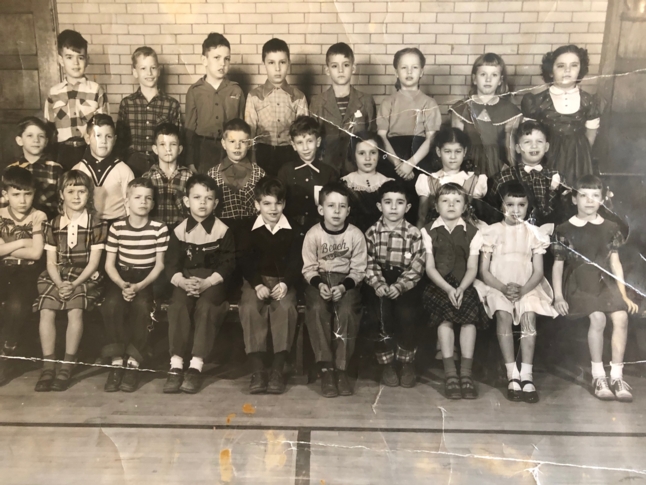 Junior High 7th Grade Science Class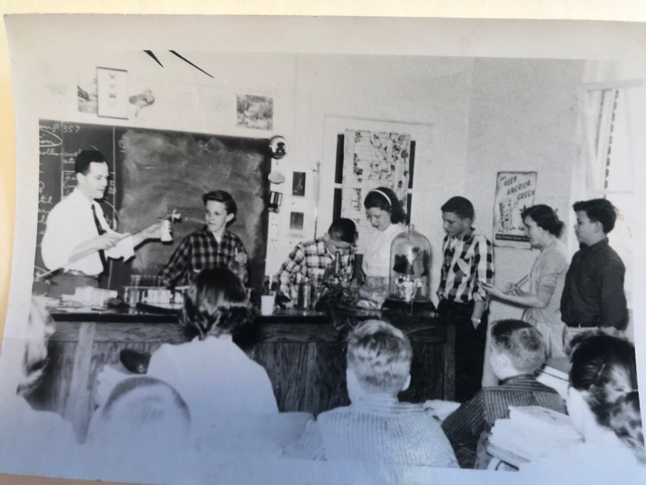 From Sarah Eakin Webster. Class photos from Kensington.
3rd Grade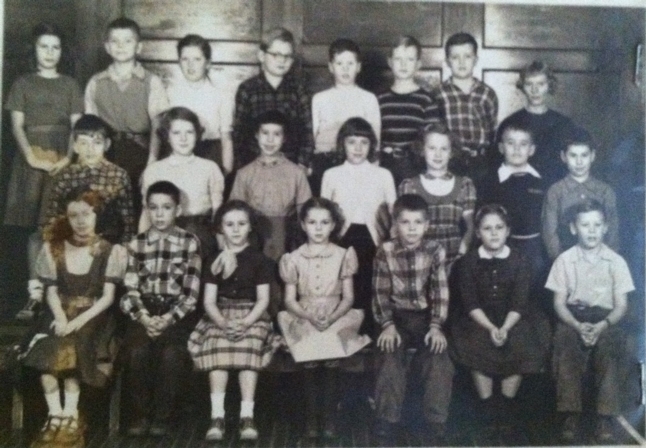 Back row from left to right: Mimi Jontzen, Pat Gillespie, Kathy Rapprich, Bill Turk, Jimmy McIntyre, Alan Greenleaf, John Phillips, teacher Mrs. Johnston
Middle row from left to right: Jack Dute, Sally Eakin Lynn Jeanie, Barbie Austin, Ellen Stromberg, Eric Damon, Clark Smythe
Front row from left to right: Angelo Alfano, Chris Pearne, Dinah Hebert, Bonnie Proudfoot, Fred Thomas, Julie Schatzinger, Brian Murphy
absent: Louise Naughton, Nancy Kovesdy
5th Grade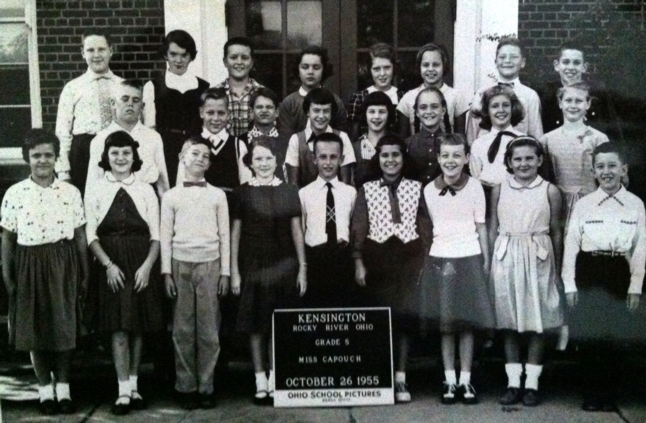 Back row left to right: Dick Lindsley, Martha McClure, John Phillips, Marcia Pullin, Sally Eakin, Sally Proudfoot, David Robinson, Chris Pearne??
Middle row left to right: Eric Damon, Bruce Miller, John Taylor, Susie Sanders, Lynn Lafever, Helen Hodson, Kathy Tabler, Marcia Gerstacker
Front row left to right: Nancy Westerfield, Deanne Dybold, Pat Fisk, Nancy Oetting, Ron Hanson, Debby Murray, Jane Moore, Paty Zimmerman, Pattie Riemenschneider, Charles Baumgartner
Remember the poem about the little girl with the curl?
---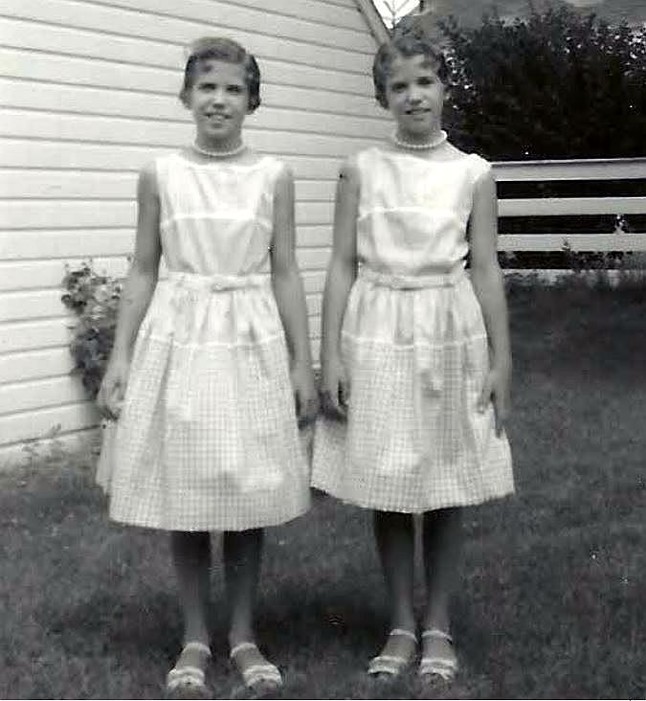 Thanks to Karl Marcussen (Front row, second from right) for this gem from Wooster School, sixth grade (Just two years after our Goldwood School class was ripped apart and only 12 of us were left in Goldwood sixth grade.) Who else do YOU recognize?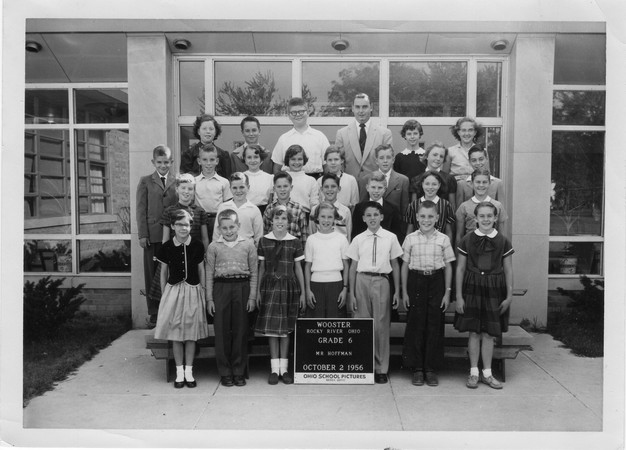 ---
WOW, these are some fantastic old shots from the 50's, sent to us after a lengthy search in her attic by Ellen Aspinwall Templar. The Girl Scouts are from all the elementary schools, and the 4th, 5th and 6th grade photos are from Beach School.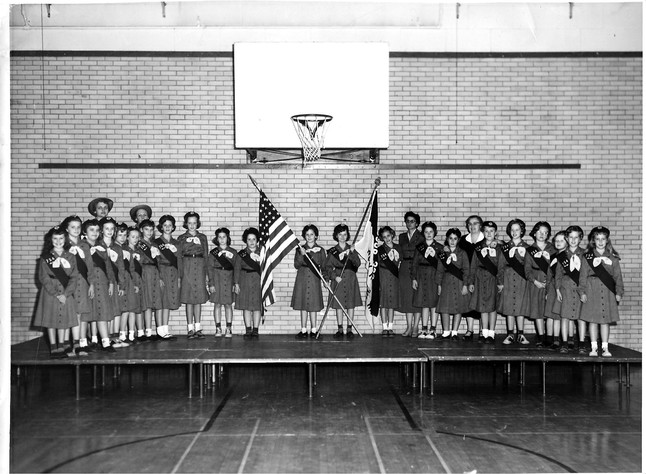 Left to right: Cheryl Grube,Ellen Aspinwall, Carol Longly, Wendy Marley, Mary ?, Judy Miller, Dianne Peters, Darlene Lestock, Peg Wiesenberger, Janet Sheppard, Laurie Dellinger, ??, Linda Pierce, Diane Dute, ??, Peggy Kazarian, Sue Weigle, Karen Moll, Gail?, Barb Hunt, Talie Timm, Barb Jacobus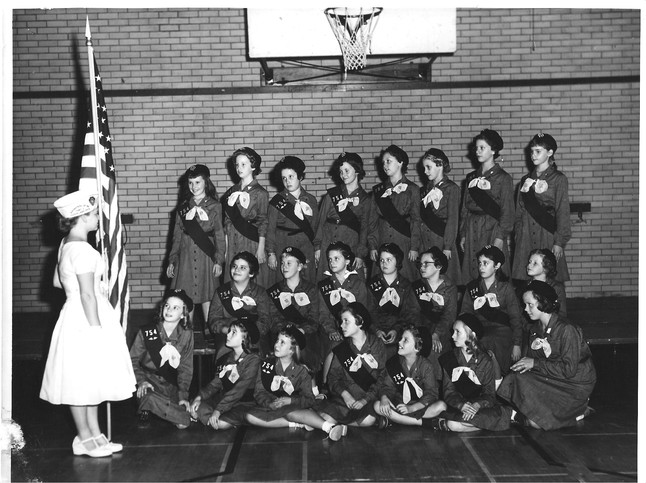 Back Row Left to Right: Cheryl Grube, Karen Moll, Laurie Dellinger, Linda Pierce, ??, Diane Dute, Darlene Lestock, Dianne Peters
Second row: Carol Longly, Sue Weigle, Ellen Aspinwall, ??, Gail?, Peg Kazarian, Barb Hunt
Front Row: Wendy Marley, Janet Sheppard, Barb Jacobus, Mary?, Talie Timm, Judy Miller, Peg Wiesenberger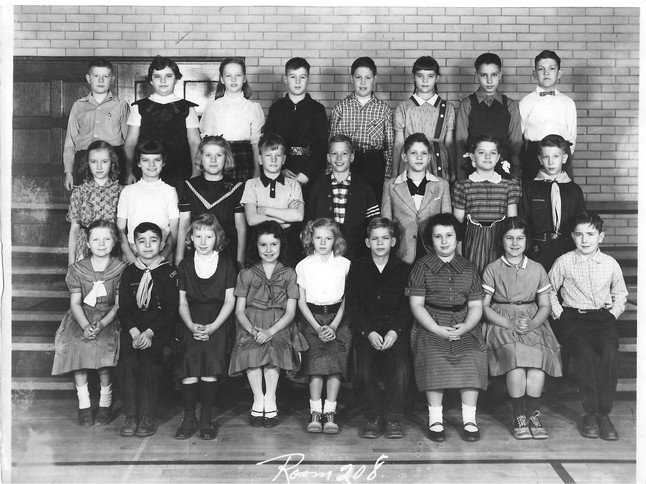 Beach School 4th Grade (1954): Left to Right,
Back Row: James Fenker, Carol Longly, Karen Moll, Fred Motts, John Pugsley, Dianne Peters, Graham Wolcott, Cliff Black
Row 2: Judy Miller, Patty ?, Sue Weigle, John Morris, Tom Brown, John Steffien, Ellen Aspinwall, Cliff Obrock
Front row: Barb Hunt, Gene Trythall, Lynne Holiday, Cheryl Grube, Mary Patak, Ed Smith, Laurie Dellinger, Janet Sheppard, Roger Bock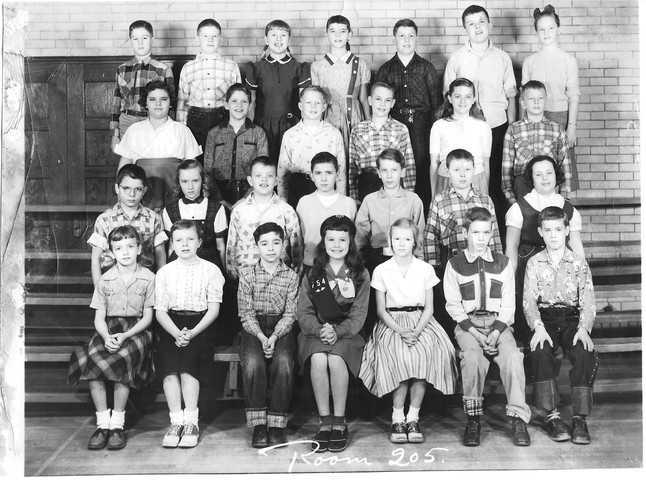 Beach School, 5th Grade (1955): Left to Right,
Back Row: Fred Motts, James Fenker, Sue Weigle, Dianne Peters, John Pugsley, Barry Bantum, Karen Moll
Third Row: Carol Longly, John Steffien, ??, Ray Lloyd, Ellen Aspinwall, John Morris
Second Row: Judy Miller, Buddy Manco, Roger Bock, Cliff Obrock, ??, Laurie Dellinger
Front Row: Shelly VanWinkle, Barb Hunt, Gene Trythall, Cheryl Grube, Mary Patak, Ed Smith, Bob Moses
Back Row: James Fenker, Fred Motts, John Pugsley, Barry Bantum, Dianne Peters, Karen Moll, Cliff Black
Third Row: ??, John Morris, Susan Barney, Sue Weigle, Carol Longly, Ellen Aspinwall, Ray Lloyd
Second Row: Bob Moses, Ed Smith, Tom Brown, Buddy Manco, John Steffien, Cliff Obrock, Roger Bock
Front Row: Barb Hunt, Shelley VanWinkle, Mary Patak, Laurie Dellinger, Robert Wagoner, Judy Miller, Cheryl Grube, ??
---
Thanks to Al Greenleaf for our latest addition! What a great old photo - those of you who visit the Message Forum already know who's who, but for those of you seeing this the first time - can you identify everyone? What year do you think this might be????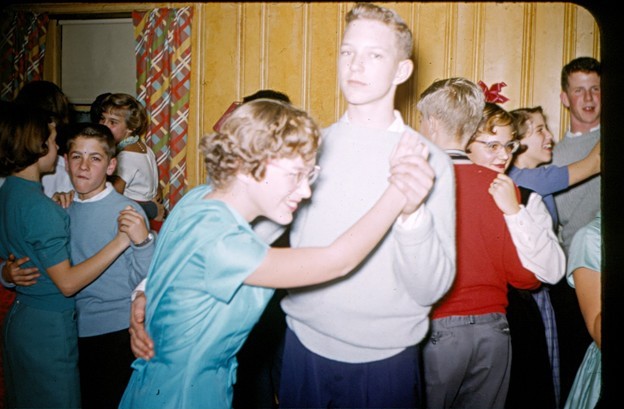 ---
JOHN DAWSON FOUND THIS IN HIS ARCHIVES -
Another group from St. Chris, 4th grade! See the caption underneath, provided by John himself....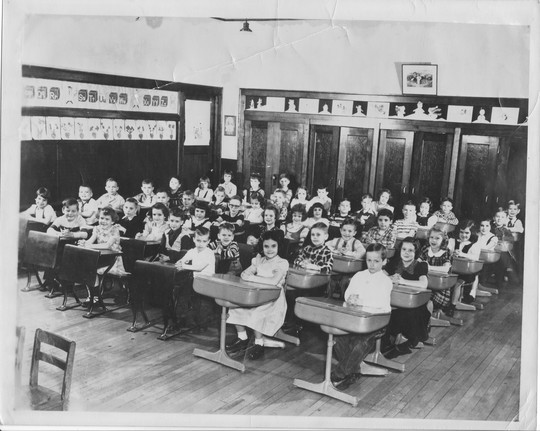 St Christopher's 4th Grade Class. John Dawson 1st row next to blackboard where his name appeared regularly to sweep the floor and add wax shavings (detention).
Ed Noonan is in the 3rd row from the right, 2nd to last seat where he was protected from Sister's evil eye (Best spitball in the class)
Bill Moga 4th Row, 4th seat.
Dennis Isabell 2nd row, second seat.
Don Isabell 1st row, 1st seat.
I believe Dan Weist was in the 6th row (next to blackboard) 4th seat.
---
Thanks, Mike Kelley for these photos from
St. Christopher School, 4th and 5th Grades!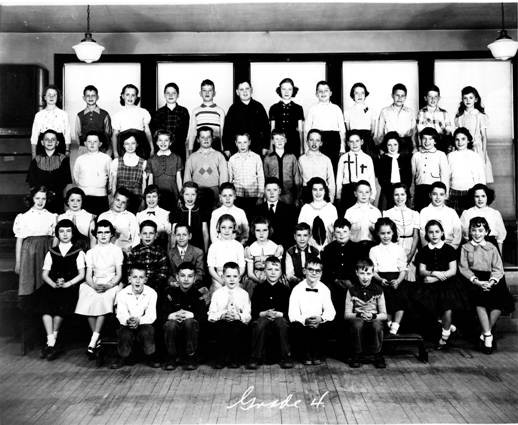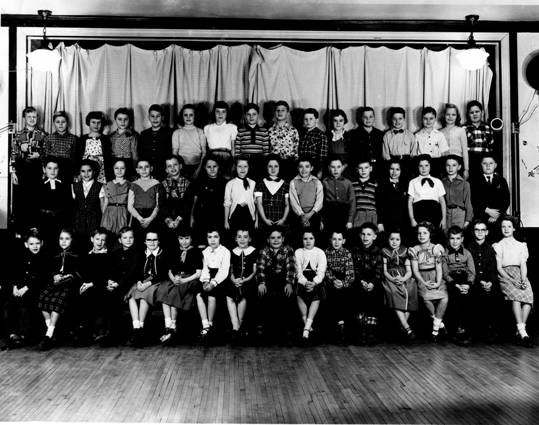 These two photos include the following classmates that we recognized - see if you can find them and name any others! Tom Bayless, Mike Callahan, John Dawson, Darcy Driscoll, John Glansbeek, Dennis Isabell, Sue Leary, Mike Kelley, Mike Matlak, Ed Noonan, Gary Reis, Tim Szunyog, and Dan Weist
---
Cartwright, Murphy, Kathy Kleist and Margie Seelbach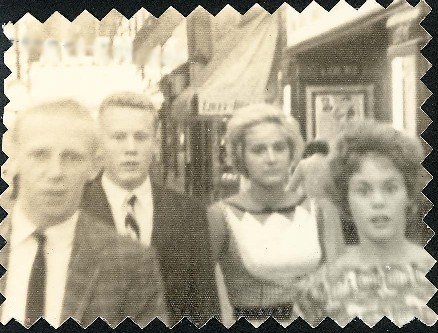 ---
Linda Peate (Powrie) describe this as a "Coketail party" - nice coats & ties!
Girls: Nancy Comber, Jan Soros, Linda Peate, Barb Peate
Guys:Judd Horbaly, Clark Smythe, John Zahnow, Guy Cartwright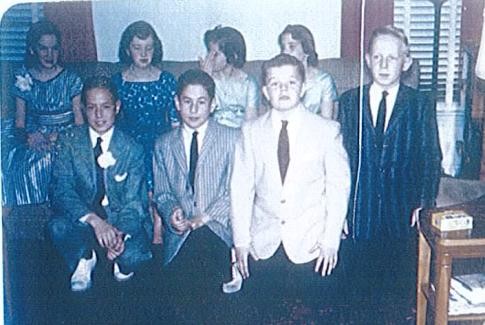 ---
Dianne Peters, Diane Carlson (we'll miss you, Bones). Peg Kazarian, Jan Soros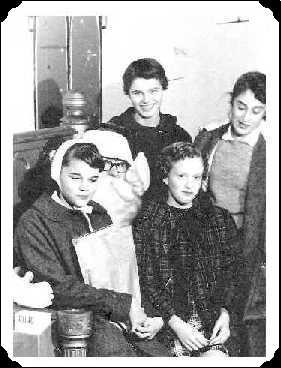 ---
Wooster School, about 1953.
(Note Sue Harris, Kathy Kleist, Joyce Rosenhoffer (Deceased) , Cheryl Kuhn, Jeff Corbacho, Ron Caffo, Joyce Walcher)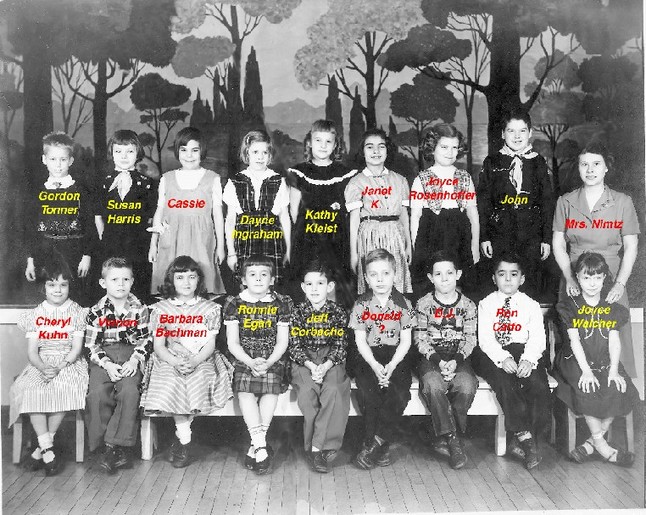 ---
Jan Soros (Ravenstine) dug up this Kensington School 4th Grade Photo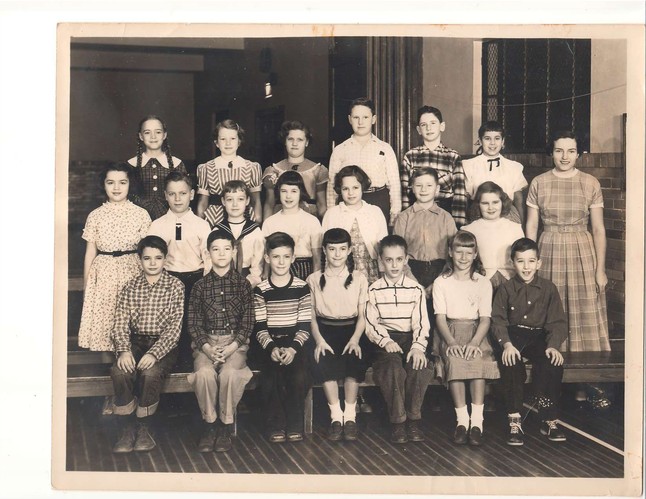 Can you spot Marcia Pullen, Dave Robinson, Helen Hodgson, Nancy Oetting, Sally Proudfoot, Nancy Westerfield,
Debby Murray, David Robinson, Lynn Lafever, Susie Sanders, Ron Hanson, Charles Baumgartner? - and some others whose names escape us.
---
Thanks to Nancy Westerfield (Depew) for this oldie from Kensington 6th Grade - 1956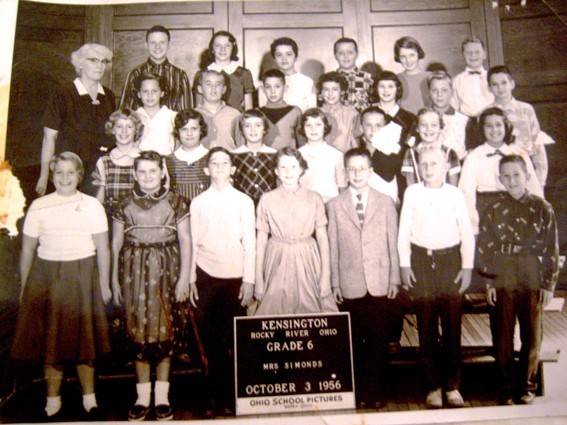 We recognize Sue Myers, Nancy Oetting(deceased),Guy Cartwright, Charles Baumgartner,Nancy Westerfield,
Helen Hodgson, Ron Hanson, Debby Murray, Dick Lindsley,Martha McClure, Marcia Pullen,
John Phillips, Sally Eakin, Dave Robinson. Third row : Sally Proudfoot, Eric Damon, ?
---
Nancy also sent these from kindergarten and 3rd grade!
Can you identify some of our classmates from these?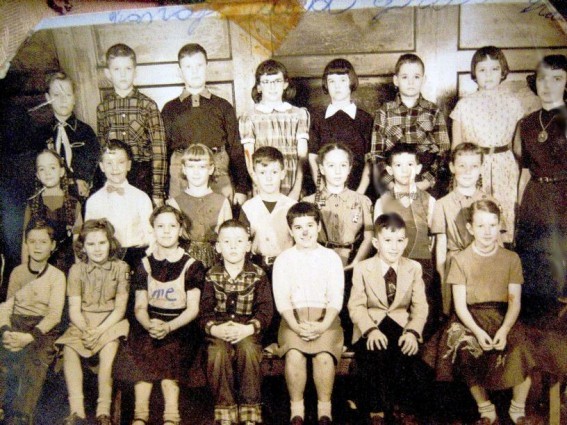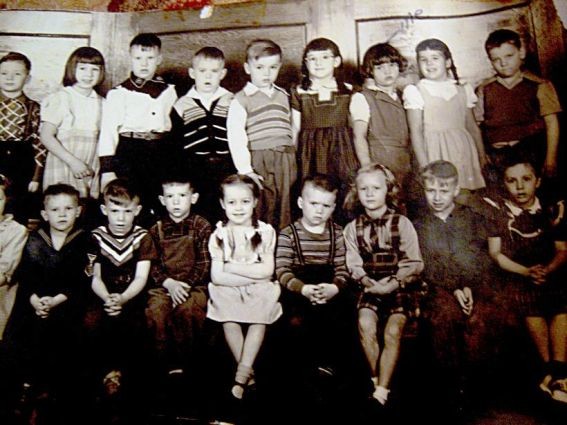 ---
Linda Peate (Powrie) provided this gem from Goldwood School, 2nd Grade!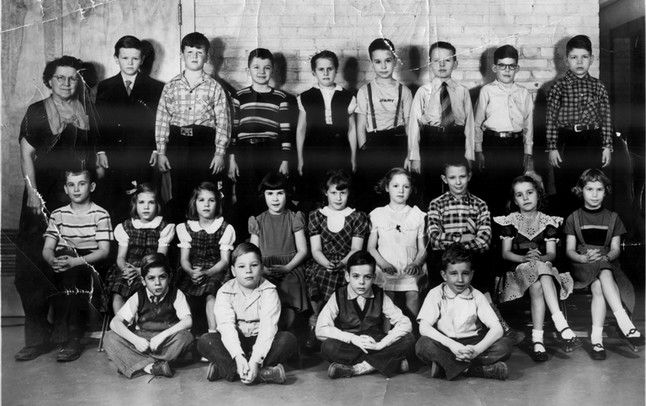 Back row: Miss Petty, Bill Totten, Larry Gilbert, ?, Sue Grossman, Jim Manning, Gerard Callahan,?, Tom Sacha
Second row: Bob Smith, Linda Peate, Barb Peate, Carol Haas, Phyllis Smith, Viola Reed, ?, Shari Piekney, Sue Pharo
Front row: Tom Kelley, Wayne Childs, Gary Walter, ? - (Please advise the Website if you know the ?'s.)
---
Thanks to Ellen Aspinwall (Templar) for the following Beach School collection!
(You may recognize some of your high school classmates here)
A tip of the Pirate's hat to anyone who can identify every person pictured.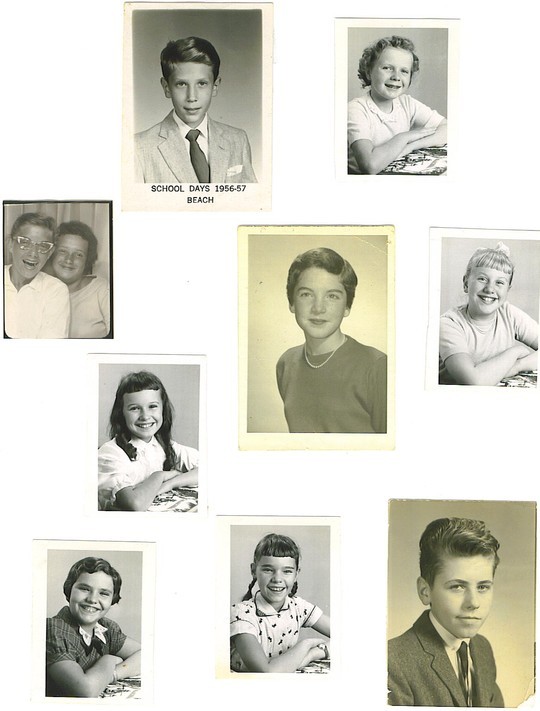 ---
Thanks, Sue Gammel (Jacobsen) for these....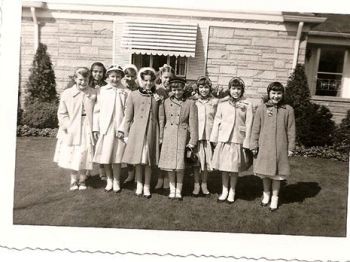 Birthday party, 1956 Back left to right: Janet Kiehl, Sue Pharo, Dayne Ingram
Front leftto right: Phyllis Smith, Sue Gammel, Nancy Comber, CarolEisel, Barb and Linda Peate, Carol Haas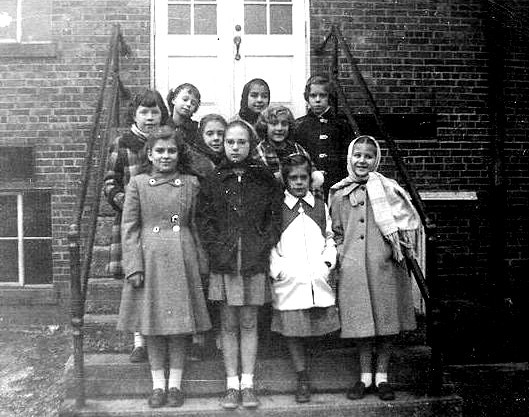 Brownie Troop at Old Wooster School - including Sue Gammel, Cheryl Kuhn, Joyce Rosenhoffer, Holly Daugherty, Kathy Kleist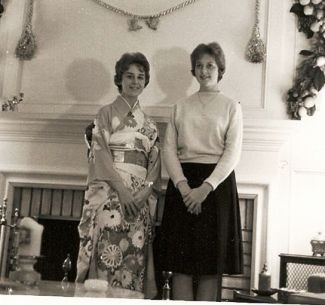 Sue and Pat Rollent at Debby Murray's house looking stylish.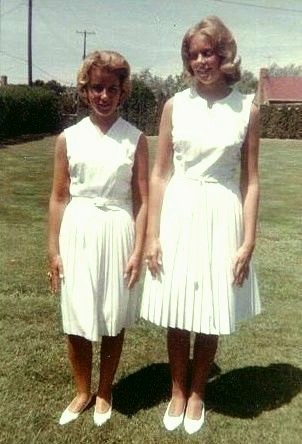 Sue and Pat Rollent - Baccalaureate, 1963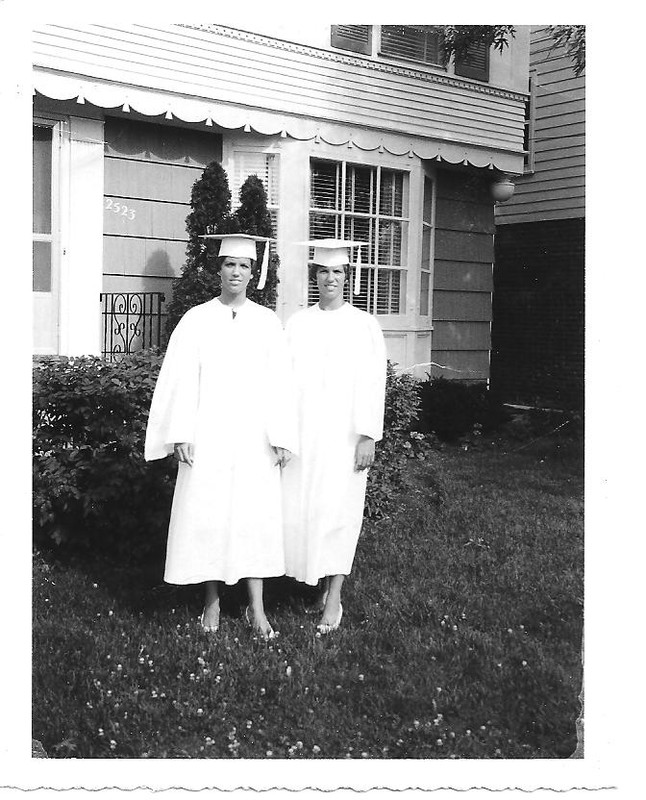 The Peate Twins as happy as can be to be graduating - June 1963
---
Date night, 1962 - Barry Nichols and Linda Peate; John Milius and Barb Peate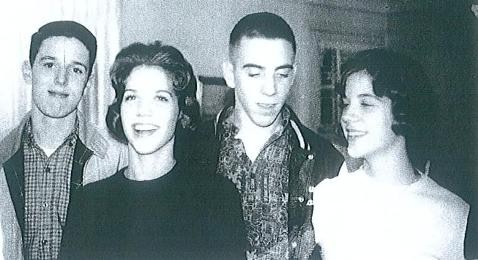 ---
Another selection from Linda Peate (Powrie) - looks like old Wooster School?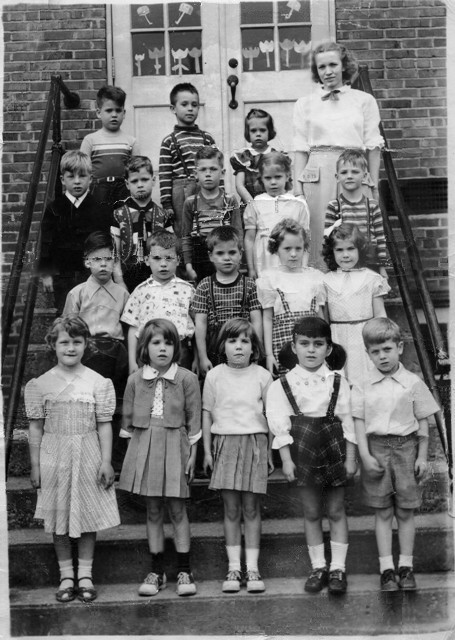 The Peate twins are here. So are Phyllis Smith, Jan Soros, Jeff Corbacho - and others.
And here's Linda's pic from new Wooster School. Lots of recognizable faces here!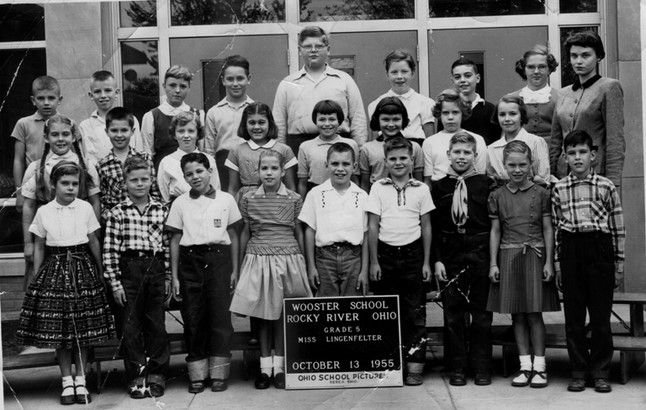 Prom Night, 1963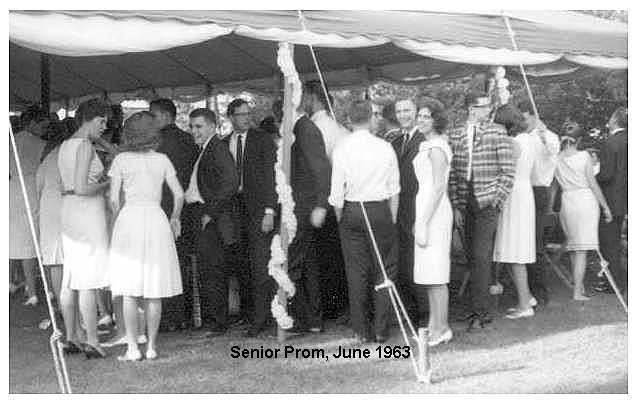 From the yearbook - note that Pepsi was a dime...

The 35th Reunion - Cleveland Yacht Club - 1998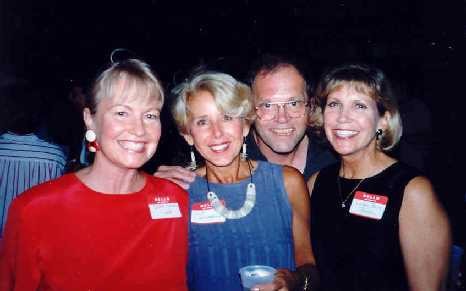 Remember the aptitude test question: Which one doesn't belong here?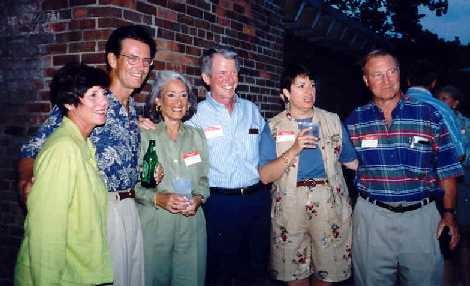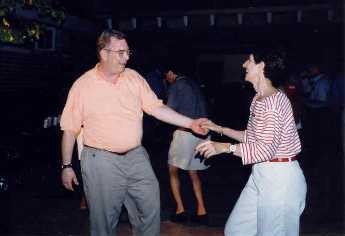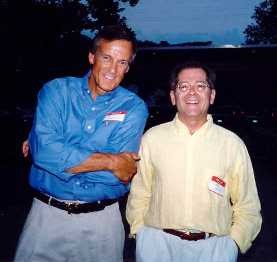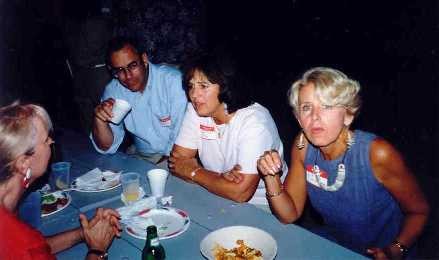 The 60th Birthday Party - October 2005 - some classmates, some spouses and significant others.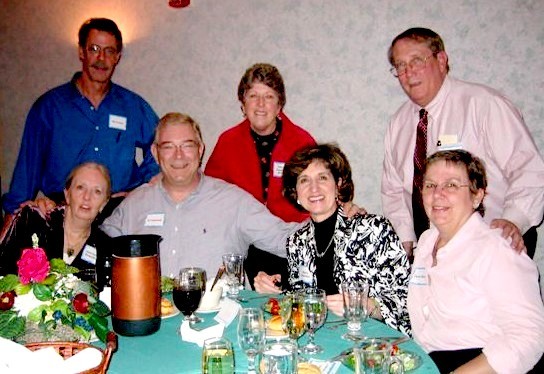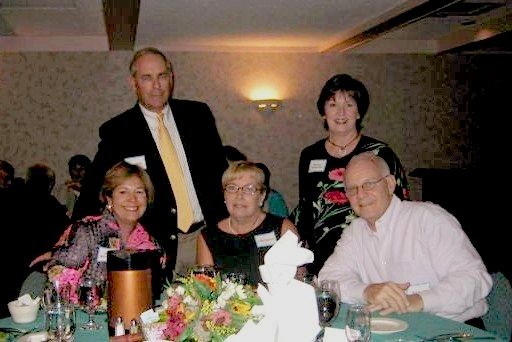 A real mystery guest in the maroon shirt - first time back in 42 years.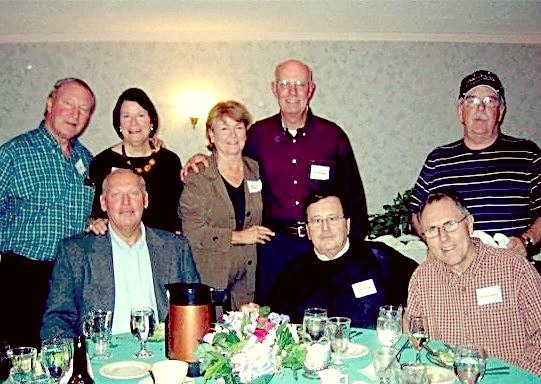 Some NEW memories - Bruce McKelvey's visit to Rocky River August 4, 2009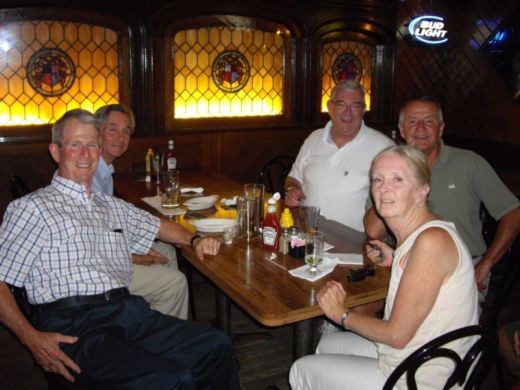 L to R - Gilbert, Lanny Moldovan (Class of /59), Greenleaf, Gillespie, Soros (Ravenstine) - at Herb's
(not pictured - Cliff O'Brock, Bruce McKelvey, Mike Kelly)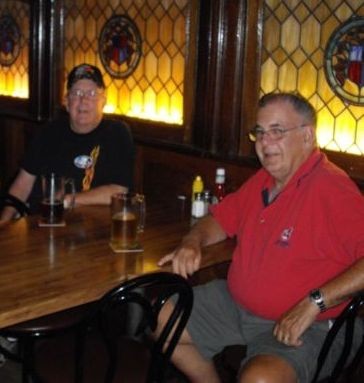 McKelvey and Mike Kelly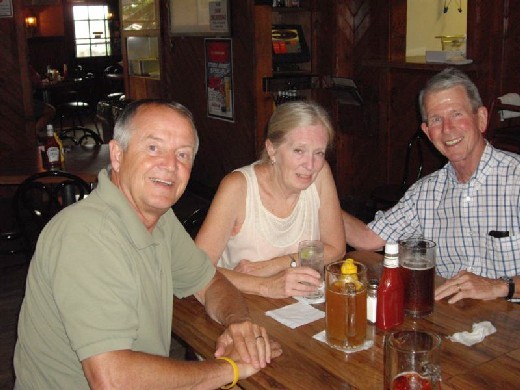 Gillespie, Soros (Ravenstine), Gilbert
PLEASE SEND US MORE PHOTOS!
Beach School, 6th Grade (1956): Left to Right,