Recipes!
Where are your recipes???!!!
From the kitchen of Angie Alfano Cheon. This is her mother's Italian Wedding Soup recipe! Great heritage dish to make during our current stay-at-home time!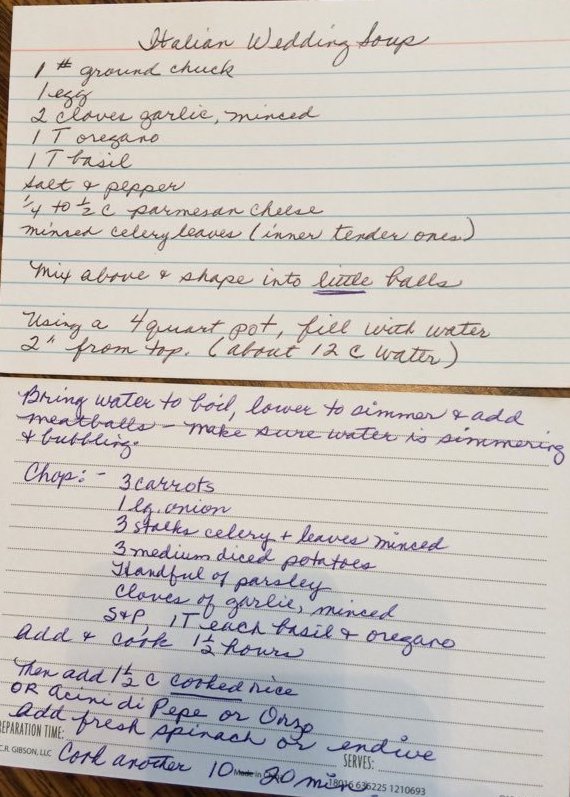 Banana Bread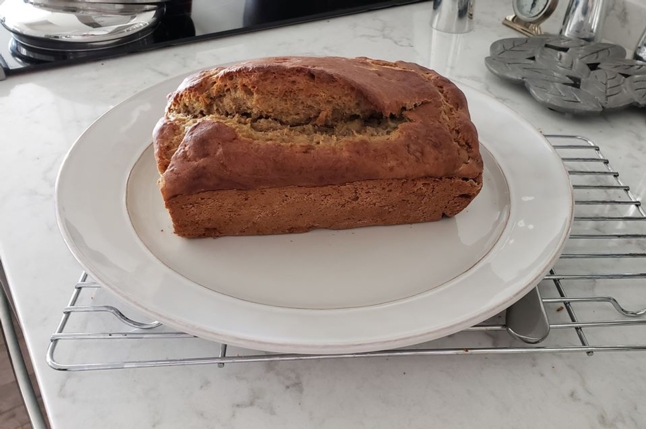 Prep Time: 15 mins
Cook Time: 55 mins
Total Time: 1 hr 10 mins
Servings: 1 slice
Ingredients
3 large overripe bananas (cut into 1" slices)
¼ cup sunflower oil
1 Tbsp. Bourbon maple syrup (or to taste)
1¼ tsp. ground cinnamon (divided)
½ tsp. fine salt
1 tsp. baking powder
2¼ cups all-purpose flour or whole wheat flour
½ cup applesauce (no sugar added)
½ cup plain Greek yogurt
1 tsp vanilla extract
2 large eggs
½ cup walnuts (toasted, optional)
Instructions
Preheat oven to 350°F. Oil 9x5 loaf pan.
Place sliced bananas and sunflower oil in nonstick skillet and turn heat to medium-low.
Heat, stirring continually. About 3-5 minutes.
Add bourbon maple syrup. Cook, stirring continually, until absorbed. Add ¼ tsp. cinnamon mix until mixture is very soft and no longer sticking to pan.
Remove pan from heat and pour banana mixture into large bowl. Set aside.
Combine salt, baking powder, and flour in medium mixing bowl. Set aside.
Add applesauce, yogurt, vanilla, and cinnamon to bananas. Mix until fully combined.
Add eggs. Mix until fully combined.
Add flour mixture to banana mixture. Stir until combined and no dry flour remains. Add walnuts if desired.
Add sunflower oil to mixture, one tablespoon at a time, if needed. Mix until combined.
Caprese Avacado Toast: Compliments of Angie Alfano Cheon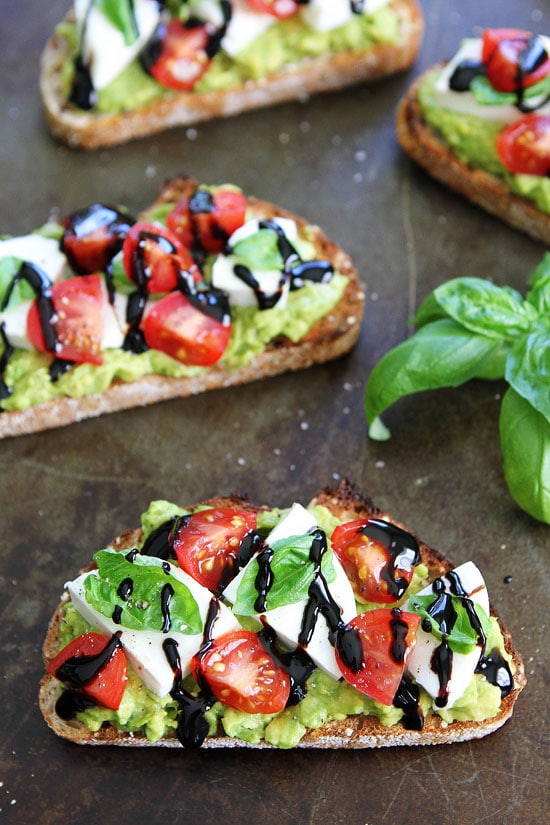 Ingredients (Total prep time is 10 minutes)
2 ripe avocados
2 teaspoons fresh lemon juice
Sea salt and black pepper to taste
4 slices bread toasted
4 ounces fresh mozzarella sliced and cut into pieces, to fit the bread
1 cup grape tomatoes halved
1/4 cup basil leaves roughly chopped
Balsamic Glaze for drizzling---click here to find the glaze recipe
Instructions
Cut the avocados in half, remove pit, and scoop the flesh into a small bowl. Add the lemon juice, sea salt, and black pepper, to taste. With a fork, mash the ingredients together, keeping the texture slightly chunky.

Spread the mashed avocado evenly onto toasted bread slices. Top with fresh mozzarella slices, tomatoes, and basil. Season with additional salt and pepper, if desired. Drizzle with balsamic glaze and serve immediately.

Note-I like to use whole grain bread. If you need the recipe to be gluten-free, use gluten-free bread. If you don't have grape tomatoes, tomato slices will work too
Heavenly Chocolate Cake: Compliments of Holly Portz Koiro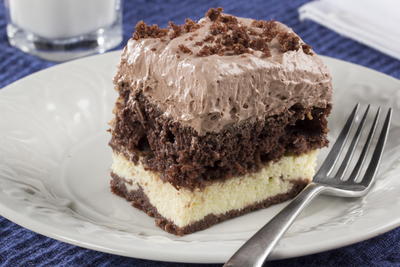 If you're looking for a diabetic chocolate cake recipe for your recipe box, then you've got to try this Heavenly Chocolate Cake. You're going to love the tasty combination of chocolate cake with a surprising creamy layer at the bottom. It's made with healthier ingredients, and has under 10g of sugar per serving. After one taste, we can pretty much guarantee you're going to want to make this recipe a permanent part of your collection.
What You'll Need
2 pounds fat-free ricotta cheese
3 eggs
1/4 cup sugar (Ellen: I would substitute Stevia for sugar---more diabetic friendly and just as sweet!)
1 teaspoon vanilla extract
1 (16-ounce) package sugar-free chocolate cake mix
1 (1.4-ounce) package sugar-free instant chocolate pudding mix
1 cup fat-free milk
1 (8-ounce) container fat-free frozen whipped topping, thawed
What to Do
Preheat oven to 350 degrees F. Coat a 9- x 13-inch baking dish with cooking spray (or olive oil).
In a large bowl, with a hand mixer, beat ricotta cheese, eggs, sugar, and vanilla until smooth; set aside. In another large bowl, prepare cake mix according to package directions. Pour cake batter evenly into baking dish. Slowly pour cheese mixture evenly over cake batter.
Bake 50 to 55 minutes or until toothpick inserted in center comes out clean. Let cool completely.
In a medium bowl, whisk pudding mix and milk until smooth. Fold whipped topping into pudding until well combined. Spread mixture on top of cake.
Refrigerate 4 hours or until ready to serve.
Do You Believe in Magic?
This Heavenly Chocolate Cake actually does a bit of magic while it's baking in the oven. Your layers will actually reverse from the order that you put them into your baking dish. How cool is that?!
Not Yo Mama's Meatloaf!
https://umpquariverhaven.com/reseapes/not-your-mamas-meatloaf/
This is a family fav and traditional for holidays!
Not For Meeces
This is a rich and creamy, melt-in-your-mouth Chocolate Mousse recipe from the 70s.
From The Kitchen Of Ellen Templar
1 stick of real butter
4 squares semi-sweet chocolate
1 cup granulated white sugar
5 eggs
1 large container Cool Whip or any whipped cream – at least 12 ounces
Melt butter and chocolate together in double boiler
Actually I do it in the microwave.
Add sugar to the warm butter/chocolate mixture and blend with wooden spoon
Then blend more with electric mixer. Mixture should be thick and grainy.
Add one egg and beat with electric mixer for 5 full minutes. Continue adding one egg at a time and beating each egg for 5 full minutes. Don't try to mix all the eggs at once or it won't come out right.
Mixture should be smooth,creamy and thick.
Fold in whipped cream and mix well with wooden spoon. Then chill till firm.
Everyone loves this desert but it is very rich. A small amount is plenty for each serving. Because it is so very rich it can make you sick if you eat too much at a time.
Tuscan White Bean Stew, Ellen Templar: This is a Mayo Clinic recipe and it's absolutely delicious! My son thought the second bowl was better than the first. The leftovers were just as yummy. I changed the recipe by subbing just white beans, did not mash any beans, added a bit more water, lots of garlic, cubbed ham and put it all into the crockpot for a day turning it into a crockpot soup. We didn't mess with the croutons. Definitely going to make this one again! If you make it, let me know how it turned out for you!
https://www.mayoclinic.org/healthy-lifestyle/recipes/tuscan-white-bean-stew/rcp-20049889
Peggy's Potato Salad This recipe is from the kitchen of Peggy Aspinwall
10 Medium to large sized white potatoes
2 – 3 Large sweet onions (Peggy loved Vidalias)
1 & ½ cups of Miracle Whip or plain Mayonnaise
1 & ½ cups of whipping cream
Salt
Boil potatoes until done. DO NOT OVER COOK.
Let cool until they can be safely handled and peal
The skins should come off easily
Slice potatoes into ¼ inch slices from end to end and place in a large bowl.
Slice onions into large rings and separate. Place raw rings or half rings into
bowl with sliced potatoes.
Whip the cream to a soft, firm consistency and blend well with the Miracle Whip.
Gently fold whipped cream and Miracle Whip mix into potatoes and onion rings breaking potatoes as little as possible. Add salt to taste as it goes.
Cover and refrigerate. This dish gets better overnight as the onion seeps into potatoes and creamy dressing. Makes a bunch! Peggy's kids can't get enough of it!