Where In The World Are We?
Wednesday, June 5,, Part I - more of Peg's El Camino adventures.
While I planned on today's email being the last, as I've thought through the events of the last day on El Camino and looked through the photos, today's is the penultimate email.
We began the day back on our bus, heading out of Santiago de Compostela to Finisterre, a village on the western coast of Spain. As we drove through the countryside our special guide-for-the-day told us about some particular buildings we would see. They are called Horreos, pronounced oreo - like the cookie. These were grain storage buildings built by the Celts who lived in northwestern Spain 1,000 years ago. Horreos were used for storage of corn, to keep it away from rats and mice. Today the uses vary - from storage of garden equipment, to storage of crops, to extra living spaces.
We stopped in a small village were we could get a close-up look at Horreos.
Here's a link to photos of lots of horreos showing a multitude of shapes, materials, and current uses. I think having one would be fun!
https://www.kuriositas.com/2011/07/horreo-singular-symbols-of-spain.html
Then back on the bus; next stop Finisterre. The name derives from Latin meaning "end of the earth." In Roman times people believed this area to be the end of the world.
An aside. When Jim and I bought our home here in Maine we learned from elderly neighbor friends that back in the 1940's the few homes on the road were given names. That helped understand the sign we found in the old barn. Seems our place was named "End of the World Farm."
Back to the other "End of the World," to Finisterre.
We walked out to the very end of the point. This is the very western most point of Europe. The place where the sun rises first. Looking north (beyond the two people in the background) is looking towards New Jersey. Years ago pilgrims often tossed a personal article - a shoe or shirt or note - into a fire pit near the base of the tower. The articles were burned as a kind of thanksgiving. No more burning; though one can see the blackened rocks where the burning happened.
As we walked down into town many of us, including Lynn and me, paused for pictures. The horizontal shell (as well as yellow arrows) are trail markers for El Camino
Then into town for lunch.
I decided to try something new to me, octopus.
After lunch we returned to Santiago de Compostella. Those photos and a few stories tomorrow.
Buen Camino, Peg
Monday, June 3---this is part I that I missed somehow. Definitely fun hiking!
This is a second version of the June 3rd hike. Seems I put toooo many photos in the first version, typed in all the text, "sent" it but it didn't send and I couldn't open it again no matter what. So I took a proverbial "time out" (hmmm, trying to do too much - like too much walking?!?!).
The June 3rd hike was perhaps my favorite.
We began with a bus ride to Herrerias, a short walk from where the bus left us off, and "coffee" as usual.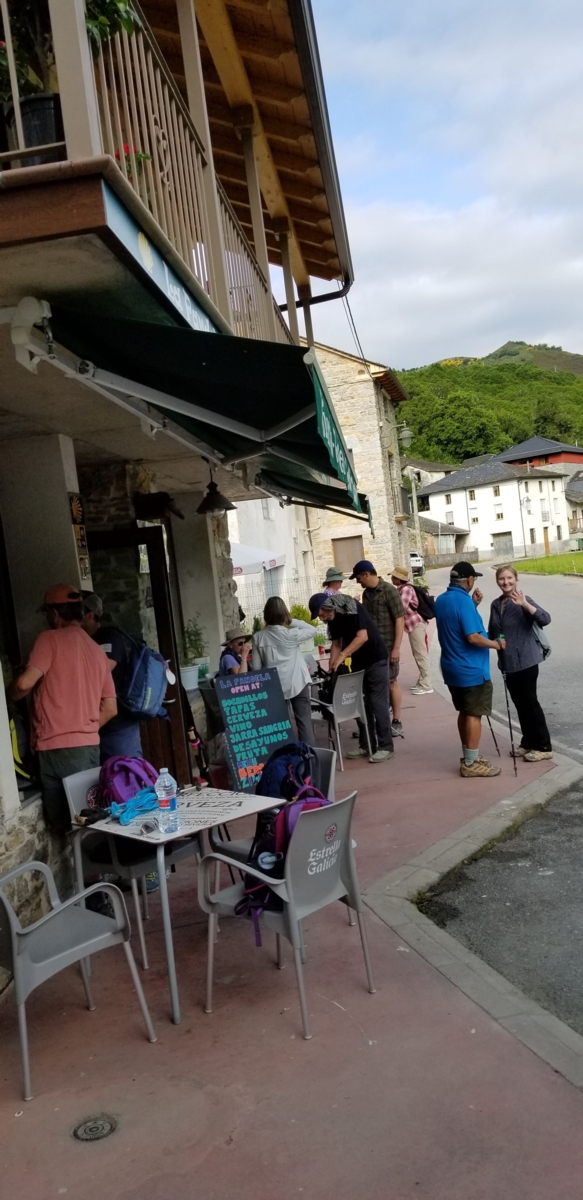 Most of the group began hiking from Herrerias. Three of us were taken in the van to La Faba where we looked around the small church, San Andres, built in the 18th century. The statue is of a pilgrim, holding a walking stick in one hand and a gourd (for water) in the other.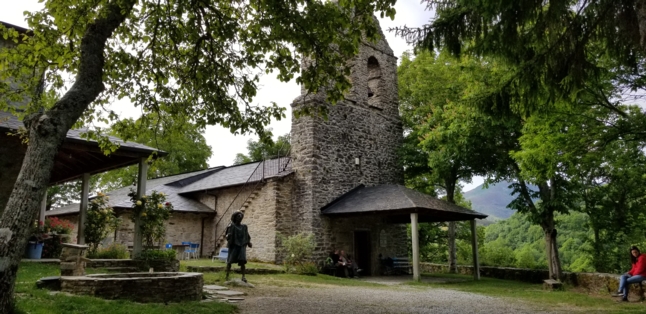 Then we set out to hike about 4 miles to O Cebreiro. And what a hike. GLORIOUS, MAGNIFICENT.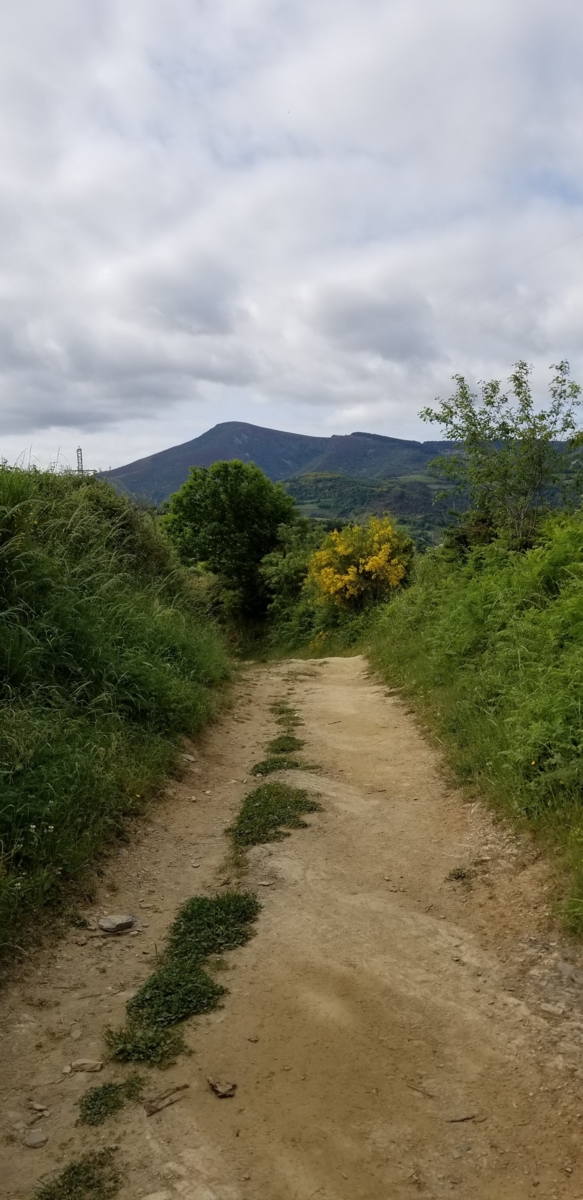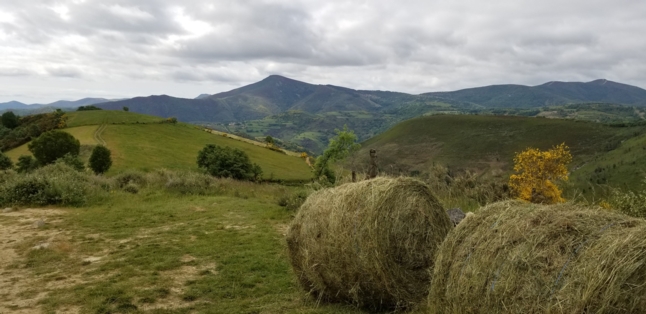 There is a greeting exchanged by pilgrims on El Camino, "Buen Camino." It means Good Path or Good Road - physically and spiritually. And so, wherever you are, I wish you Buen Camino, Peg
Northern Ireland by guest blogger Natalie Bowen
Dunluce Castle-
The first spot my husband and I visited in Northern Ireland was Dunluce castle. Dunluce castle overlooks the coast and has been greatly affected by erosion and the harsh seaside environment. Our tour guide told us that rumor has it, the lady of the castle was having a party and due to a rock slide the kitchen and kitchen staff fell into the ocean. The lady did not cancel the event and they partied without refreshments. Divers have found parts of the kitchen on the ocean floor.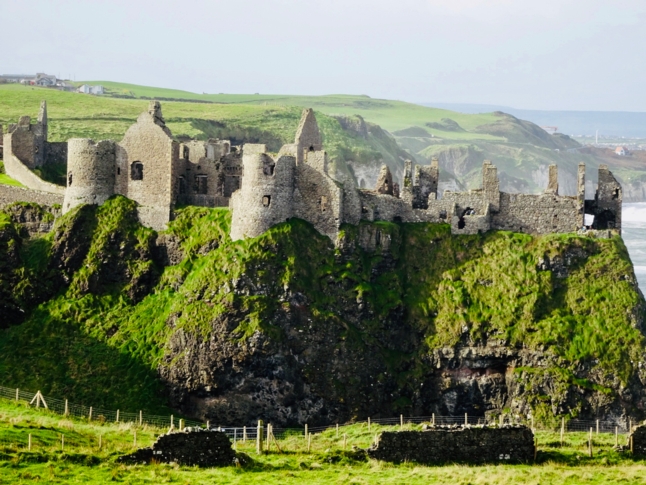 The tale of the Giant Causeway-
The tale of the Giant Causeway goes there was once a giant that lived in Northern Ireland. This giant lived by the ocean and looked out for that area. There was also a giant who lived in Scotland. The Scottish giant liked to call out to the Irish giant and talk trash. The Irish giant grew tired of the trash talk and challenged the Scottish giant to a fight. The Irish giant built a bridge from Ireland to Scotland so the giants could meet. As the Scottish giant approached the Irish giant realized he was outmatched for a fight. He devised a plan to outwit the Scottish giant. The Irish giant had his wife dress him up in baby clothes. The Scottish giant arrived ready to fight. The wife said to please wait her husband was out in town and would be back soon. When the Scottish giant noticed how large their "baby" was he decided he did not want to stick around to see how large the father was. Thinking the Irish Giant was a baby, he fled assuming he was outmatched. As the giant fled he tore up the bridge. The remnants of the bridge are unique rock formations that can only be found in Ireland and Scotland.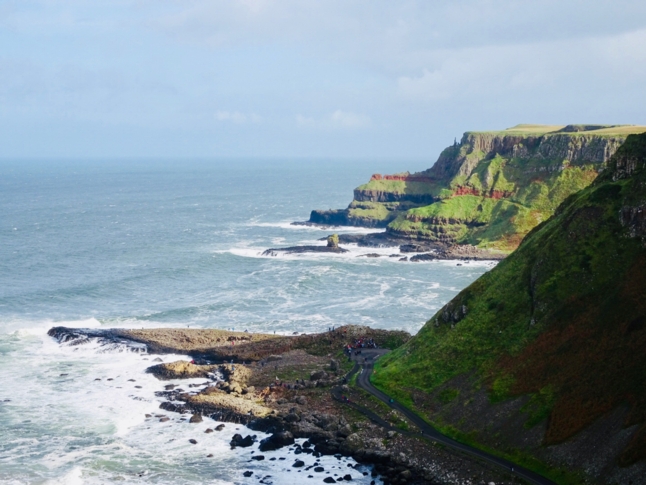 Giant Causeway rock formations-
According to BBC, the Giant causeway is made out of 40,000 basalt steps created by volcanic activity. Scientists say the geological marvel was created approximately 50 million years ago when lava cooled at different rates creating hexagonal stone like steps. It was so much fun to climb up the different levels of the natural made rock playground. We definitely looked out into the ocean and thought about the Irish folklore that went along with this beautiful site. Note: That's Natalie and Clint atop the rocks.
Source http://www.bbc.co.uk/naturescalendar/summer/honeypots/giants_causeway/giants_causeway.shtml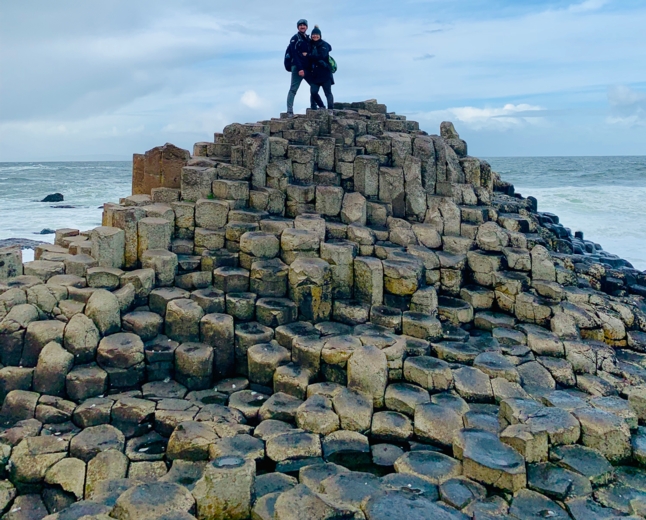 Carrick-a-Rede Rope Bridge-
We could not get enough of Northern Ireland's seaside views. Our next stop was Carrick-a-Rede rope bridge. The rope bridge was once used for fishermen who were catching salmon. It was said there was so much salmon they would fly up and you could literally catch them. The salmon swimming pattern has changed and now you might not catch fish, but you can still catch great views while swinging approximately 100 feet above the ocean.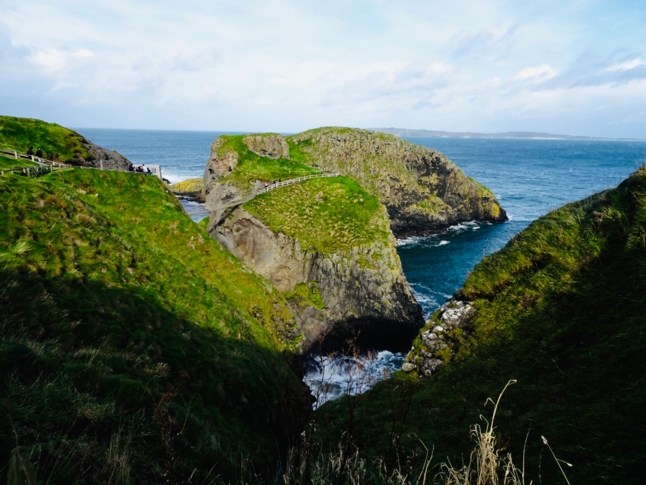 The dark hedges-
The dark hedges is a road lined with beech trees planted approximately 250 years ago. According to discover northern Ireland's website, they were planted in the 18th century by the Stuart family. The dark hedges have been used in Game of Thrones as King's road. The impressive road reminded me of something out of a medieval story. I definitely would not want to be there at night though.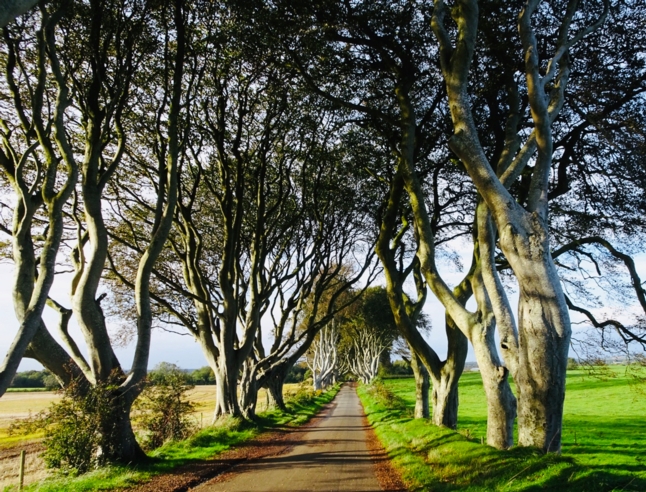 Apolgies to Peg. Her most recent post was acutally Tuesday the 4th. I managed to skip a post for Monday the 3rd but here it is!
Monday, June 3
There is a greeting exchanged by pilgrims on El Camino, "Buen Camino." It means Good Path or Good Road - physically and spiritually. And so, wherever you are, I wish you Buen Camino, Peg
After we were all gathered we went to the local restaurant for lunch.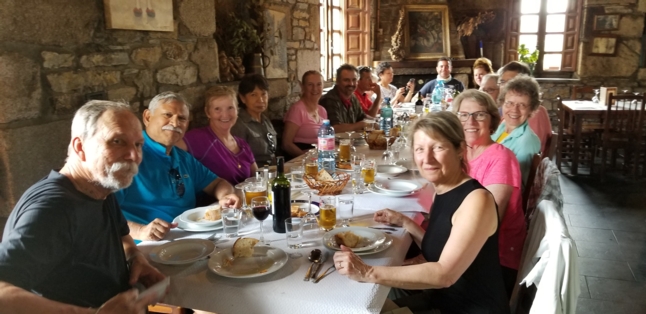 Sometimes loos just don't need words; photos work! Oh, I will add that from early on, at our "coffee" and lunch stops we paid no heed to the signs.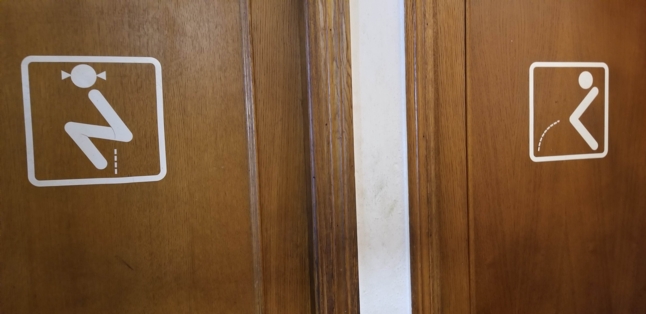 One last look, across the road from the restaurant, before getting back on our bus and heading to Monforte de Lemos.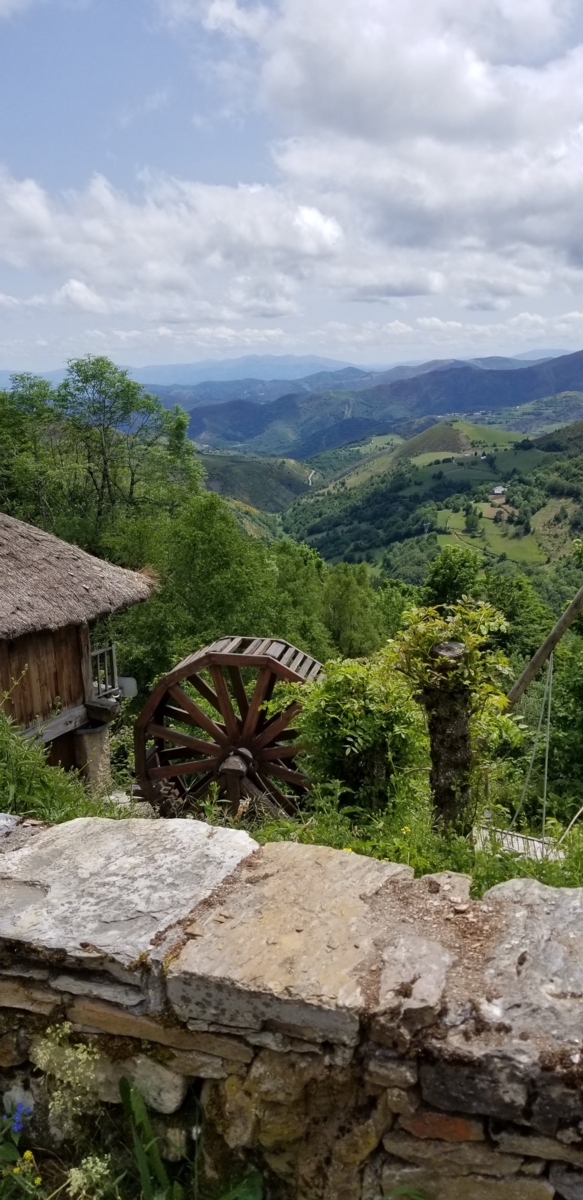 From the bus we first saw where we would be staying that night, Parador Nacional de Monforte.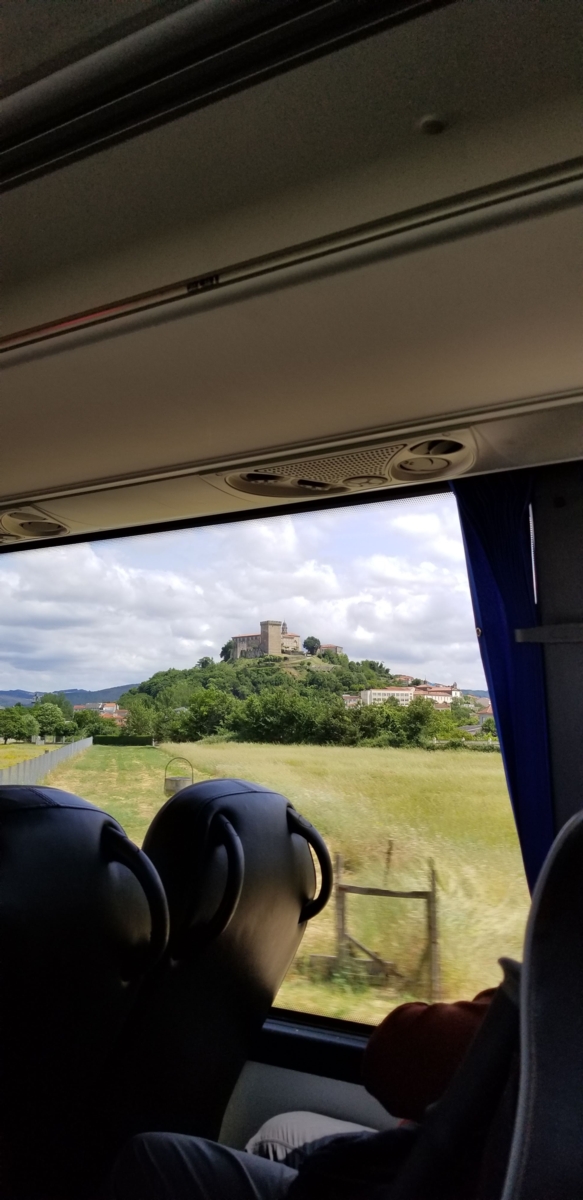 Dublin Cathedrals by guest blogger Natalie Bowen
The most recommended cathedral to visit in Dublin is St.Patrick's Cathedral. Every tour we were on mentioned the cathedral as a must-see. I loved the detailed stain glass windows and the colorful tile floors. According to St.Patrick Cathedral's website, it is the largest and most visited cathedral in Ireland.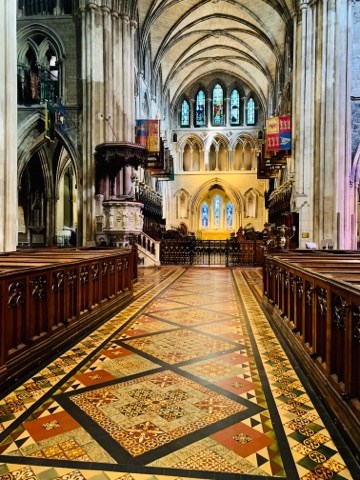 On the same street of St.Patrick's Cathedral is Christ Church Cathedral which is the oldest church in Dublin. According to Christ Church Cathedral's website the original Viking church was founded in approximately 1030 by the Norse king Sitrius.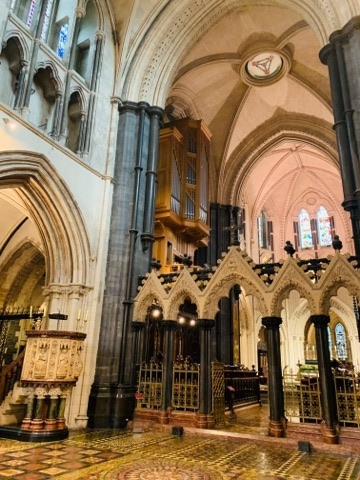 An important relic in the Christ Church Cathedral is St. Laurence O'Toole's heart. St. Laurence O'Toole is the Saint of Dublin so the relic is nicknamed the heart of Dublin. According to the Irish Time's the relic was stolen in 2012 and then miraculously found in a park unharmed in a plastic bag in 2018.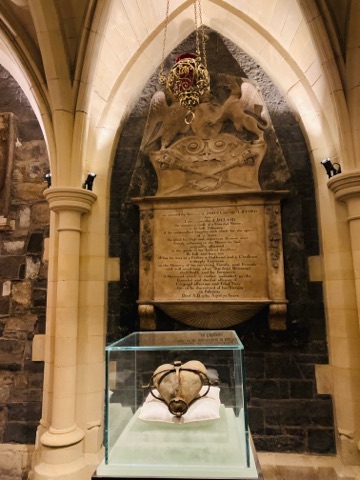 Tuesday, June 4
There is a greeting exchanged by pilgrims on El Camino, "Buen Camino." It means Good Path or Good Road - physically and spiritually. And so, wherever you are, I wish you Buen Camino, Peg
This was the day we hiked into Santiago de Compostela. We began in Pedrouzo.
Early morning, June 4th at Parador Nacional de Monforte de Lemos - the castle on the hill - we boarded our bus which then SLOWLY headed down the hill and on to Pedrouzo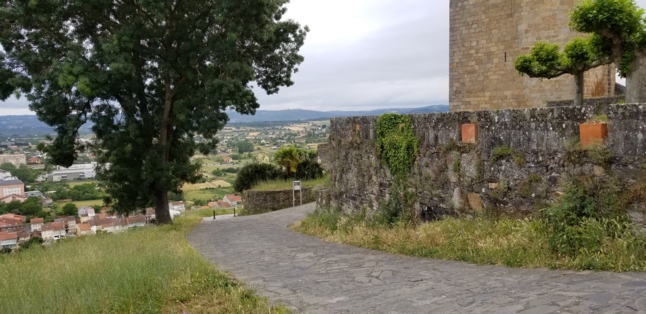 Our hike began in a lovely great oak woods. We crossed a river - stepping on large concrete blocks spaced across the river. Not a time for photos! Then out of the woods and along a large field that was at the back of the airport in Santiago de Compostella.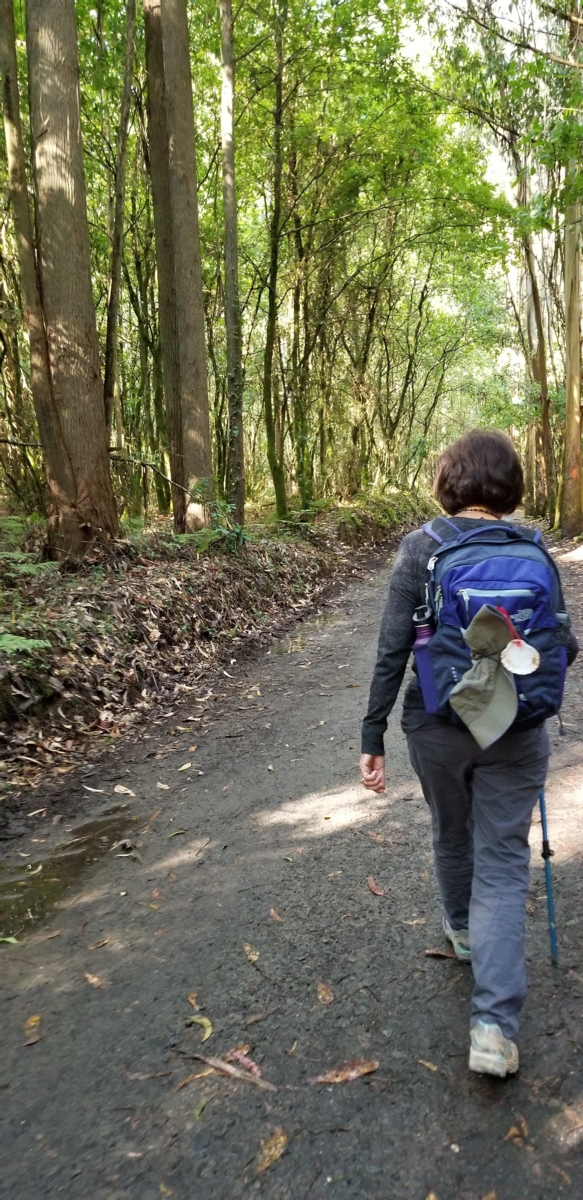 After hiking about 6 miles there was a place where we could opt to get on the bus and bypass 5 miles. I did. One of the guides, Leo, and I got off the bus at Monte do Gozo. As we started to get off the bus, it started to rain - actually POUR. Time out to put on rain gear. Then out into the rain and up a mound at Monte do Gozo (hill of joy). This is where pilgrims can get their first look at the Cathedral of Santiago de Compostella. And we did! That's Leo in the foreground. If you look at the line of trees, then near the top of the slope, there is a tiny patch of light-colored something. That's the Cathedral.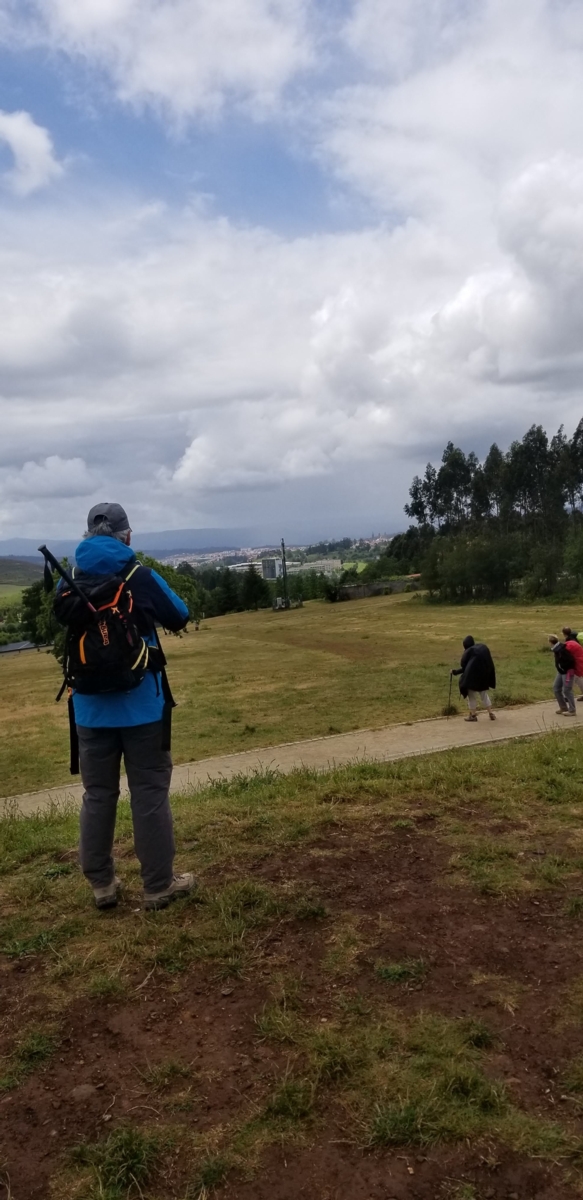 We headed down city streets to the Cathedral. At times it poured again. We waited for a while, in town but not yet at the Cathedral, for the others to arrive. But the rain began again and we decided to go on to the Cathedral.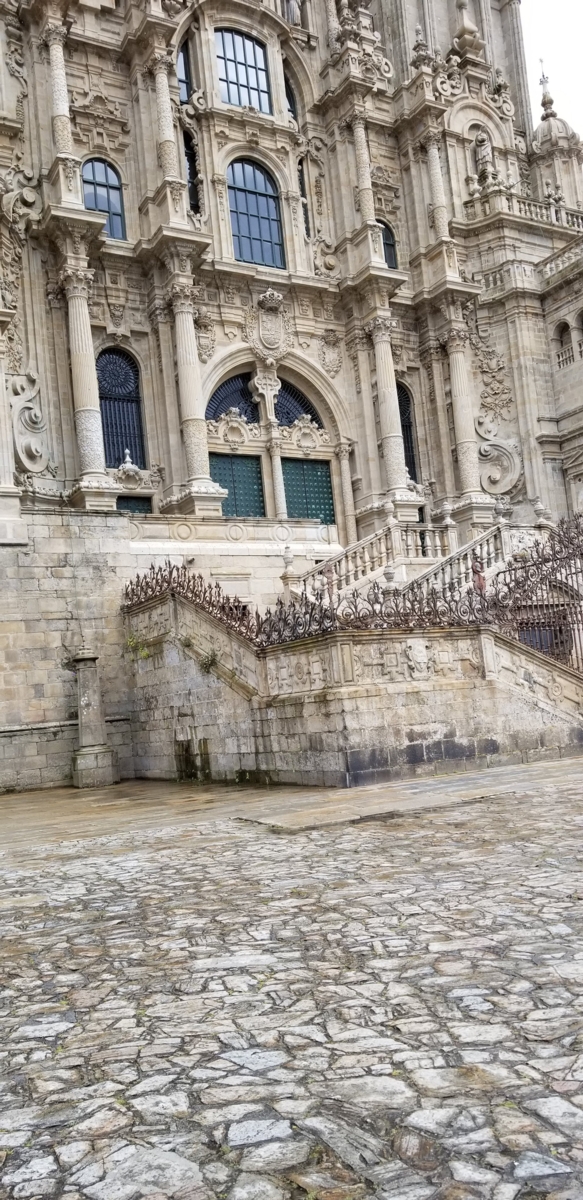 Within a half an hour the others arrived. Lynn and I settled in our room and headed out to explore a bit. And this is what we saw in the plaza - Ferraris, I think! As we were returning from our stroll we saw a police car arrive and people jumping into their cars, revving engines and speeding off. Apparently there is a 15 minute limit to such car shows!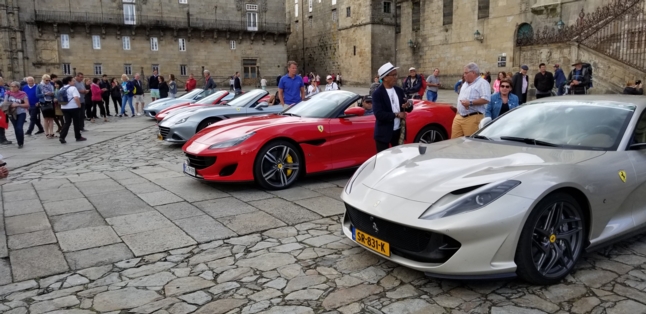 And yes, we were all excited about reaching our destination though we had one more day of time together exploring.
Dublin, Part I, by guest blogger Natalie Bowen
One of the first attractions my husband Clint and I visited was Dublin Castle. According to the Dublin Castle's website, the castle was established in the 13th century and was the seat of British rule from 1204 to 1922. We were able to explore the state apartments which held a banquet hall, throne room, grand hall and several other rooms filled with ornate paintings and royal trinkets.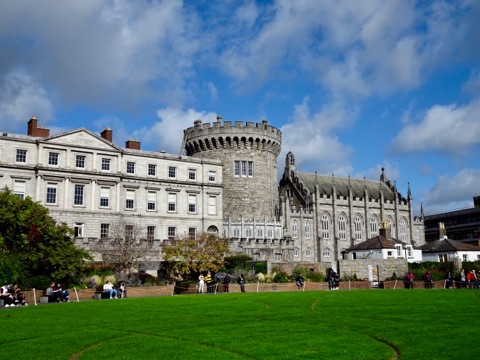 My favorite part of the Dublin castle tour was walking through St.Patrick's Hall. I could feel the history and imagined the grand ceremonies that have been held in this room. Dublin Castle's website states that not only was this hall once a meeting place of knights, but also dignitaries such as Princess Grace of Monaco, Queen Elizabeth II and President John F Kennedy. The room still hosts ceremonies like the President of Ireland's inauguration.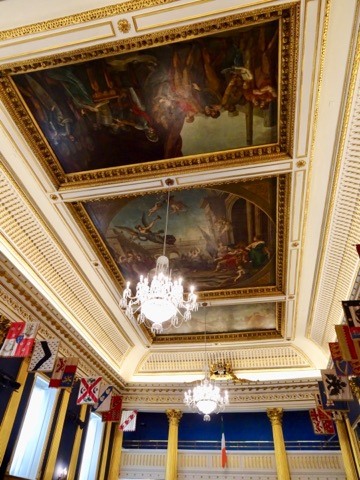 To take a break from the hustle and bustle of Dublin, you can take a stroll in St.Stephen's Green Park. A lovely place to visit as a couple with a romantic stone bridge, beautiful fountains and a peaceful lake. The stone bridge and park were used in Amy Adam's romantic comedy Leap Year.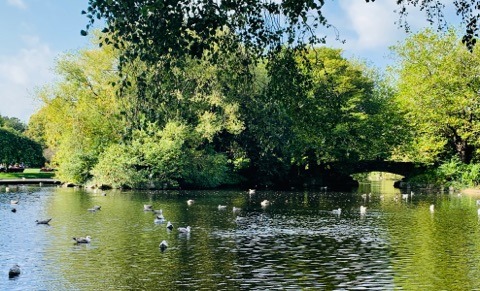 The iconic book of Kell's is housed in the Trinity College library. Unfortunately to protect the integrity of the book's original ink you cannot photograph the Book of Kell's, which Trinity College website describes as a 9th-century gospel manuscript. After viewing the Book of Kell's you then walk through an 18th-century double-decker library with grand bookcases, marble statue busts and significant historical documents.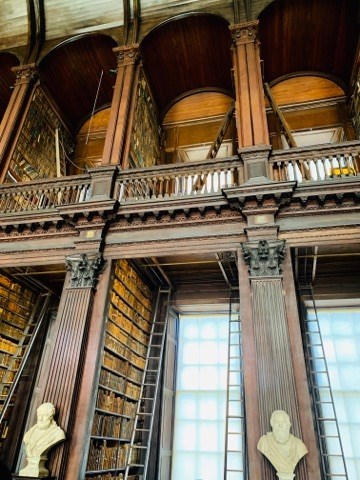 Monday, June 3
There is a greeting exchanged by pilgrims on El Camino, "Buen Camino." It means Good Path or Good Road - physically and spiritually. And so, wherever you are, I wish you Buen Camino, Peg
Our journey continued. Other pilgrims are on the path ahead of us.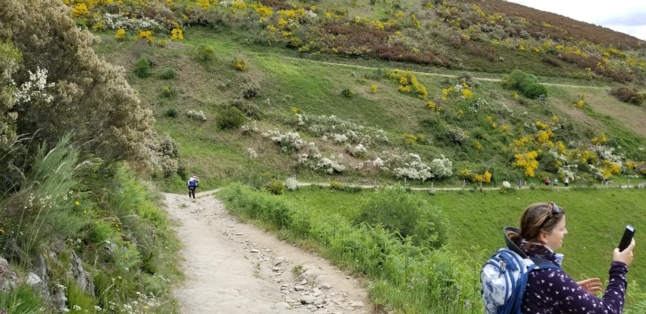 This marker indicates that we have left the Castilla and Leon region and entered Galicia, the northwestern region with Celtic history and hilly terrain.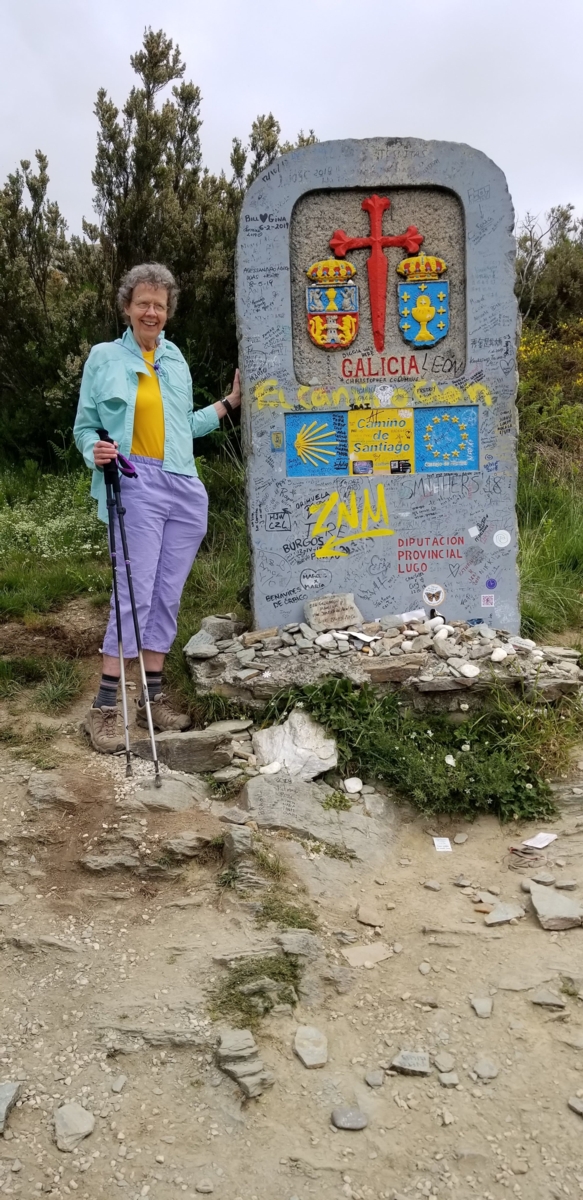 As we arrived at O Cebreiro we paused to look back.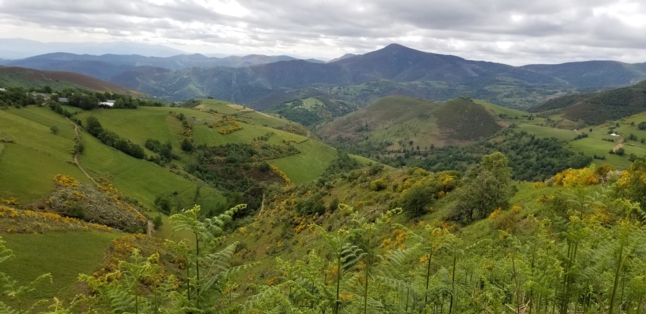 Entering O Cebreiro we saw one of our group members. Cold drinks for everyone as we awaited the arrival of the rest of our group.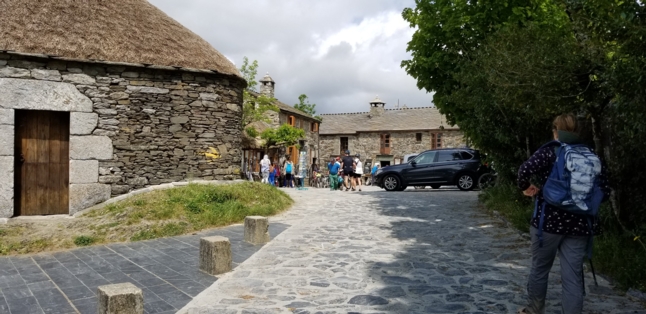 After we were all gathered we went to the local restaurant for lunch.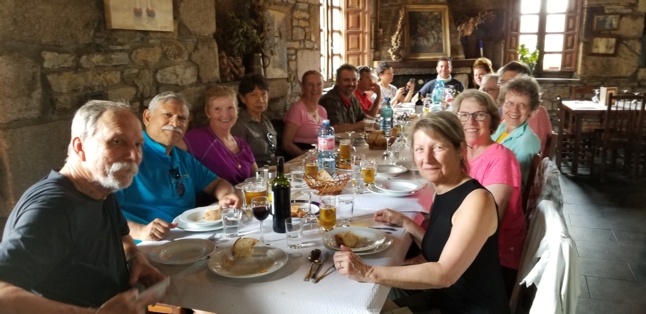 Sometimes loos just don't need words; photos work! Oh, I will add that from early on, at our "coffee" and lunch stops we paid no heed to the signs.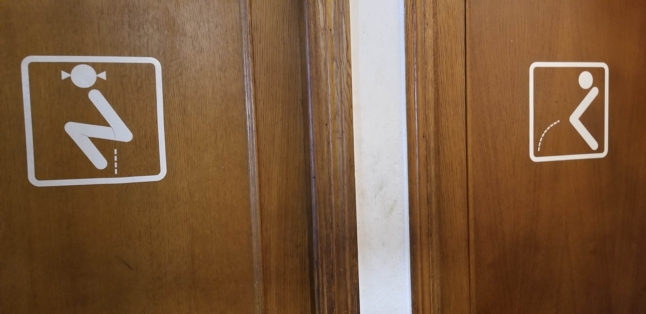 One last look, across the road from the restaurant, before getting back on our bus and heading to Monforte de Lemos.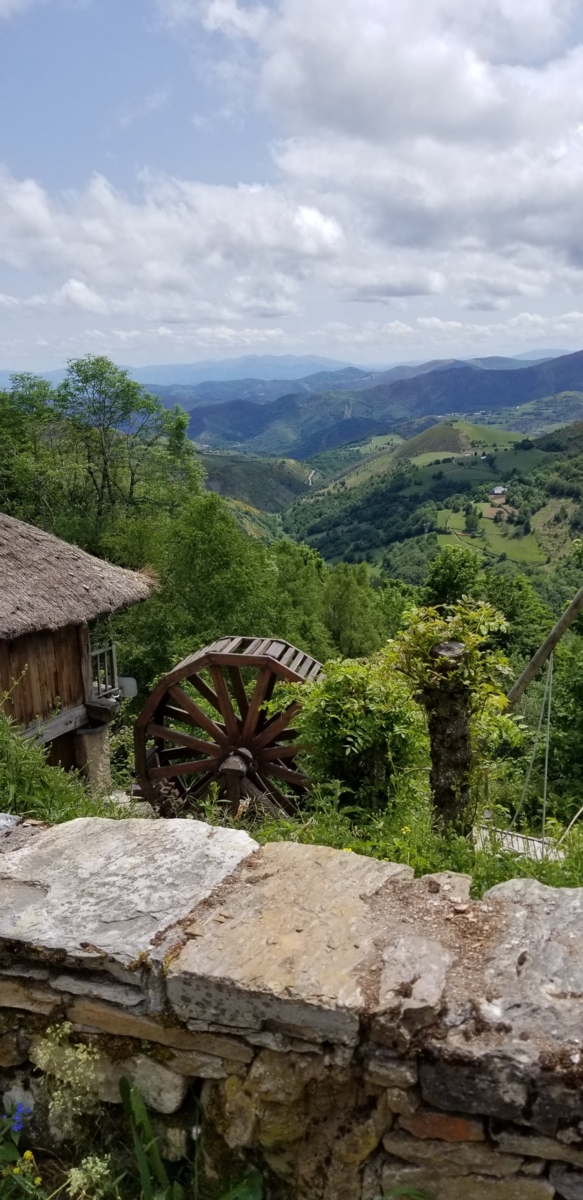 From the bus, we first saw where we would be staying that night, Parador Nacional de Monforte.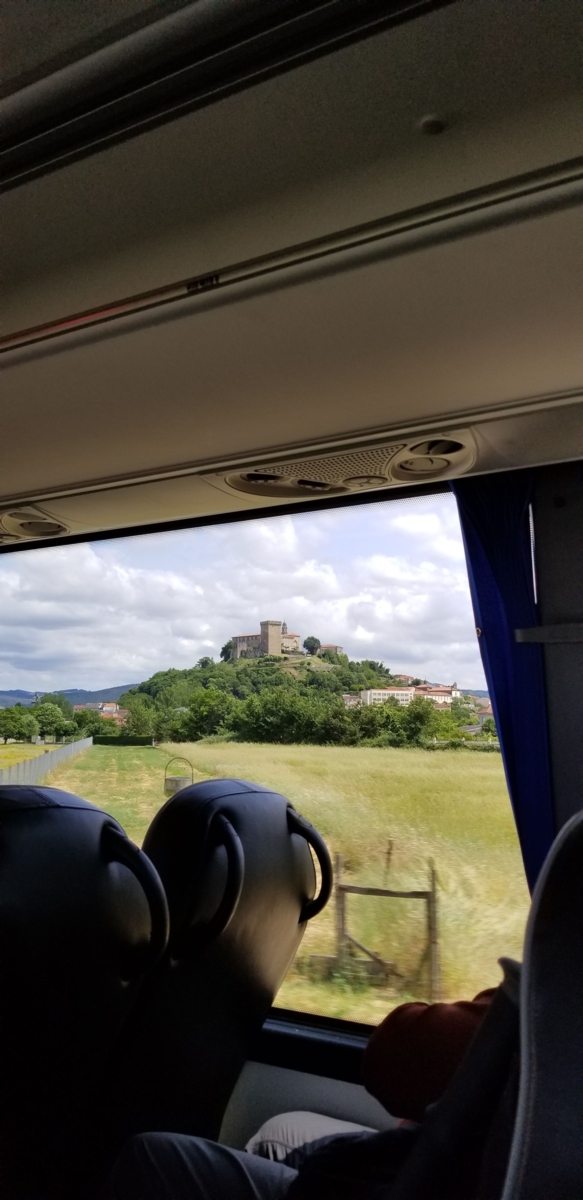 Sunday, June 2
There is a greeting exchanged by pilgrims on El Camino, "Buen Camino." It means Good Path or Good Road - physically and spiritually. And so, wherever you are, I wish you Buen Camino, Peg
We began our 11-mile hike in Hospital de Orbigo. There was a Medieval Jousting Fair that day. The man wearing red in the photo is in his jousting gear. Beyond the bridge, the narrow street through town was lined on both sides by tables of food and all sorts of jousting memorabilia. We had our usual "coffee" stop and then began our hike.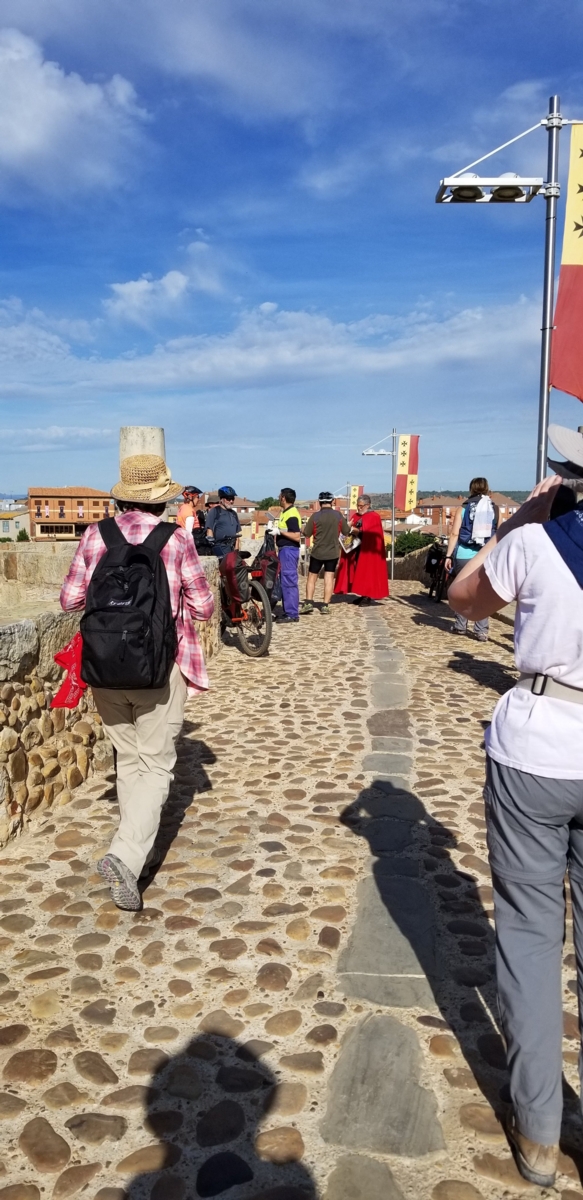 We Initially the walk was flat, flat, flat! After a day of rest and a day of moderate walking, I decided to try again to come up with a breath prayer for walking. And that day - a Sunday and my 74th birthday - a breath prayer came to me. All the way across the flat path in the photo below, I prayed
(left foot) Loving God,
(right foot) ever present,
(left foot) Walk with me,
(right foot) Guide me to
(left foot) new life.
(right foot) ...
repeat, repeat, repeat ........
By the time I reached the other end of this flat section - and others caught up with me - I had a new awareness. In previous days I focused on walking, on hiking. Now I was focusing on being a pilgrim. What a gift. And as another woman in our group said, she simply wanted to walk some each day.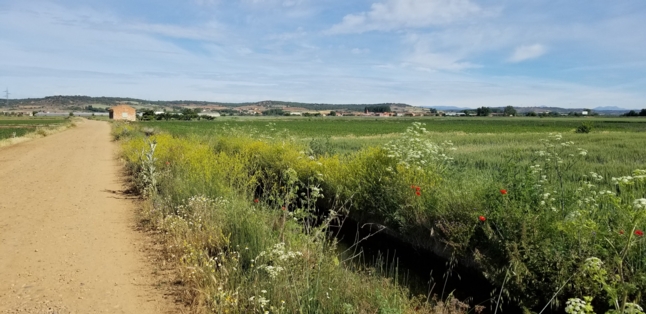 After hiking 4 miles, 3 of us took the bus to avoid a 800 foot ascent and descent. We waited for the others at the base of the hill going to El Crucero de Santo Toribio, a cross that has marked El Camino for centuries. The three of us hiked up the hill. We each took out small stones we had brought to scatter at the base cross, offering silent prayers for various family and friends.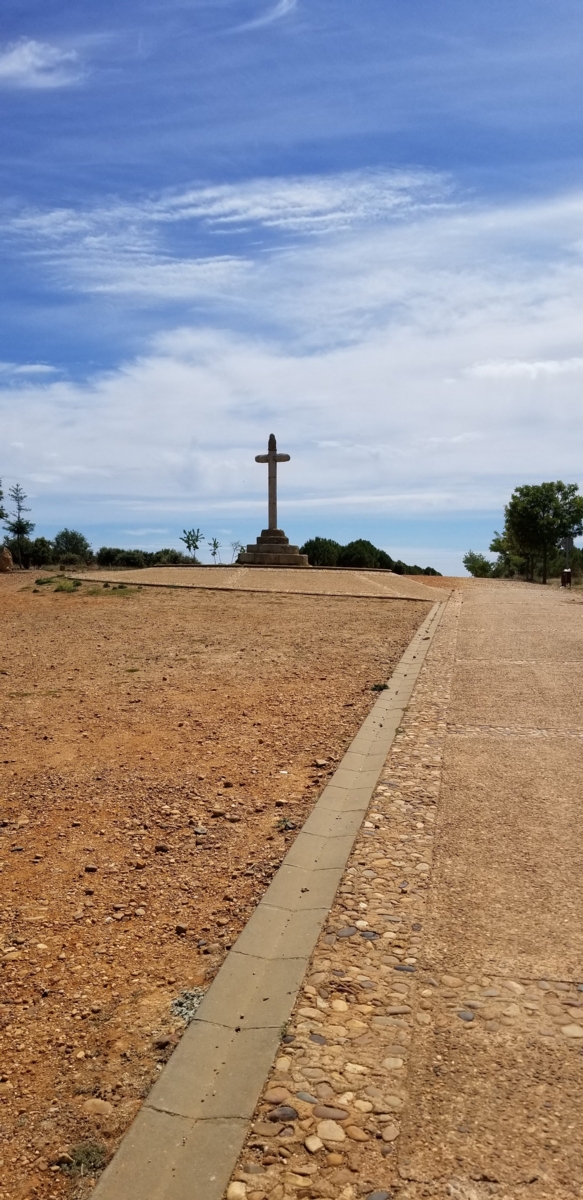 The back down the hill and some fun photos of each other with a pilgrim drinking from a gourd.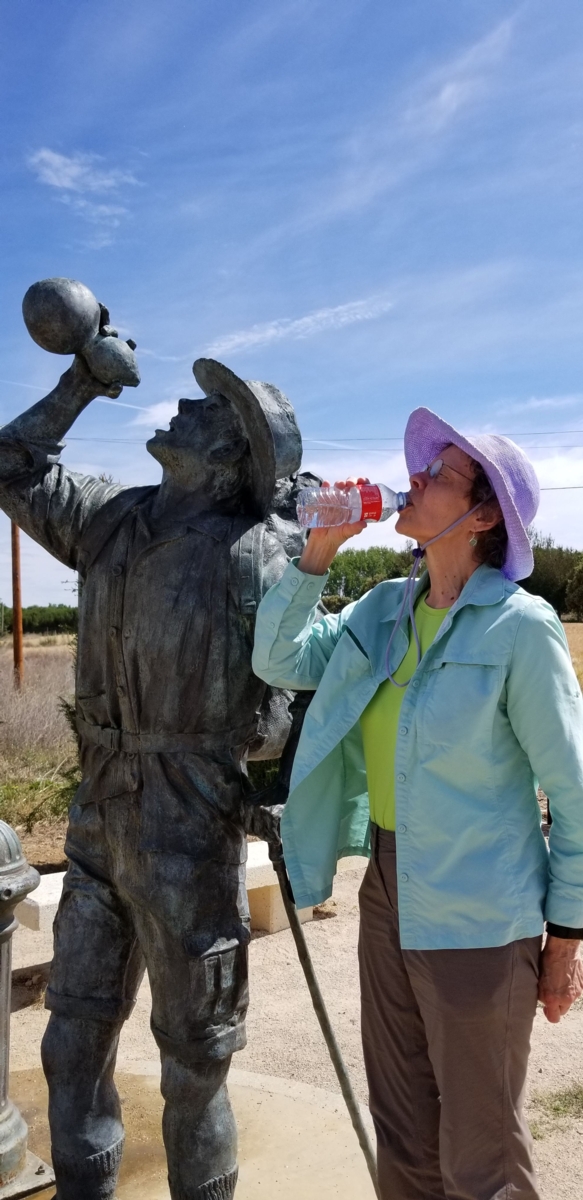 Once others arrived and rested a bit, we all headed onward to Astorga, another 4 miles.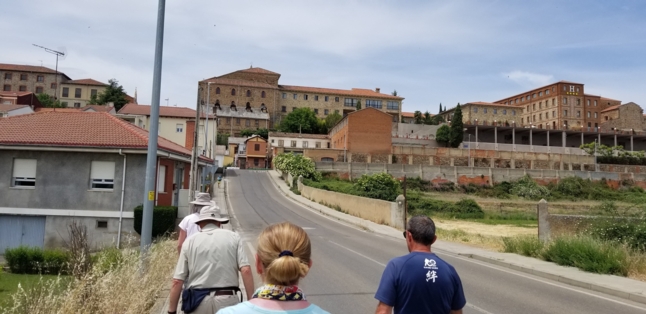 In Astorga we saw ancient Roman walls and 2 baths that date to the late 1st and 3rd centuries AD. We were standing above the ruins in a covered area.
We also toured the Episcopal (bishop's) Palace designed by Spanish architect Gaudi and built in the 19th century.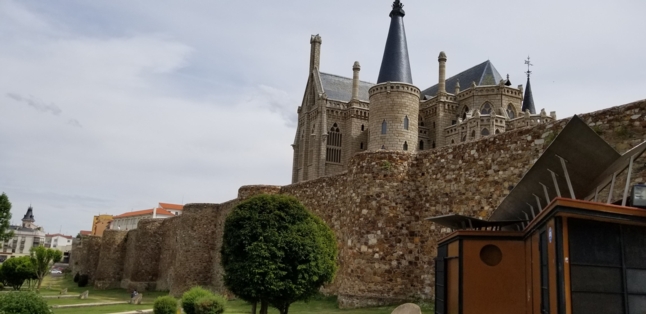 Saturday, June 1
There is a greeting exchanged by pilgrims on El Camino, "Buen Camino." It means Good Path or Good Road - physically and spiritually. And so, wherever you are, I wish you Buen Camino, Peg
Saturday's hike was to be 12 miles with minimal ascent and moderate descent. After a day of minimal walking (less than 3 miles on Friday), my knees were "happier." Not wanting to undo that, along with another woman, I opted to bypass the first 8 miles. Along with Leo, one of the guides, she and I boarded our bus. We were dropped off at an intersection in the middle of fields. See below!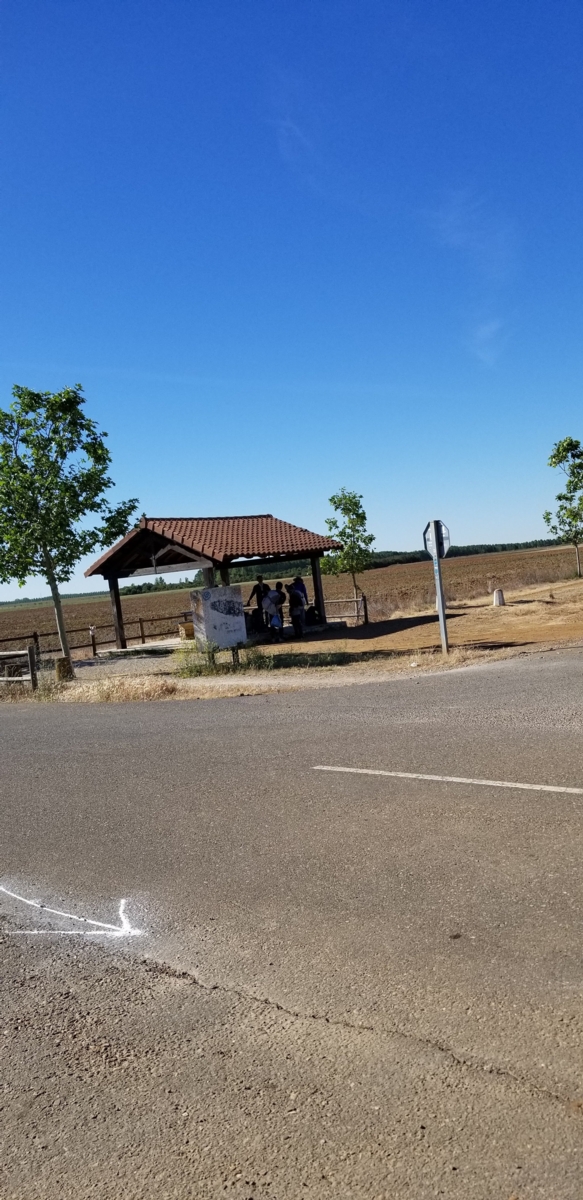 Our 4 mile hike was flat, flat, flat. We needed to protect ourselves from the sun. Hence the umbrellas Chris and Leo were using. I had on long, lightweight pants, my wide-brimmed sunhat, and a sun protecting, long-sleeved shirt with collar turned up. And we each had plenty of water. A lovely morning's walk.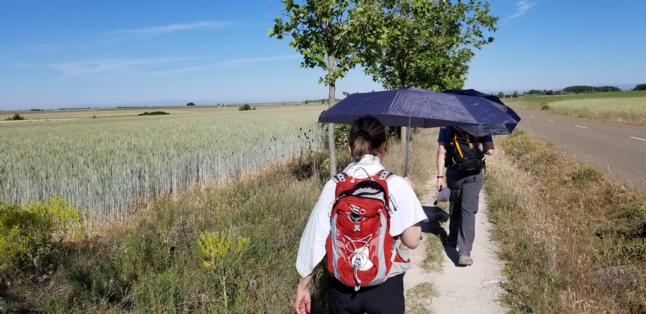 We waited, as planned, in Mansilla de las Mulas for the rest of the group. And when all had arrived we went inside the restaurant for lunch. Then back on the bus heading to Leon, the capital of Christian Spain. We had a tour of the early Gothic style Cathedral of Leon. We stayed at Hotel Colegiata de San Isidoro. The photo below is looking out our window to one of the inner courtyards.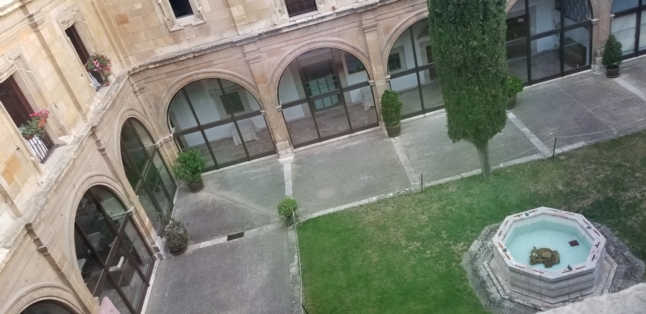 Here's a link to the hotel website with more inside photos. http://www.hotelrealcolegiata.com/ It was quite the place!
Ron Hanson has been back to France and sends this photo and message:

Those of you, like me, who suffered through Latin with Miss Beck, 
may recall a photo of the Pont du Gard Roman Aquaduct in our textbooks.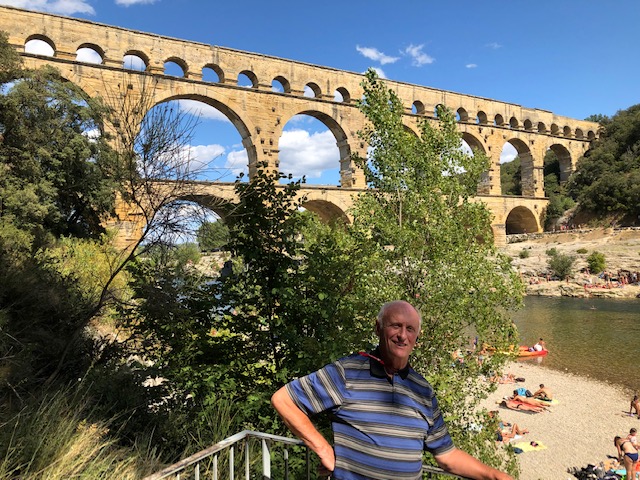 Friday, May 31st
There is a greeting exchanged by pilgrims on El Camino, "Buen Camino." It means Good Path or Good Road - physically and spiritually. And so, wherever you are, I wish you Buen Camino, Peg
The planned hike was to be 15.5 miles through farm country. Yet the part of Spain where we were is about more than today's farms. Deep in the land and the history of these peoples is La Reconquista. There were wars in the Iberian Peninsula between Christian Kingdoms and Muslim Moors from 714 - 1492. We crossed through Castilla where Spanish Visigoths settled after defeating the Moors. Then on through sparse farm country to Carrion de los Condes.
As usual, we stopped first for "coffee." And it was here that I got my first look at storks and their nests.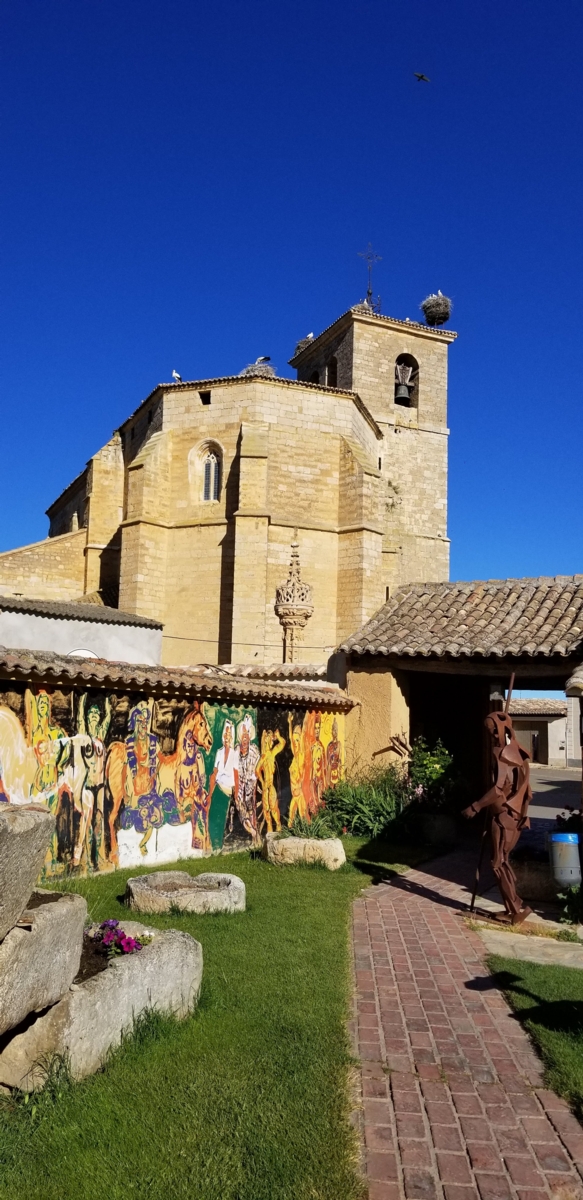 And then my aching knees finally got through to me. I needed to take a day off from hiking. A young woman in our group also needed a day off because her trusted hiking shoes gave out. She needed new hiking sandals. So the two of us took our bus to Carrion de los Condes. We were all staying at Hotel Real Monasterio San Sollio, part of an 11th-century monastery.
Maria Christina and I walked into the town and found hiking sandals for her. Here's the view of Hotel Real Monasterio San Sollio as we returned.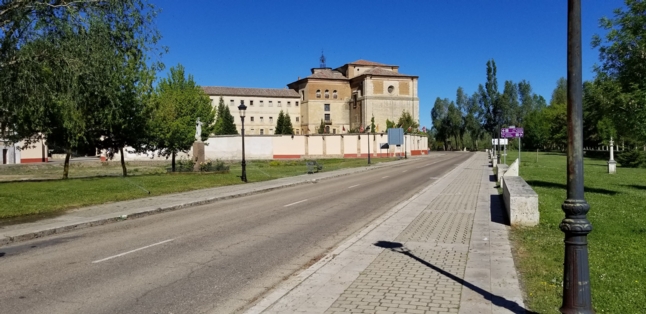 Outside the courtyard entrance, we found El Cid. Nothing to do but take photos of each other with him!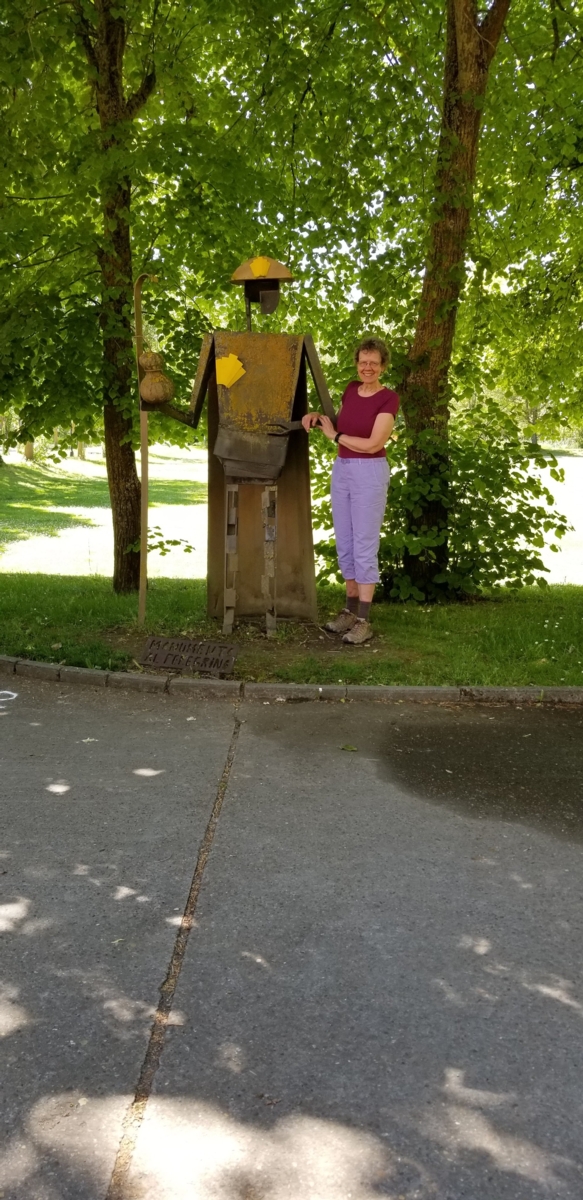 When the others arrived and settled in we all had a tour of La Iglesia de Santa Maria del Camino. By the end of May 31st, my El Camino walking totaled 45 miles.
There is a greeting exchanged by pilgrims on El Camino, "Buen Camino." It means Good Path or Good Road - physically and spiritually. And so, wherever you are, I wish you Buen Camino, Peg
After breakfast, we boarded our bus for the drive from Pamplona to Ages where we would begin our 12.5-mile hike. And, as usual, we began at a small restaurant where one could have coffee or a soda which also meant access to the restrooms. Most helpful! Daily we were also provided with an amazing selection of snacks for the hike - including granola and power bars, nuts, fresh fruit, chocolate candies, and plenty of bottled water. That's the front of our bus in the picture; and some of our group collecting snacks.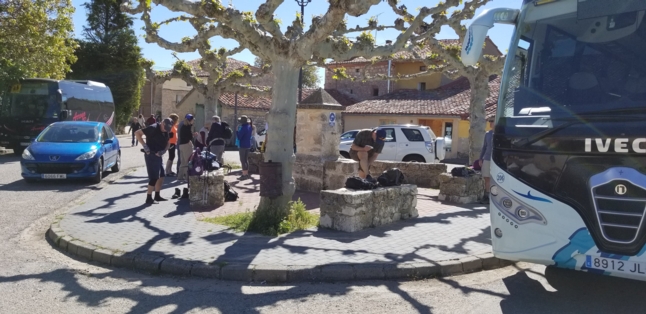 The day's hike was in the high plains of Central Spain. The red dots in the photo are poppies. There were poppies everywhere. Sometimes lots and lots scattered in a field. Other times, a single poppy blooming at the edge of the trail. My notes remind me that while the path looks easy, it was very rocky and the ascents and descents were "unfriendly" to tired knees and hips.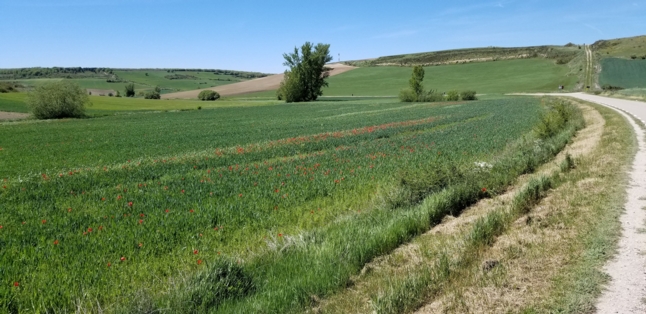 A picnic lunch along the way. We were grateful for the awning! After lunch, another woman and I, "listening to our knees," opted to take the bus to Burgos, our destination.
After we were all in Burgos and checked into the hotel, we had a guided tour of the cathedral and the old town of Burgos. Burgos is a city of 200,000 people. This is part of the Cathedral of Saint Mary as we approached it. Building of this Gothic cathedral began in 1221.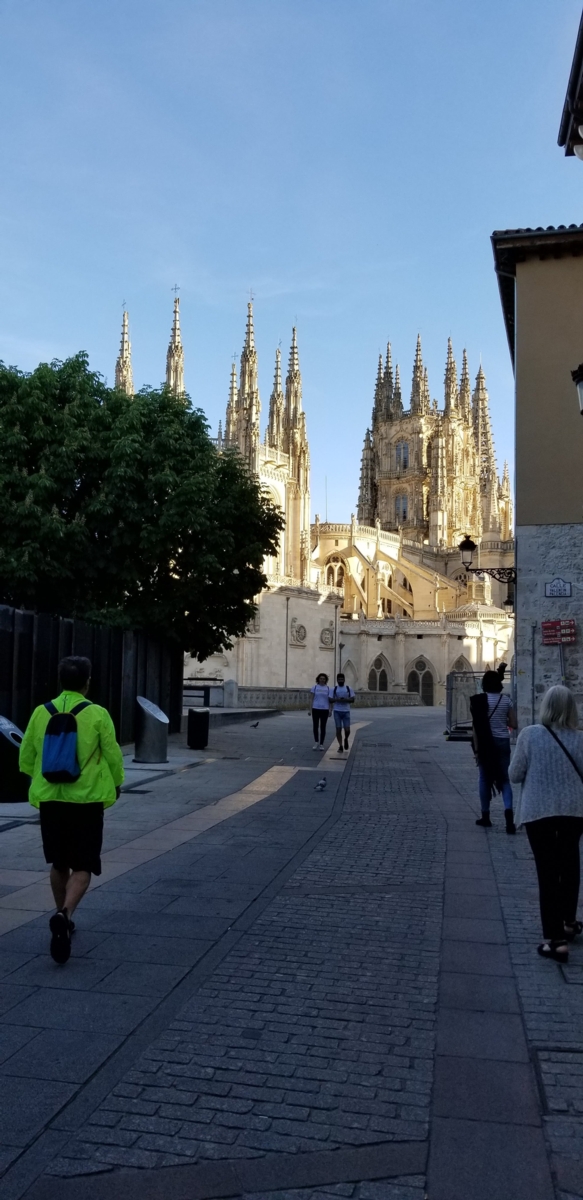 We saw and heard about many parts of the cathedral. This was one that I particularly enjoyed. We got to this section of the cathedral just in time to hear the clock man figure (at the top of the photo) chime 6 pm. The figure has been chiming the hour for centuries!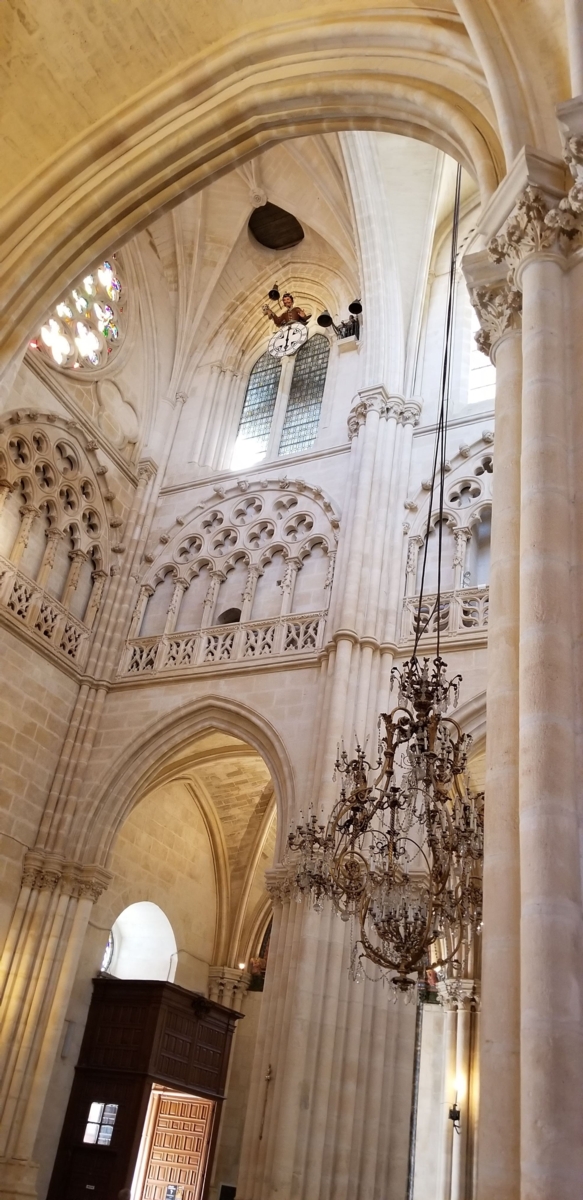 Our day ended at a restaurant where we were served a traditional Castillian dinner. The best lamb I've ever had!
Wild and Wonderful South Africa--Jean and Larry Gilbert on Safari
Almost a year before we wanted to go there, Jean and I started listening to the experiences of friends who had traveled to Africa. This trip had always been on my wife's bucket list, so we began our research to help us decide where and how long to go, considering our budget and our desire to see big game.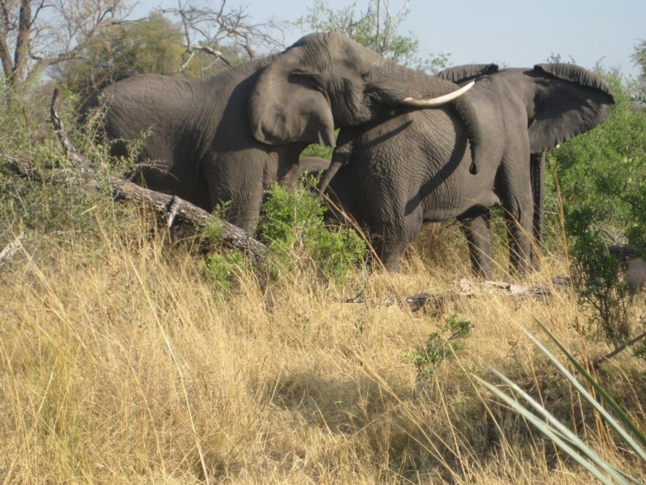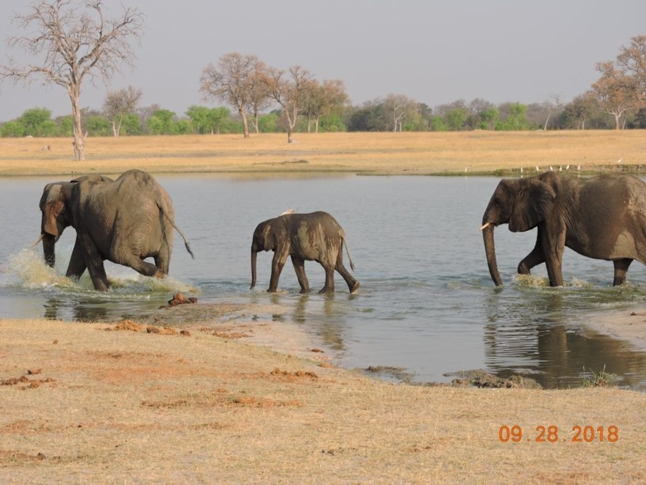 There are many choices in operators and destinations, as well as experiences that were offered depending on personal preferences. We decided that, although the culture would be very interesting, our primary interest was in the opportunity to see as many of the "big five" (lions, leopard, elephants, cape buffalo and rhinoceros) as possible.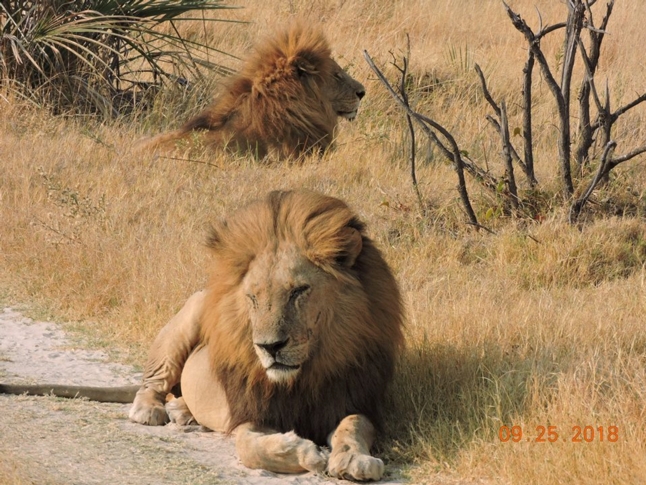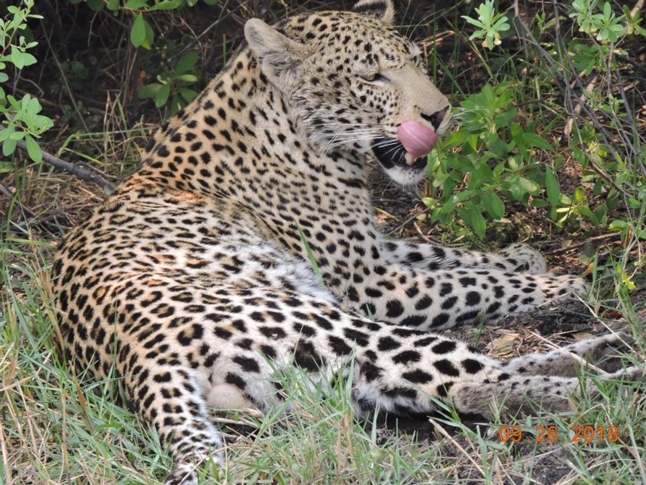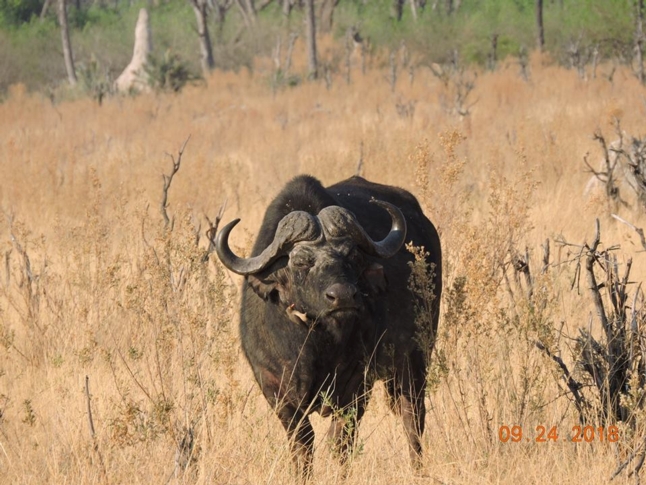 After several months of reviewing tour destinations and operators – and faced with the fact that on one trip we could not possibly go to all the "go-to" countries, we found an itinerary concentrated in a relatively small portion of southern Africa that included the countries of South Africa, Botswana and Zimbabwe, with a stopover at Victoria Falls: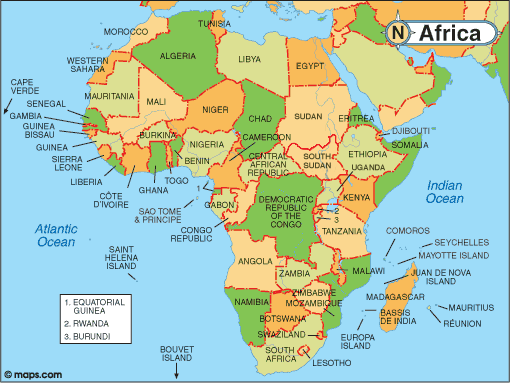 (Although we will not return to Africa, we know people who insist that it takes two trips to fully experience the continent and safaris since Kenya and Tanzania are also "can't miss" destinations.) Nevertheless, we had a great experience seeing Capetown and the Cape of Good Hope before our safaris in the Okavango Delta in Botswana and Hwange National Park in Zimbabwe.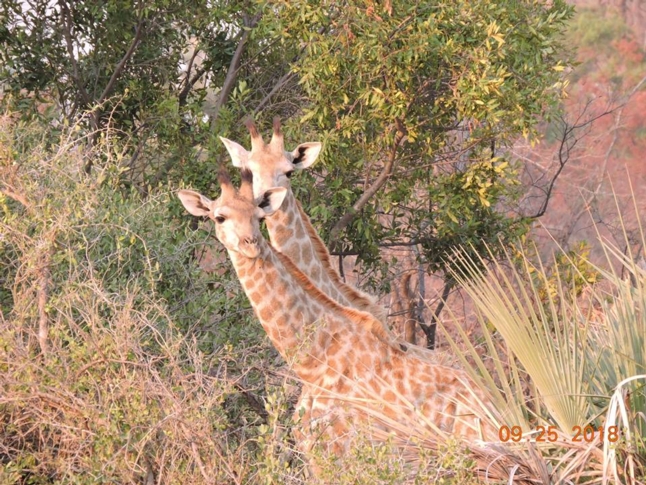 Travel to the tent camps was by bush plane and required that our bags (provided by the tour operator) be soft-sided and no larger than 24 inches by 10 inches. This would not be a fashion show – we brought the minimum of shoes and clothing and did some washing of quick-dry underwear during the trip.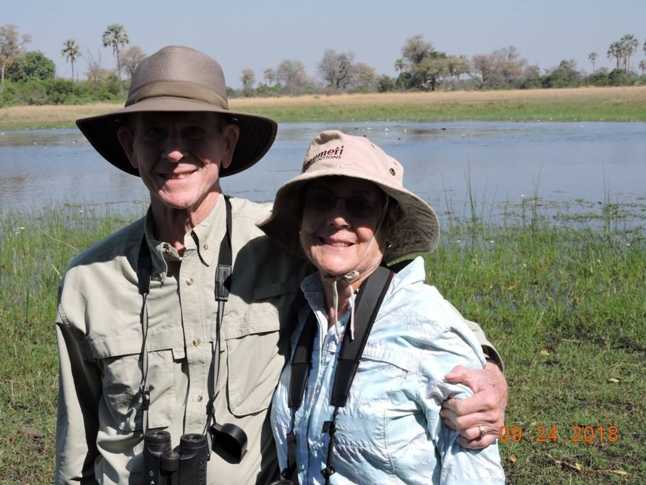 The first evening the sixteen members of our party arrived at the airstrip of the Okavango Delta camp, we were loaded aboard the vehicles which would become our Botswana safari vans for the next three days. The sun was setting. We had endured a long day of travel and were anxious to get settled for dinner. We swerved and bounced along a road worn out of the sand and grass – and came upon a large bull elephant on the side of the road, grazing quietly on the branches of a small tree. As our vehicle stopped, we stared at him and he stared at us. We were dumbfounded – having been home in Rocky River only a week before that evening, and in metropolitan Capetown that morning …. It was surreal to be ten feet from an elephant at the end of the day. We learned that night that all the game has come to accept the large Land Cruisers as a large animal which poses no danger. As long as the occupants don't do stupid human tricks – shout, stand up, wave their arms or leave the vehicle – the animals appear unafraid.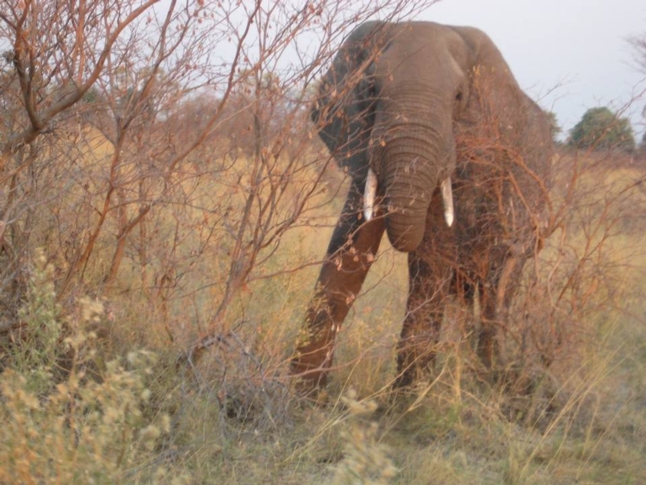 During our six days on Safari – three in Botswana, three in Zimbabwe – we were able to see an amazing array of animals – free-roaming predators and prey, wild, hunted and in some cases killed as part of the circle of life. We did not see any rhinos, which are scarce due to poaching and now protected in sanctuaries. Nevertheless, we saw more big game than I ever expected to see in my lifetime.
Lilac Breasted Roller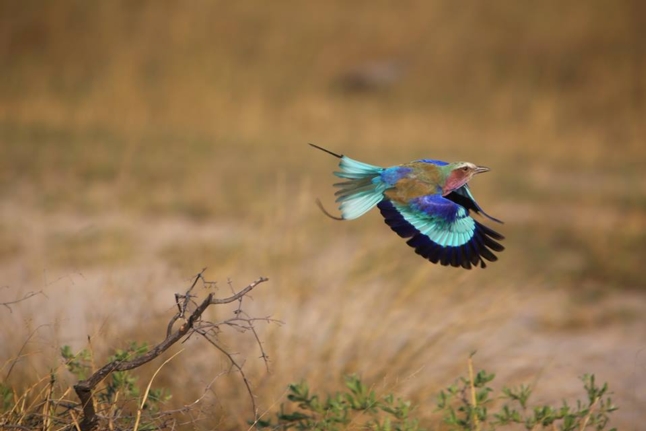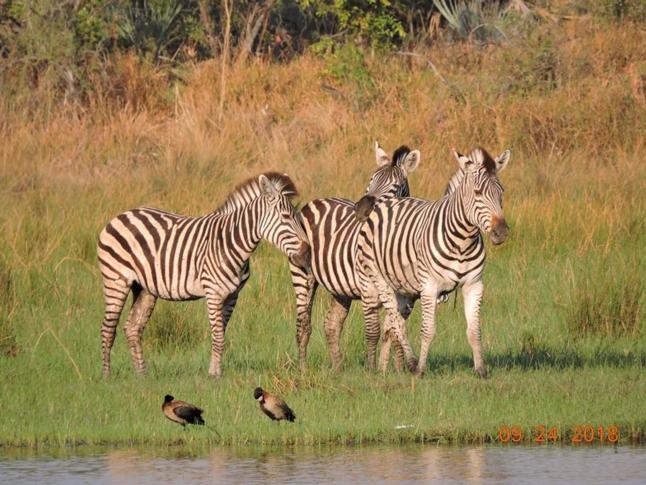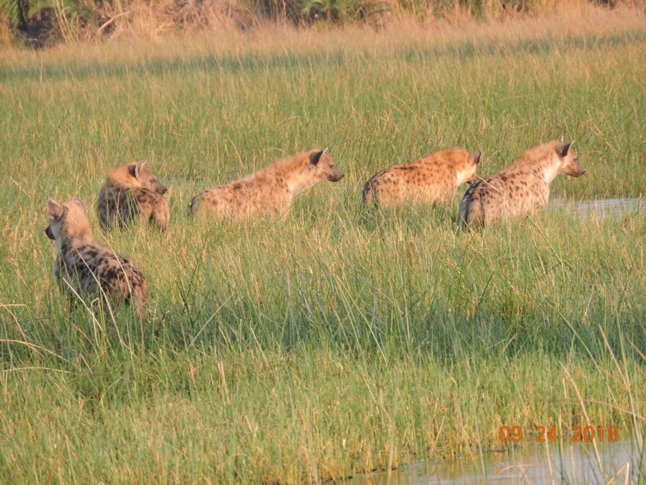 The Circle of Life: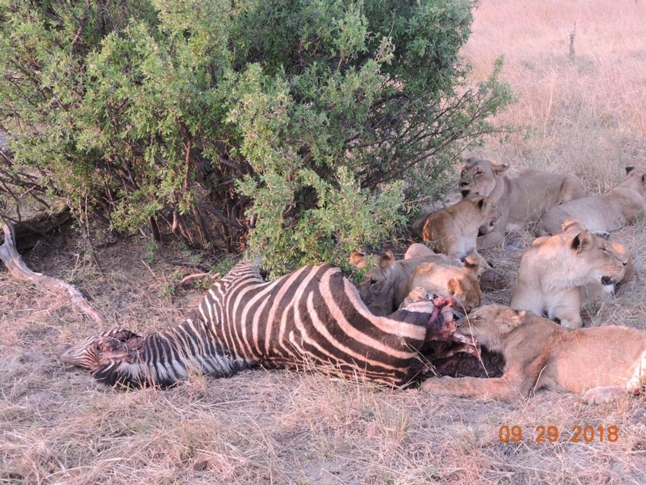 We took hundreds of photographs – some of which are included in this RRHS '63 story, thanks to Ellen Templar. Thanks, Larry. Elephants live in community, mostly they are a family. It appears that they live and love much as humans do. Below is a series of photos of Elephants in mourning.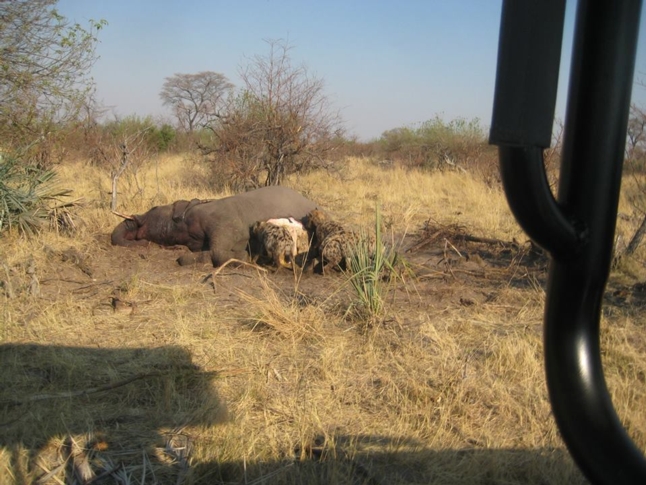 .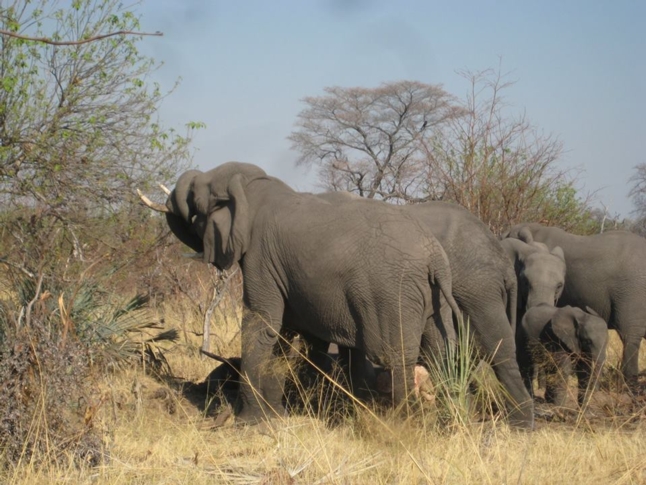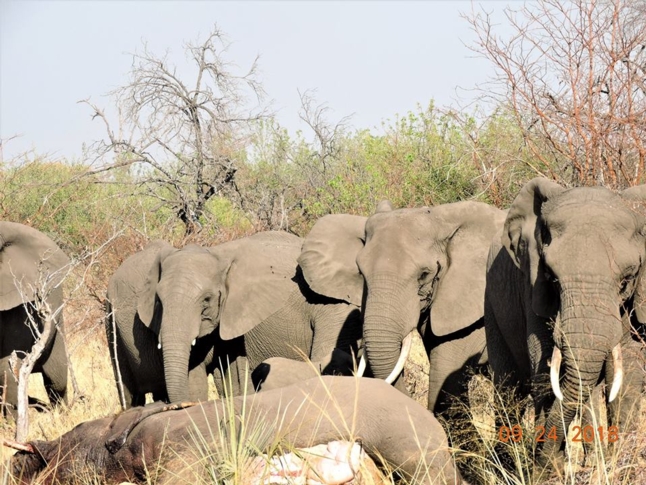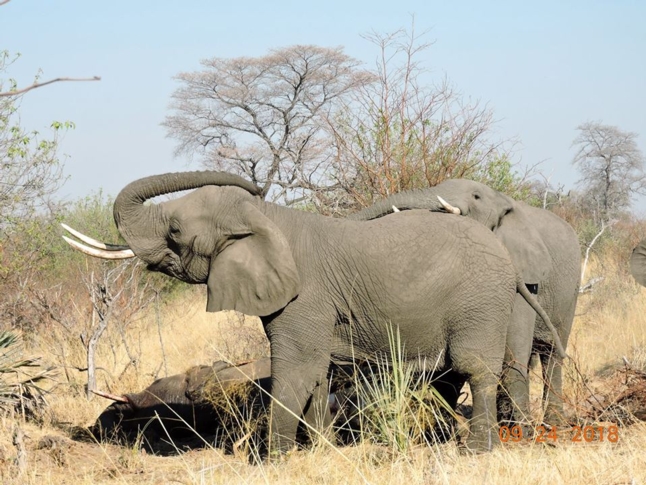 Wednesday, May 29th
There is a greeting exchanged by pilgrims on El Camino, "Buen Camino." It means Good Path or Good Road - physically and spiritually. And so, wherever you are, I wish you Buen Camino, Peg
After breakfast, we began our 14-mile hike from Roncesvalles to Zubiri. Initially, the oak and beech forest was dripping wet - from treetops to the paths on which we walked. No wonder I didn't take any photos then! Our bus met us at Zubiri and we drove 35 minutes to Pamplona.
Pamplona - Hemingway, the running of the bulls, and bullfights.
We began our walk through the old city and up to the fortress walls. Some of our group are in this photo.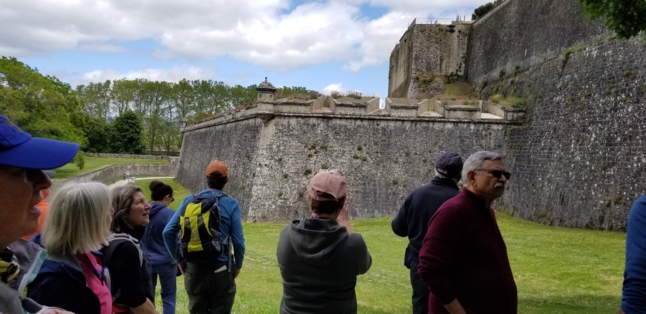 Then back down into the city and to the place where the running of the bulls begins. The running of the bulls is not part of the bullfight. It is how the bulls are gathered in one place and then taken (ok, they run!) to the bull ring. We were standing where the bulls gather. The red line on the road is where the bulls begin to run. We walked the streets where they run. During the run all buildings - doorways and windows are protected. And as we know there are people who jump in and run with the bulls - very dangerous. As we walked the route, our lead guide spoke about bullfighting. As we neared the bullfighting arena I told him I was grateful to understand more about bullfighting and that I do not know or understand enough to make judgments about bullfighting.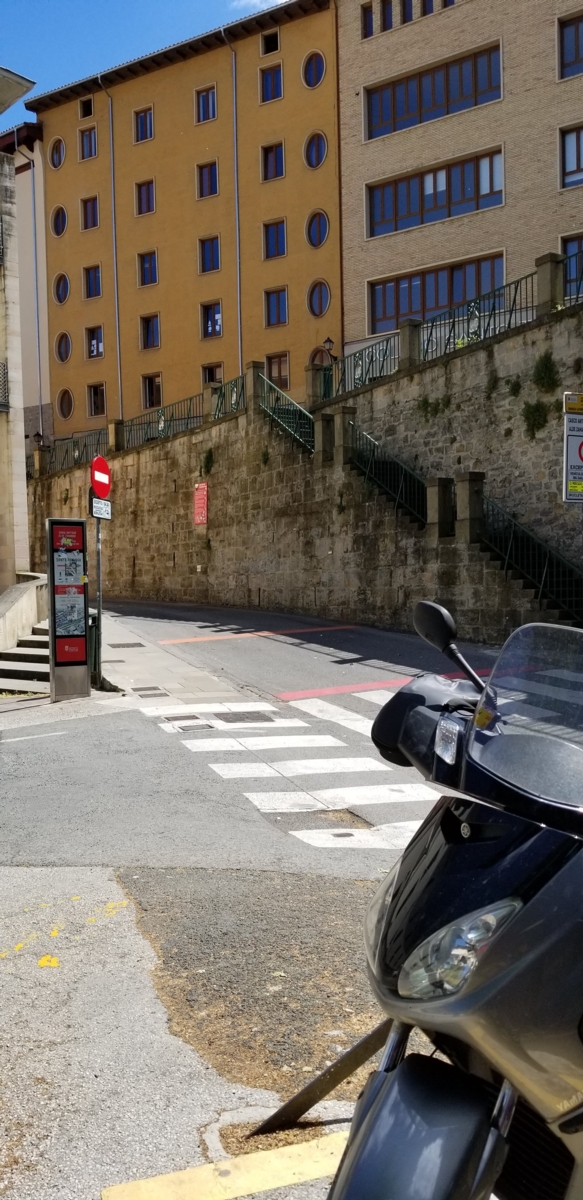 The photo below is of a picture of the most dangerous turn in the running of the bulls.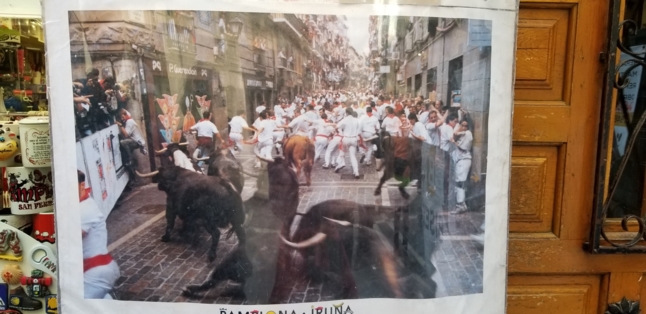 This is the bulls' entrance to the bull ring.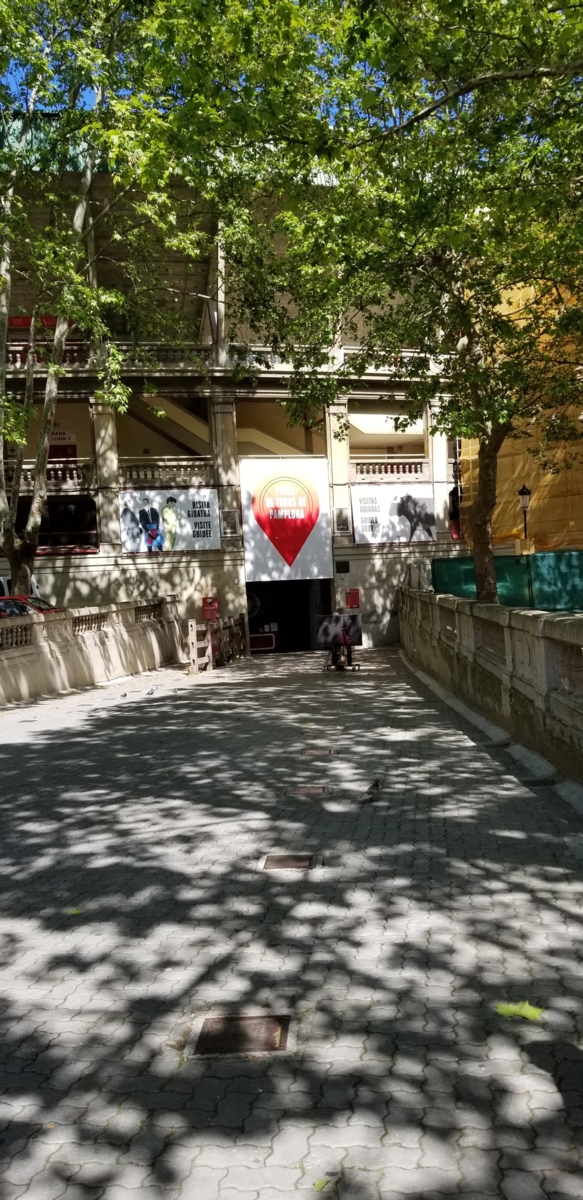 And this is a bust of Hemingway, adjacent to the bulls' entrance.
.Buen Camino, Peg
Tuesday, May 28th
There is a greeting exchanged by pilgrims on El Camino, "Buen Camino." It means Good Path or Good Road - physically and spiritually. And so, wherever you are, I wish you Buen Camino, Peg
After breakfast, we had a winding, up and down the mountain 17 mile/40 minute ride in "our" bus - from Roncesvalles, Spain to St. Jean Pie de Port, France. St. Jean is a walled city at the foot of the Pyrenees. As we began our walk through the old town the rain began. Out came our rain gear and we proceeded up the cobbled street to the citadel at top of the hill above the city. Fascinating architecture. Wondered what it would be like to live there - in the midst of soooo much history.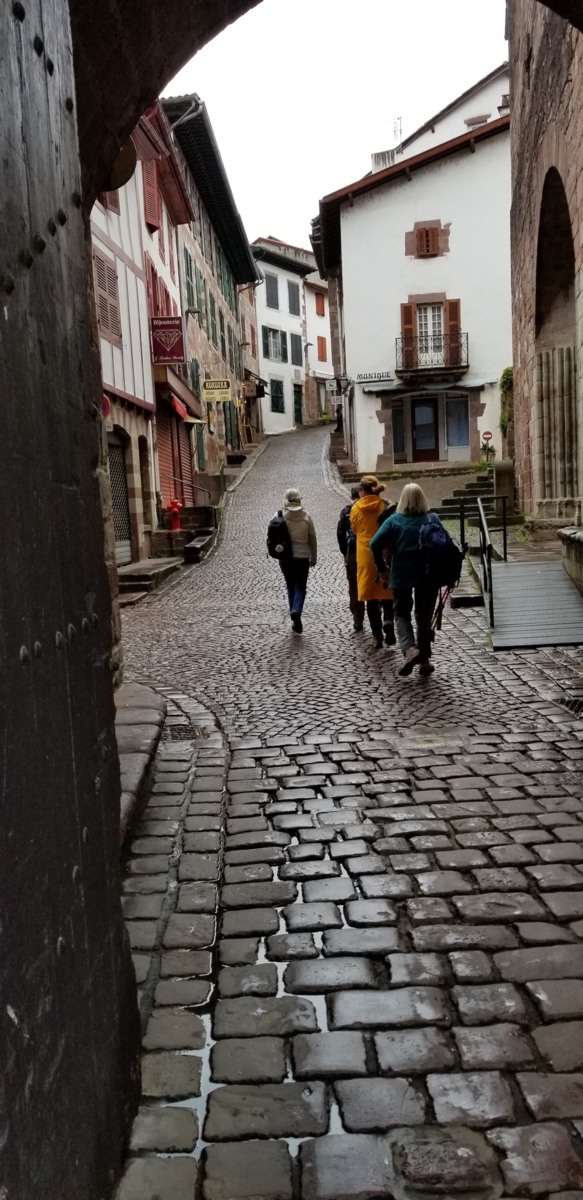 Then back down and to our bus. About 45 minutes later we were dropped off at a mountainous area called La Virgen de Biakorri. Our first hike on El Camino took us through the pass where Roland, the hero of Charlemagne's army, battled the Basques. The ascent was 1,650 feet, at first on rocky paths and in pouring rain and strong wind. And, because we had all followed the recommendations about what gear to bring, we were dry and not cold. We could focus on the challenge of the climb in the midst of the weather.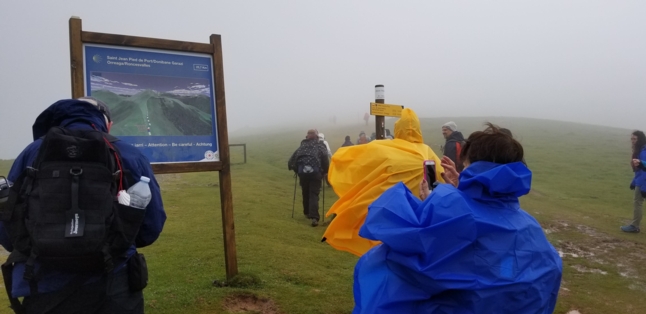 Then the trail took us through meadows and beech forests. The picture below shows the Hotel Roncesvalles, where we stayed a second night. Look in the center (but not at the top), where the two mountains converge in a valley, in a lighter green area. There is a white building. That's the Hotel! Amazing to realize how high we had climbed and how far down we had to go.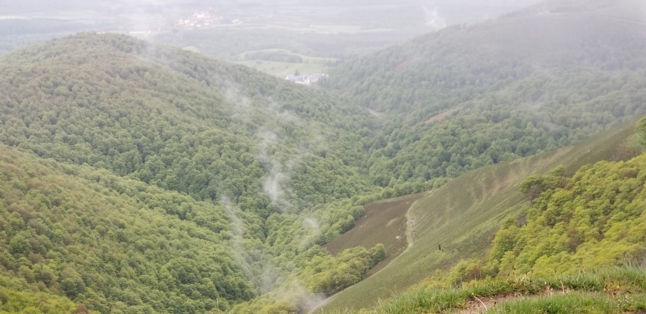 .The descent back to Roncesvalles was 1,350 feet. Gratefully the rain and wind subsided. By this time my right knee was very unhappy. Having hiked 9 miles, I gratefully accepted a ride in "our" van for the last mile!
Monday, May 27th
There is a greeting exchanged by pilgrims on El Camino, "Buen Camino." It means Good Path or Good Road - physically and spiritually. And so, wherever you are, I wish you Buen Camino, Peg
Our instructions were to meet our guide and the rest of the group at 11 am at the Gran Hotel Domine Bilbao. That's the hotel where Lynn and I stayed Sunday night, across from the Guggenheim Museum. We had received a list of first names of group members and their home towns. So I knew there was another woman from Maine in the group! From Bowdoin, a small town near Brunswick.
Lynn and I headed to the lobby a bit early Just before 11 we realized other people were beginning to arrive. So I turned to a woman who was sitting on the bench with me and asked if she was part of the El Camino group. Not only did she say yes, it turned out she was the other woman from Maine, and within minutes we realized we had a friend in common.
And then we were all heading outside to the bus and van (for our luggage), introducing ourselves as we went and meeting our primary guide. Soon we were on the bus en route to San Sebastian - as noted in our materials, "considered to be the most beautiful city along the Bay of Biscay." We walked through parts of town and then to a restaurant for lunch.
Today's photos are courtesy of my sister, Lynn. Seems I didn't take any pictures that day!
The beach at San Sebastian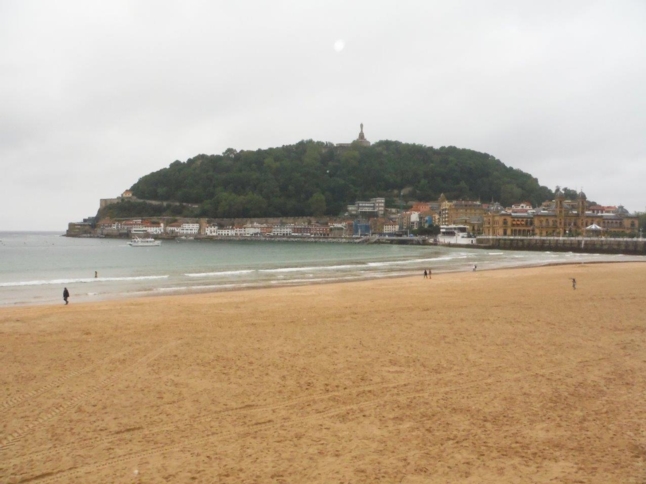 Lunch at San Sebastian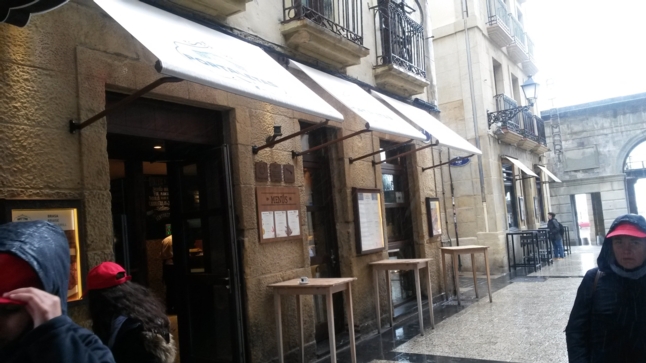 Then back on the bus and on to Roncevalles, an old village in the Basque Pyrenees. The elevation at Roncevalles is just over 3,000'.
Outside Roncevalles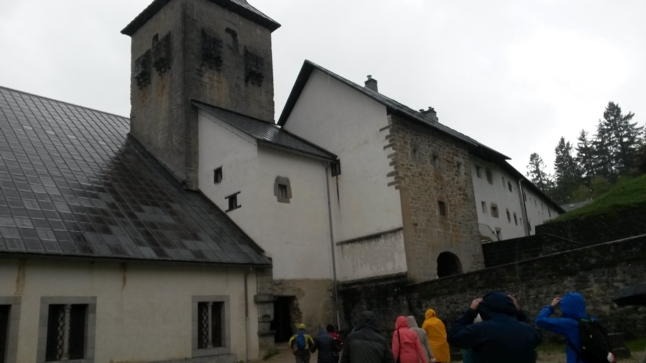 Front Hall at Roncevalles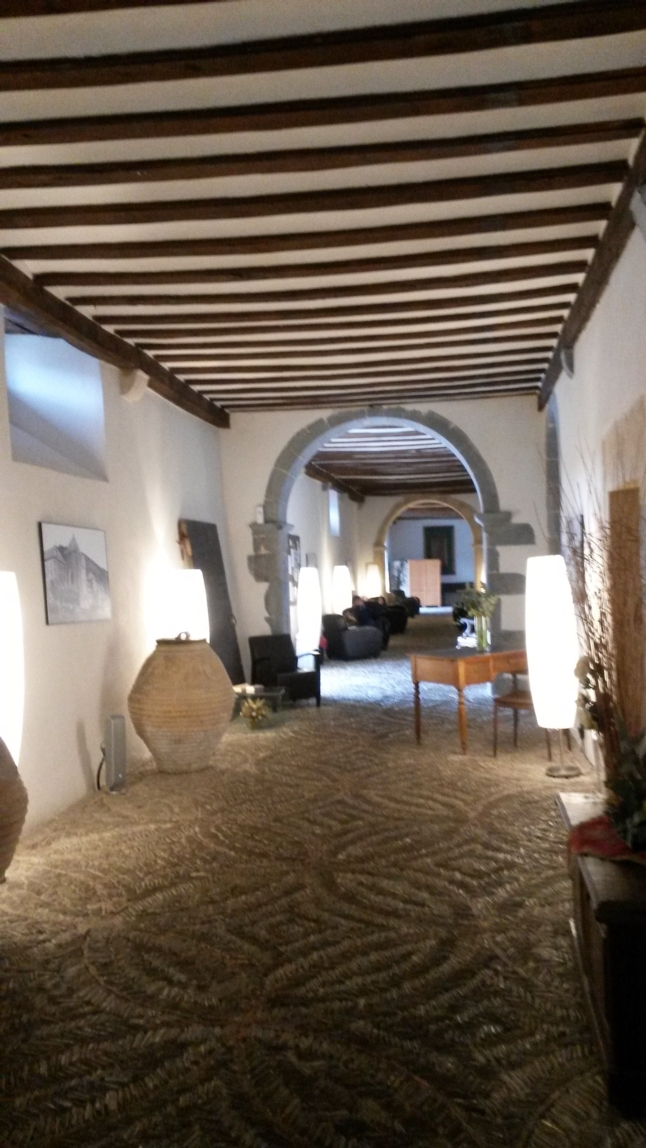 We stayed two nights at the Hotel Roncesvalles, originally a medieval hospital - a place that provided hospitality, a place to rest.
Finally for today, here's a map showing what is called The French Way. There are many different paths one can hike on El Camino. Long history. Short version is that people, called pilgrims, have been walking these paths for a long time. Celts and Moors walked them. Part of the paths are old Roman roads. And the pilgrims began their walks at home, wherever that was - Belgium, France, Germany, Italy, .... and walked to Santiago de Compostela and then back home! The routes took on the names of the places of origin. Our hike was mostly on The French Way.
From the M in MAPA, look below and to the left a bit to find Bilbao. Then to the right of Bilbao, on the coast to find San Sebastian. Then below the G in MAPA GENERAL, find Pamplona. From there go up and to the right a bit to Roncevalles, very near the French border.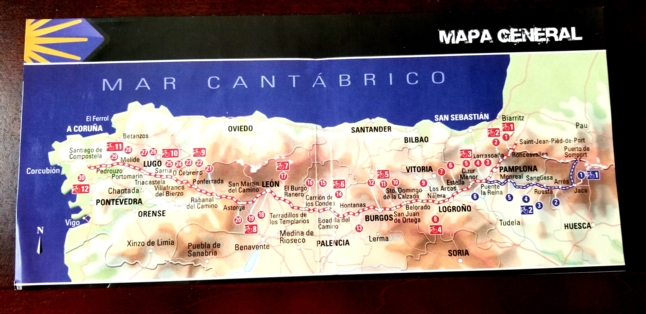 Sunday, May 26th
My sister, Lynn, and I arrived in Bilbao, Spain mid-morning. That was after 2 flights and no sleep. The first person we met at the hotel was a bellhop; and we rather quickly learned he was from Columbus, Ohio (where my daughter Anne and her wife Barb live)! Alas, the room was not available for check-in at that point. So, we took a long walk.
As we left the hotel (opposite side of the hotel from where we had entered), right across the street we saw the Guggenheim Museum. And in the plaza right next to the museum a HUGE Scottie dog. After close-up looks at the Scottie, we walked along the canal leading up to the oldest part of Bilbao, a Basque neighborhood. The culture, language and many traditions of the Basque people differ from those of Spanish and French. So many sights and so many people (of all ages) out strolling on a Sunday morning.
By the time we returned, a couple of hours later, we were able to check into our room and then headed to a cafe in the hotel for lunch. A full and wonderful first day in Spain.
Our hotel is the is just beyond the white vehicle, a dark facade. The blue and white building is part of the Guggenheim Museum.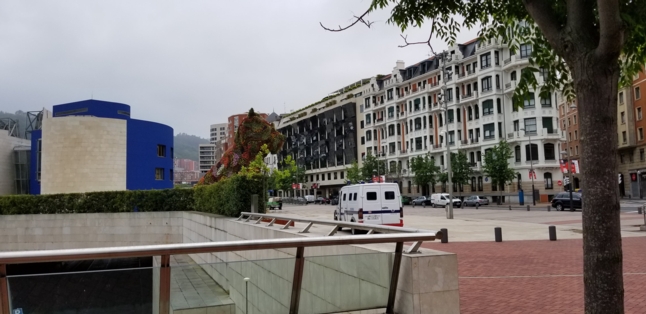 Scottie was originally created for an exhibition. Loved so much, the people decided to keep Scottie. The plants that cover Scottie are tucked into a frame. The watering system is inside Scottie - we got a peak as when we returned from our walk the door was open.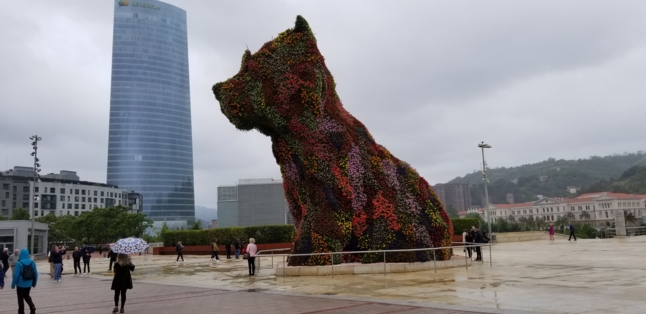 We walked up one of the narrow streets in the old Basque neighborhood to see the cathedral. Lynn paused to check out some postcards. Note the glass-and-metal overhang on the building to the left. Wherever we went in Spain we saw such overhangs. It is a way for the people to extend their living area a bit and have covered space for "the rain in Spain!"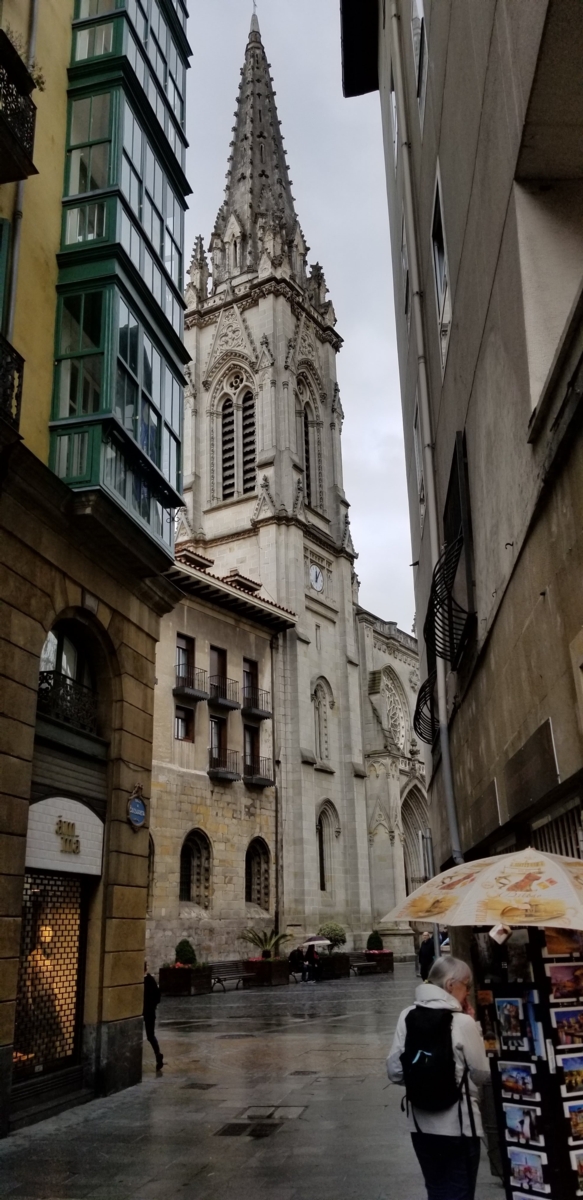 While we anticipate more travel stories from a few classmates (being written as we speak), here's a 'meanwhile' post from my recent travels all the way to the West Flats! It was a spectacularly fun night with these very talented musicians. Watch for them cuz they'll be back!
The California Guitar Trio and The Montreal Guitare Trio
In another life, I spent 5 years as the reviewer for concerts presented by the Seacoast Entertainment Association of Florence, Oregon. I loved every minute of this 'job,' but some moments stand out more than others. Enter the California Guitar Trio and The Montreal Guitare Trio (who are thoroughly French-Canadian). Below, somewhere at the bottom, is my original review written in 2013. Fast forward to May 7, 2019, in Cleveland, Ohio. Prior to this date, I had seen the CGT in Phoenix twice in one year, the second time being April 7, 2019, just one month before their Cleveland concert. I'm starting to feel like a groupie.
CGT – on stage, Chandler Center for the Arts (Arizona)
The Music Box Supper Club in the Cleveland Flats (east side) on the Cuyahoga River was host to these two trios on the date mentioned above. Yes, I went out of my way to attend bringing a guitar friend with me. There was not a disappointing moment all evening long. The earthy French-Canadian/Gypsy flavors were present as well as Johann Sebastian Bach's "Toccata and Fugue in D minor" by the CGT. CGT is blessed with Bert Lam's classical education at the Royal Conservatory of Music in Brussels, Belgium. Who expects some guitar trio to walk out on stage and play Bach (intricately arranged by Bert)?? But, it just lends to Bert's talents and the uniqueness of the CGT.
Bert Lams (All photos are mine unless otherwise noted)
CGT has their own 'style' because the minute anything by them starts, I immediately recognize that it is CGT which has amazed me. But, they definitely have their own uncommon sound, and, they are all composers of original music they perform such as Hideyo Moriya's "Fortune Island," a commemorative piece to the Fukushima disaster. A masterful composition by Hideyo who is also an amazing guitar percussionist!
Hideyo Moriya
CGT is often billed as a 'jazz' trio which I find odd. First of all, I don't much like jazz and while some of what they perform actually is jazz, I like pretty much anything they play. However, they are much more eclectic in their styles of music and 'jazz musicians' is a misleading description for this trio. "The Train To Lamy" is a collaborative composition written by Bert, Hideyo and Paul Richards. It is actually a suite and starts out quite jazzy, sounds very country/western in the middle and then becomes one of the most beautiful pieces of music I've ever heard.
The California Guitar Trio–photo by permission of CGT
Paul Richards naturally has the look of a California-Surfer (think Beach Boys). And, he has the charm to go with it. They all smile because they all love and enjoy what they are doing. But, Paul's smile is perpetual and at the same time genuine. And he never misses a beat as he is usually in motion with the music. Not quite dancing, but close. Paul plays several different types of guitars and causes engaging sounds to stream out of them that I've never heard from a guitar before.
Paul Richards (in motion, as usual)
The Montreal Guitare Trio is based in, well, Montreal, Canada. They grew up speaking French and Marc Morin describes their speech as, "A sexy, French-Canadian accent." They even visit with each other during performances in French. The CGT and MGT have been collaborating and touring together for about ten years. And they do it very well. They have very different music styles but blend with each other flawlessly.
BTW, I am now the proud owner of 5 CGT and/or MGT CDs and will no doubt own more as it goes. Great traveling companions! You can visit their websites for the inventory of CDs and other neat stuff. https://cgtrio.com https://www.mg3.ca They each also have Facebook pages plus one together. You can query the names to find those pages. But, don't leave until you've finished reading this!
It would be difficult to describe Glenn Levesque, of MGT, without mentioning his voice. "Weird Fishes" (Radiohead) has grown on me but came home when I heard Glenn sing it in concert. His clear tones resonate into your soul. For me, it was a shut- your-eyes and let that awesome voice fill everything around you moment. And it did. There's an accent over the first e in Glenn's last name but this program hasn't a clue how to do that.
Glenn Levesque
Sebastien Dufour (accent over the first e) is the man in the middle. I had a friend with me who plays/performs guitar and he wanted to know HOW does he, Sebastien, get his fingers to travel that quickly over the strings?! I don't know but I wouldn't be surprised to see sparks flying out of Sebastien's guitar. Or even his charango which is a kind of Bolivian guitar. A charango is an ethnic instrument which means it is very similar to its original design that can be centuries or even thousands of years old. Original instruments aren't always easy to play but Sebastien makes it look easy. A charango looks much like a ukulele and sounds a bit like a mandolin.
Sebastien Dufour
Marc Morin is the one the other two claim is 'wearing' hair. They all play more than one instrument but Marc is the only one who plays accordion. Usually with his eyes closed. That's how good he is on anything he plays. Marc was worried that we were sitting in the 'loud' seats but we didn't notice. It was all just more than good. And fun. Lots and lots of fun!
Marc Morin
The MGT is also often toted as a jazz trio but that is a misnomer in their case too. They play a variety of music styles and do some unique mixing—opera with klezmer, Indian with Arabic. And often there is gypsy woven into many of their selections, and/or Flamenco and/or French-Canadian folk music. And they, too, compose. Marc said one of his favorite things is to play for folk dancing in Montreal. Being a folk dance teacher I just said: "La Bastringue." They immediately knew what I meant. Sebastian assures me that it is now on their set list. I can't wait to hear it next time (and there WILL be a next time as I've become a guitar junky and big fan of these 2 trios). I may get up and dance if I can find a partner!
The Montreal Guitare Trio – photo by permission of MGT
Watch for them to come your way as they play everywhere, even some small towns like Florence, Oregon. Don't miss any opportunity to see/hear them! You will be glad you did. BTW, they are great fun so you will be immersed in fun you didn't know would be happening in a concert filled with top-notch musicians. They were kind enough to pose for this photo. We're not sure where Glenn was. As Marc said, we were trying to herd cats. I need a better camera!
I leave you with one of the pieces they have much fun with! You will like it! Listen for the French-Canadian folk tune….video by permission of CGT & MGT
Oh, yes, the review from 2013:
SIX GUITARS ROCK FEC
In a mix of "Once Upon A Time In The West" written by Ennio Morricone blending with traditional Eastern European and Russian tunes, the distinct sounds of nylon guitar strings flowed across Florence Events Center performance hall on Saturday, November 23.
Following introductions by SEAcoast Entertainment Association President Ernie Doud and SEA Producer Sandy Kuhlman, the eclectic music stylings of the Montreal Guitar Trio opened this exciting evening of entertainment.
Rooted in traditional French-Canadian music, Glenn Levesque, Marc Morin and Sebastien Dufour have gathered into their musical characteristics many of the earthy, ancient traditional sounds and stylings of the world.
Composed by Dufour, "Garam Masala" displays the musical spicy blend that its name suggests. This piece requires special tuning to acquire the sounds of the traditional sitars of India. Melding traditional Indian and Middle Eastern music perfectly, the many talents of this trio stand out. The ancient vocals put forth by Levesque transport one to the deserts of the Bedouin.
Suddenly we are transported to Classical Era drawing rooms by the evening's second group, the California Guitar Trio, with their steel string rendition of Beethoven's "Ode To Joy". A definite change in styling, there is now a blend of classical, blues and more by these world-class musicians.
Hailing from Japan, Belgium, Utah and having met in England, Bert Lams, Hideyo Moriya and Paul Richards eventually settled in the U.S. 22 years ago to become the California Guitar Trio.
One repeated element of the evening stands out during a nostalgic and very California surfer moment, "Walk Don't Run" written by Johnny Smith and made famous by The Ventures. Richards, Lams and Moriya actually appear to be engaged in happy conversation with each other through their execution of the music. Conversation is again evident in Richards' unique "Chacarera."
Following the intermission, both trios returned to the stage to perform original and arranged compositions together. "Breizh Tango" written by Levesque combines the traditional folk music of Brittany in France and tango that leans toward gypsy styling to heights unimagined until now. Audience participation is encouraged to the gypsy rhythm.
One of the more beautiful moments of the evening was during George Harrison's "My Guitar Gently Weeps". In an artfully extended arrangement, Levesque sang the former Beatle's composition with all the emotion it deserves to the accompaniment of six guitars.
The audience was on its feet more than once during the evening clapping and vocalizing their appreciation. At the end, the attendees refused to sit or leave or stop clapping and cheering until the two trios returned for an encore.
It is impossible not to recognize the opening strains of Freddy Mercury's "Bohemian Rhapsody". While playing their elegant arrangement, Morin turned the microphone toward the audience encouraging them to sing along. Surprisingly they did reflecting a youthful presence in this almost sold out hall.
One audience member summed up for all attendees in her statement: "This was the best concert they've ever had!"
Mike Callahan is on a cruise ship to exotic places (well, exotic to me at least). He is sharing his adventure in pictures with all of us. Enjoy!
I think this is a typical view aboard ship!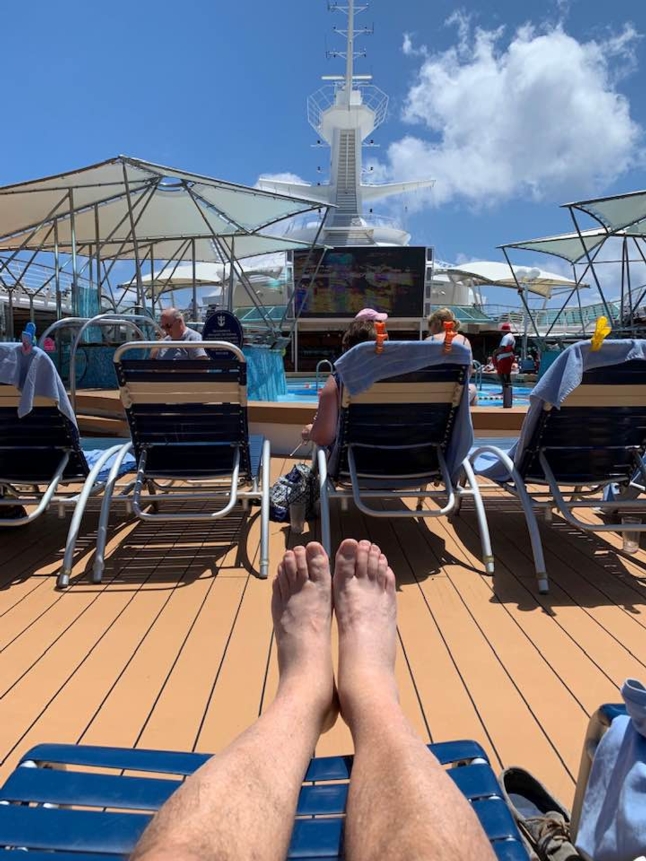 Mike is traveling on the Rapsody At Sea to Barcelona with stops along the way. Below he is in the Canary Islands.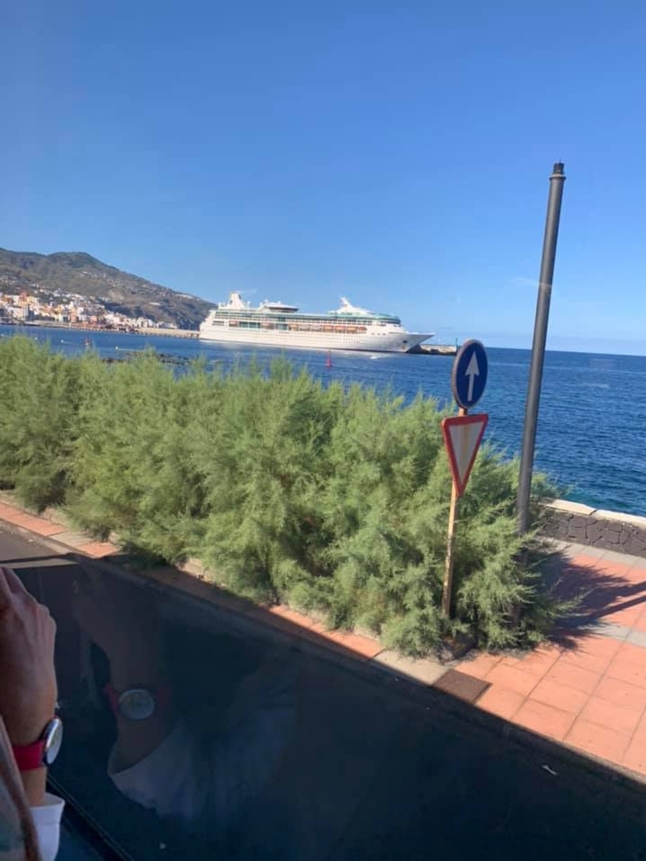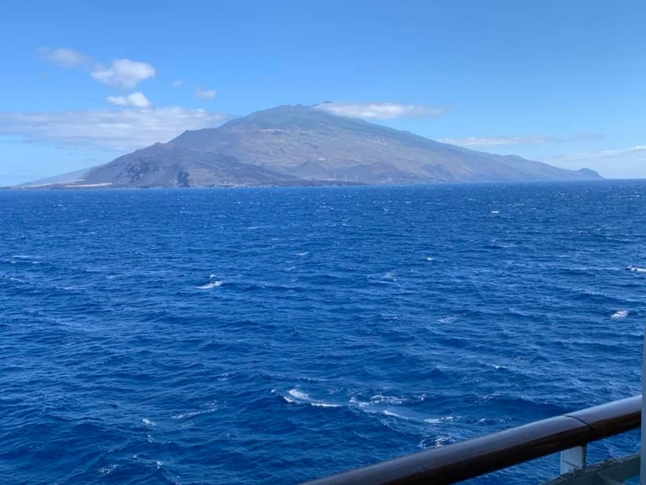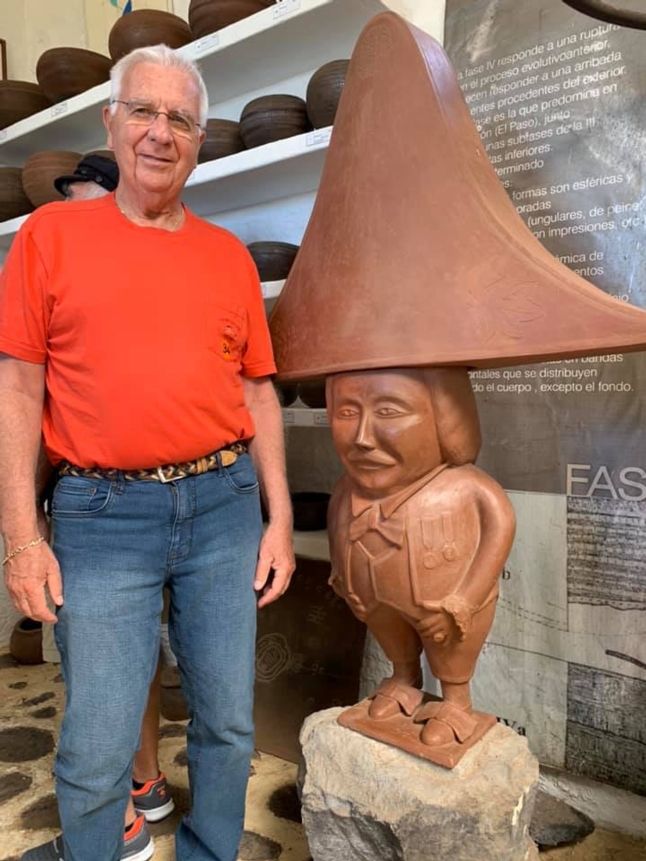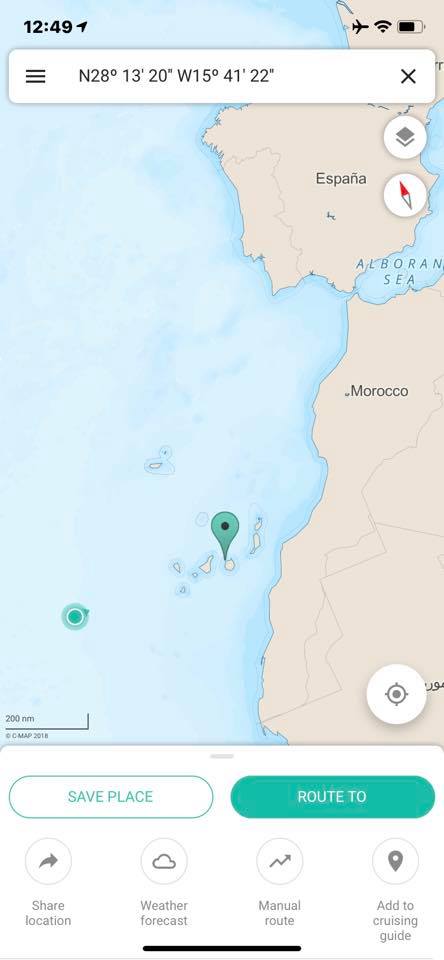 Off the Coast of Africa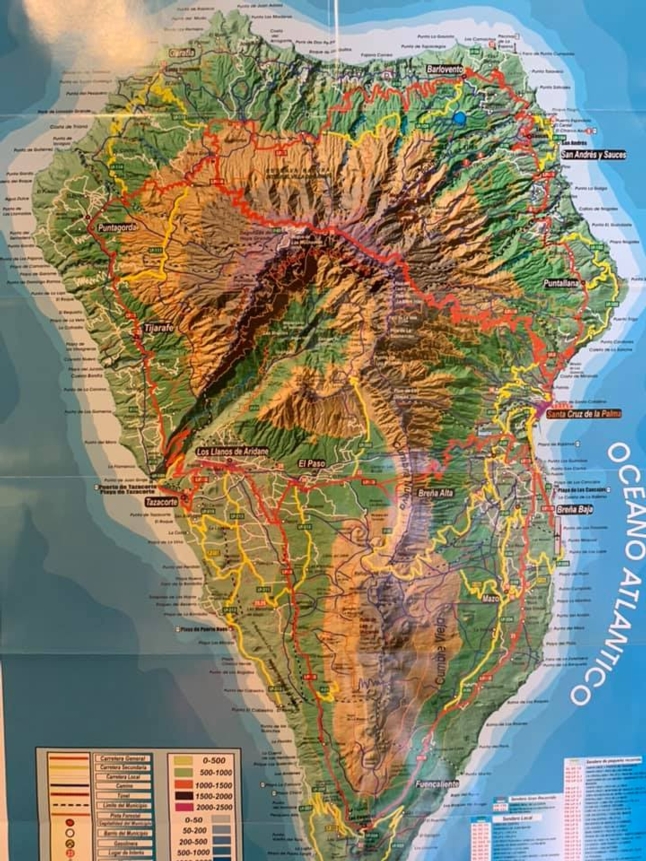 You'll need to ask Mike about these when he returns. Beer? Wine? Scotch?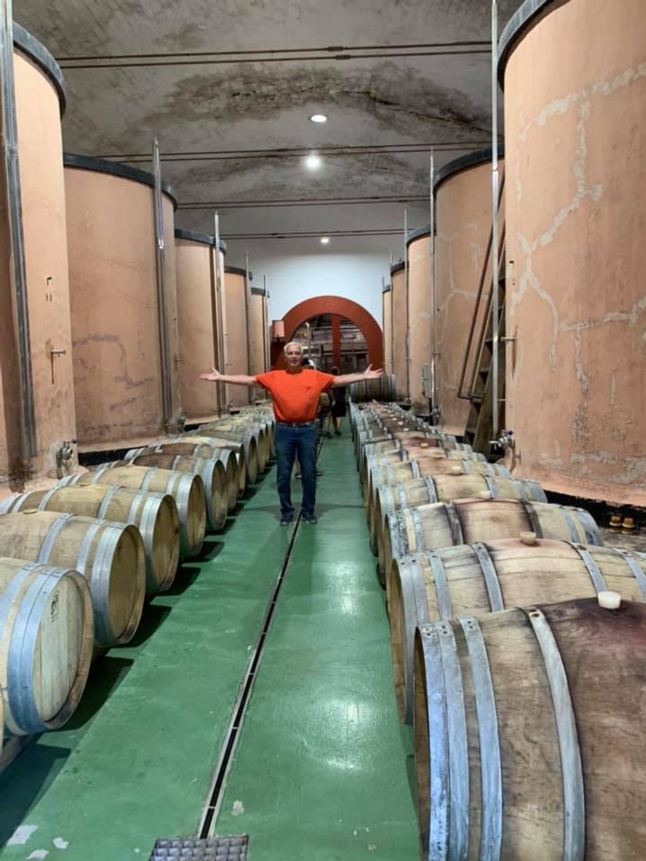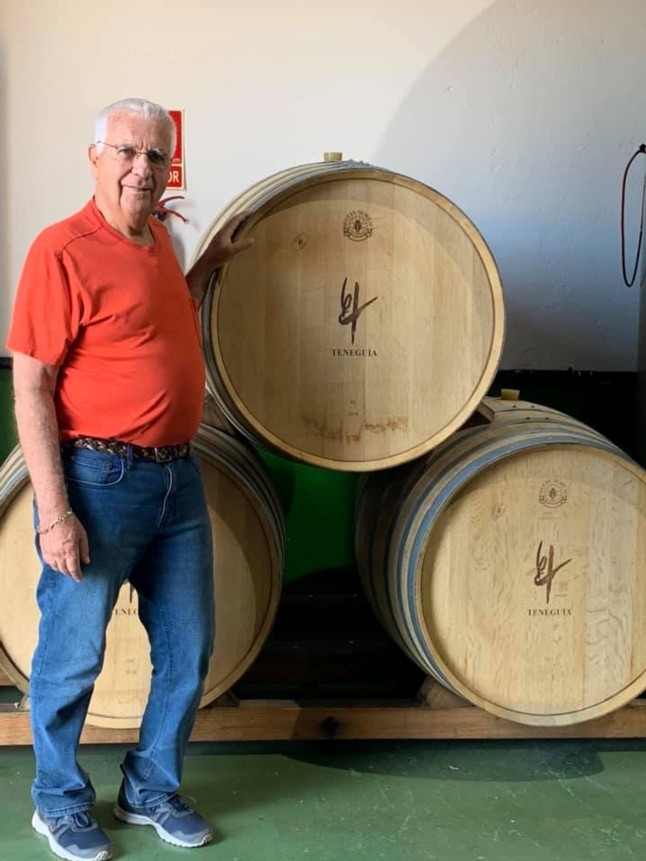 Passing the Rock of Gibraltar at Sunrise on the way to Malaga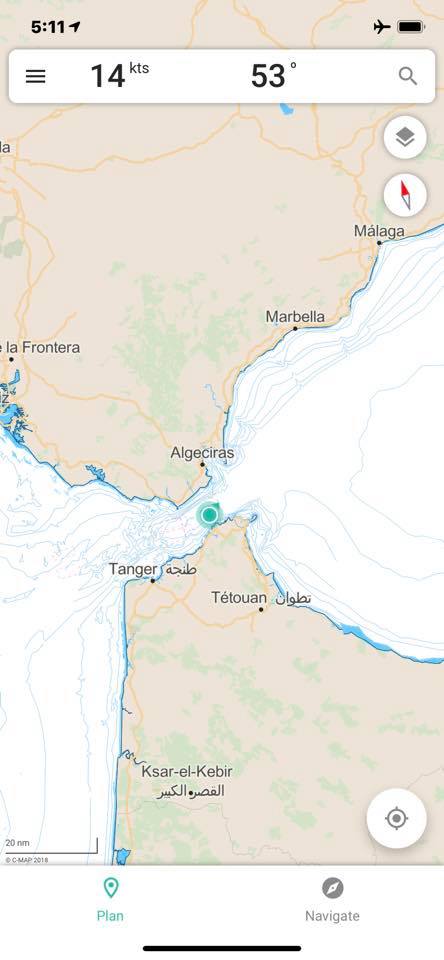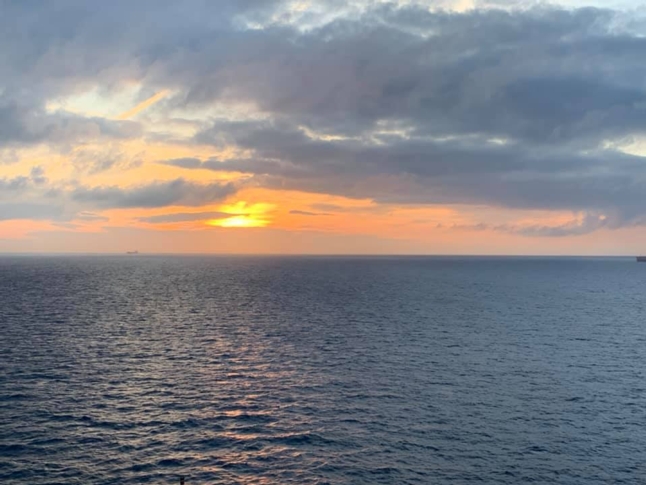 And some more sights along the way: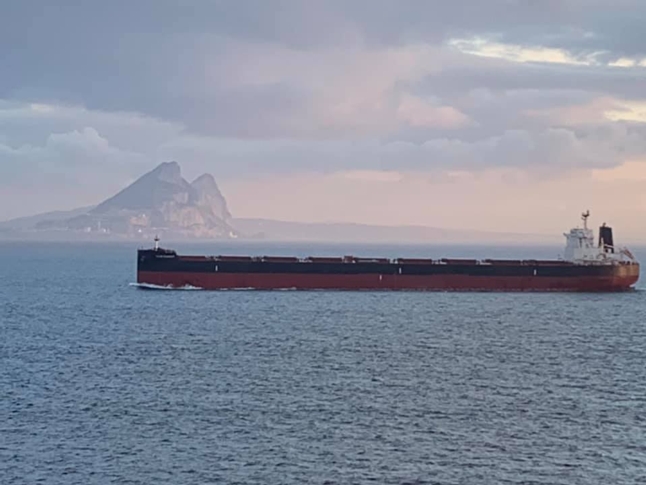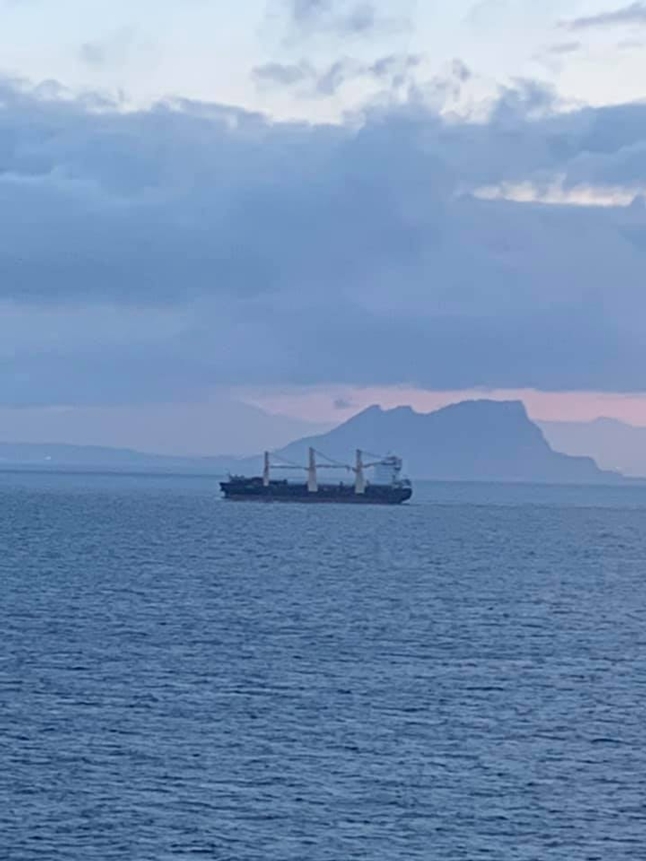 Thanks for sharing, Mike!! Watch for more from Mike as he cruises on.....
And here are a few more photos from Mike today: Birthplace of Pablo Piccaso. One of the oldest cities in Europe on the Spanish Costa del Sol. Malaga, Spain. The weather is a lot better than Northern Ohio!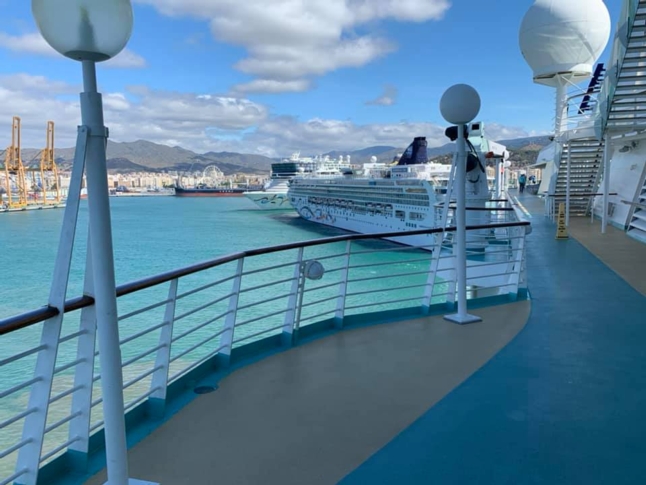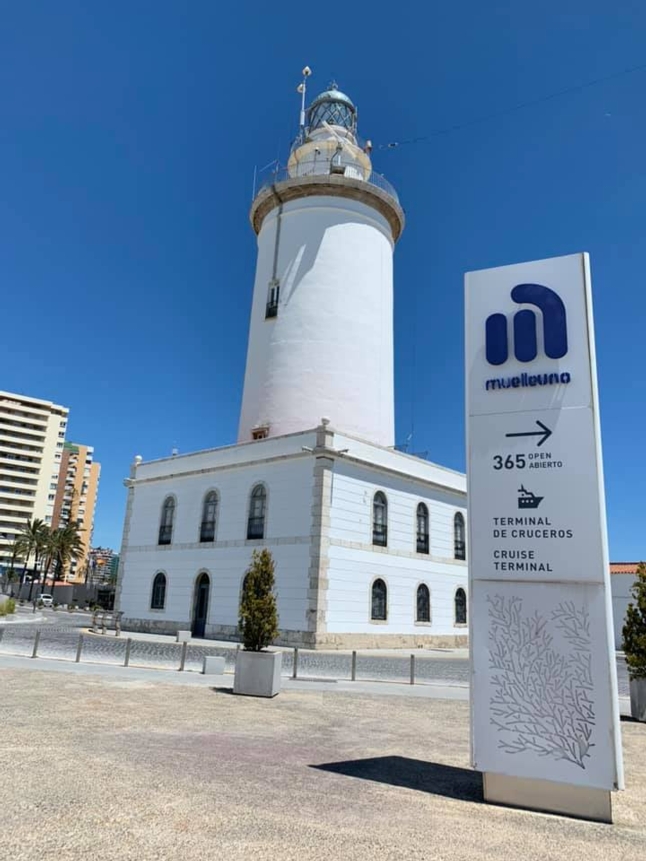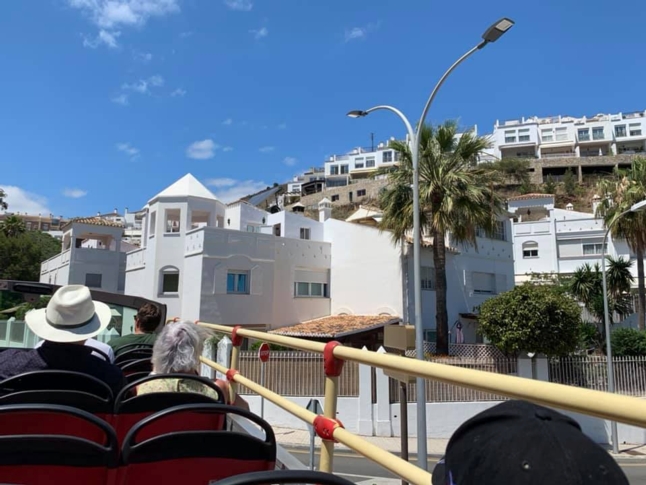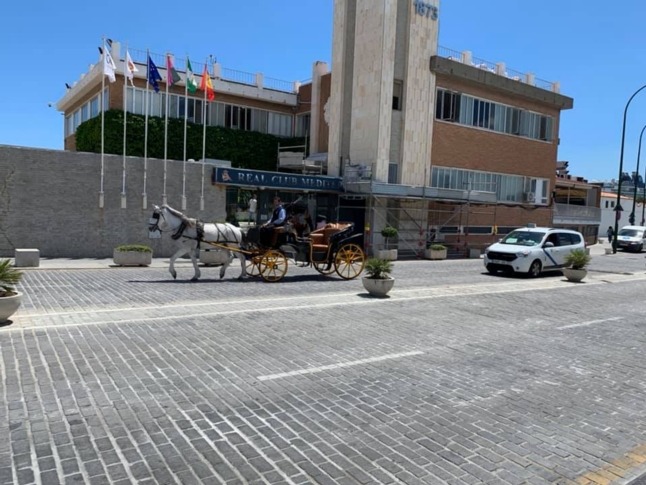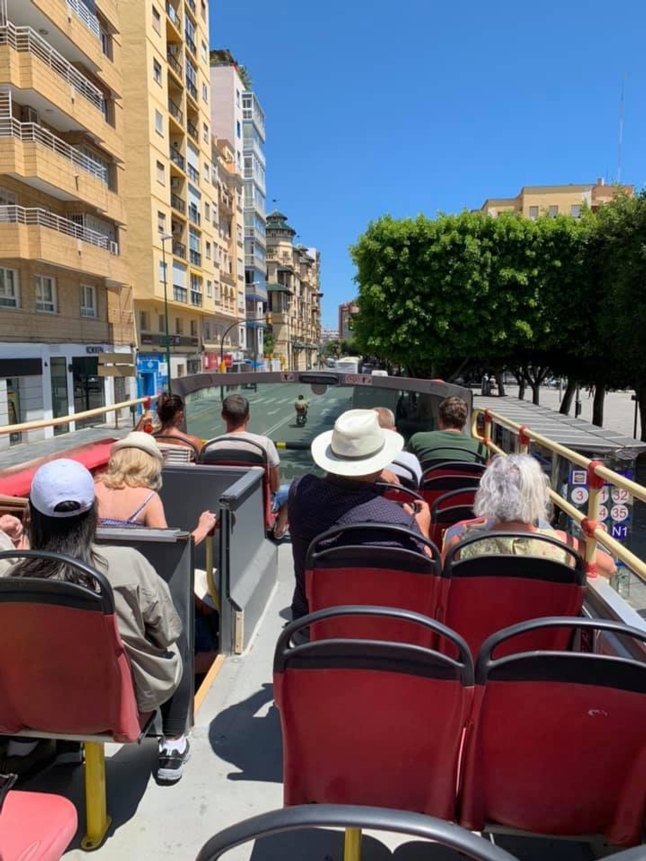 Watch for more to come!.
Mike is in Barcelona, Spain right now and says: "Barcelona is a city best seen on foot. We walked over 15 miles in three days. And I would do it again. Great wines and Tapas!" Here are some photos he took at the Hotel Jazz and Las Ramblas Plaza Catalunya.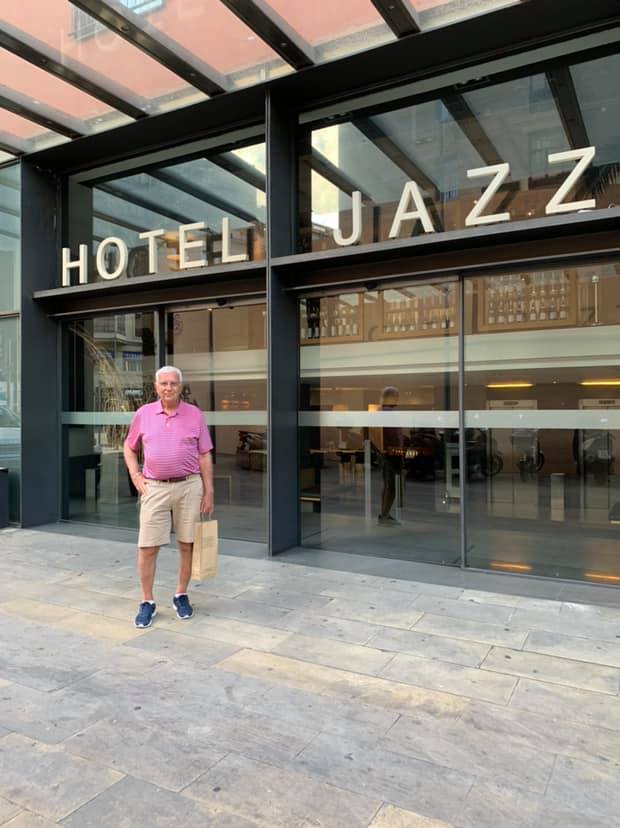 These photos were taken from the rooftop of the Hotel Jazz which has a pool and a bar and is located in the heart of the city.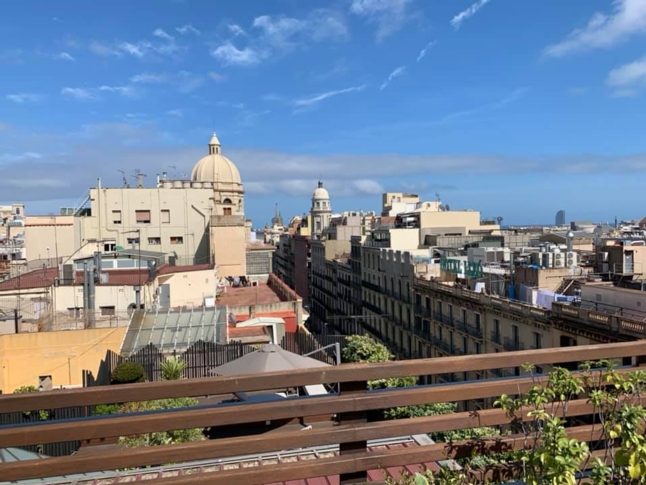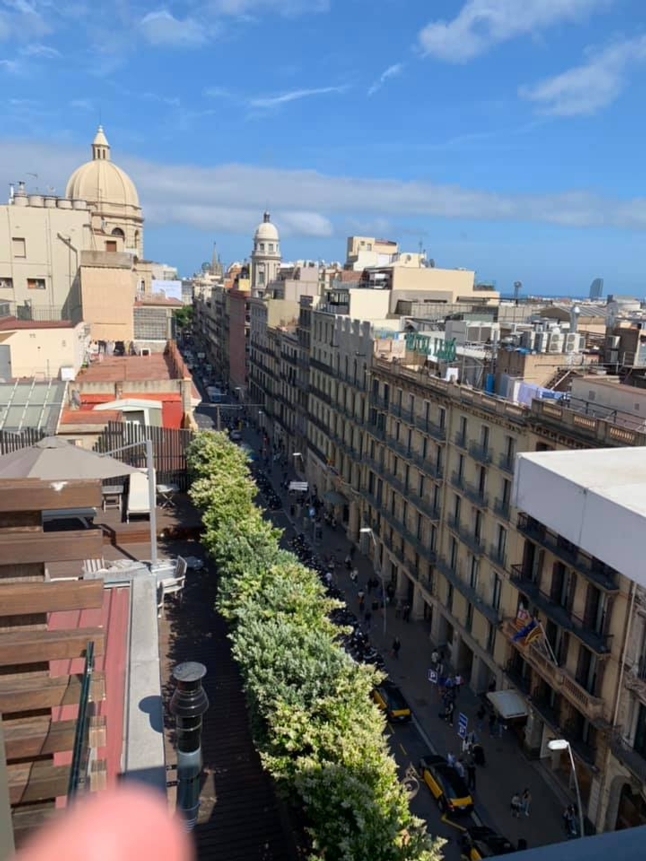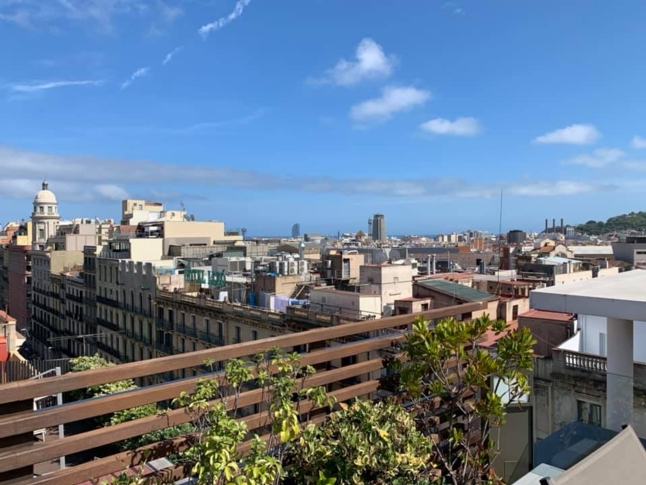 And now to Las Ramblas Plaza Catalunya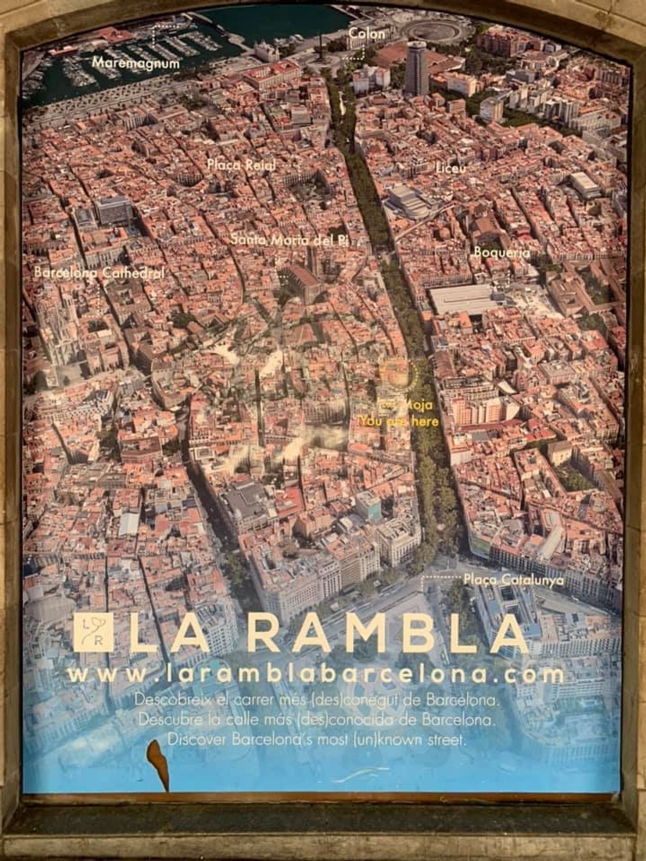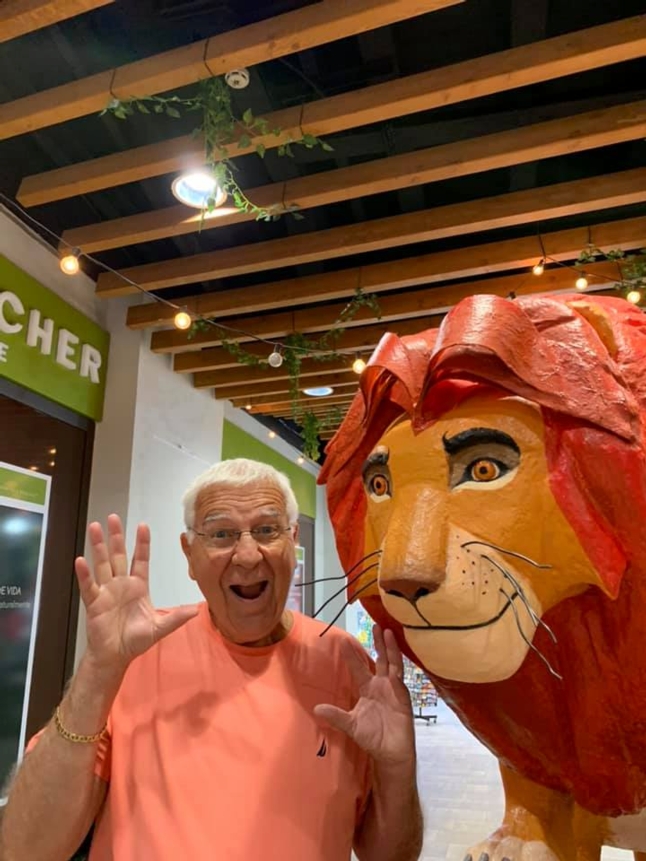 Don't you love the KFC sign in such an ancient city??!!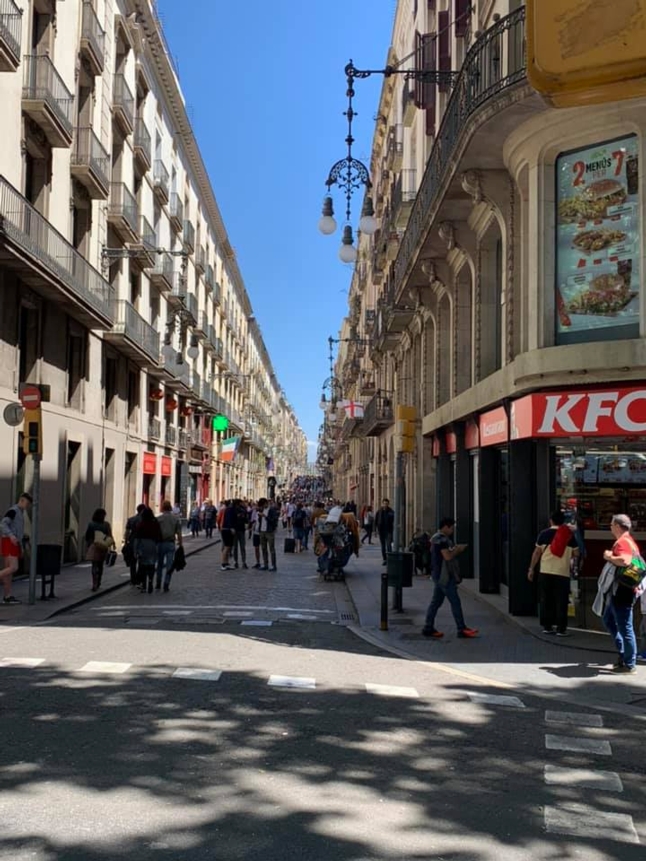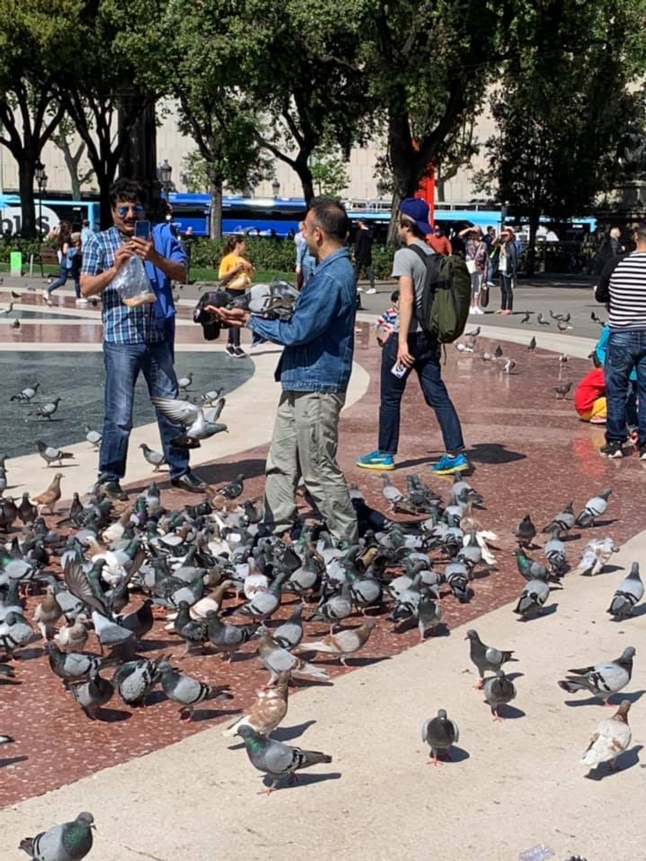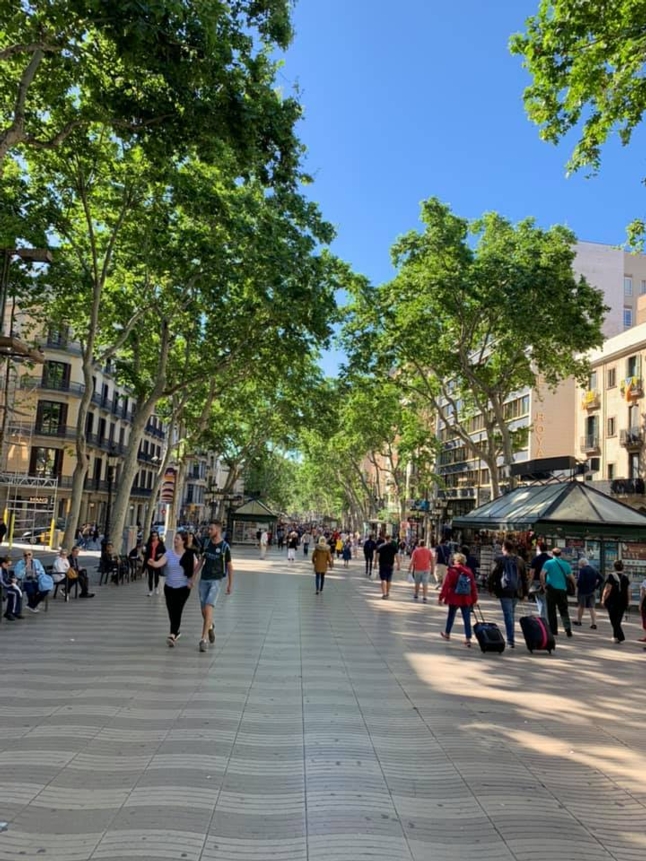 Mike is on his way home to Catawba today!
It will soon be bike week in Ohio and it is bike awareness month. The signs are up to be aware of bikes on the road. Here is a blog post I wrote a year ago about traveling bikes in Ohio:
It's Ohio Bike Week in Sandusky, Ohio right now. All those bikers you may have seen in Florence, Oregon last weekend at Rhody Days are now in Nothern Ohio on Lake Erie. This is toted as the "home of the Midwest's largest motorcycle rally." So while you are heading to the mountains, forests or beach for Memorial Day, the roads in Ohio are filled with Harleys. Beautiful riding machines!
The Mad-River Harley Davidson Store on Milan Rd in Sandusky hosts this annual week's event. The parking lot is filled with Harleys and with trailers that often carry them behind pickups from bike event to bike event. There are also many vendors hosted here with items for sale geared to the bikers. They also host a few events, give away a brand new Harley, and a trip to the H-D 115th Anniversary Celebration in Milwaukee during the week.
There is a lot going on through Memorial Day including live music, rides, a saloon and eats. There are a lot of bikes on the highways and streets in towns. There is a highway theme stating: There Are Motorcycles Everywhere! Look Twice, Save A Life!
There isn't a much freer feeling than cruising down the road on a Harley. But, remember that that freedom isn't free!
Here's our own Ron Hanson who says: "It's April, after all! What a great time to be in Paris with my daughter. April in Paris!" Thanks for sharing with us, Ron!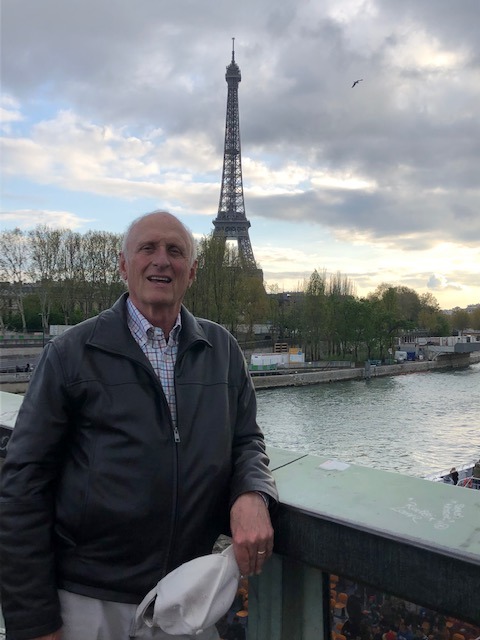 The Black River, Lorain, Ohio
Formed by the confluence of the West and East Branches of the Black River at Elyria, Ohio, the Canesadooharie River, once known as the Riviere en Gyrs, flows gently past Sheffield, Ohio and into Lorain, Ohio. The two named rivers were probably actually different rivers nearby.
It gets confusing because in the 1700s this river was known as both the Reneshoua River and la Riviere de la Cuiliere by early French and British explorers as the safest harboring spot along the 'cliffs.' These cliffs extended many miles along the Southern Lake Erie shoreline from here almost to the mouth of the Cuyahoga (the Crooked River). There were no beaches along the cliffs for landing even small boats and the cliffs were too steep and high to climb.
There is more convoluted history about this river involving falls, Native Americans, Col. James Smith who was captured by Native Americans, additional names and references to 'black pearls.' But most of it is conjecture and not confirmed as fact.
How the Black River got its name is unknown by historians although there is a hint that shale lined its banks and that was possibly the origin of this name.
Whatever that name origin, the river was home to Native Americans and eventually settlers. Development along the river into a major industrial area started in the 1800s.The United States Steel Corporation lived here, and, the steamboat "Lexington" was constructed by the Black River Steamboats Association. Shipbuilding eventually evolved into the American Ship Building Company producing the Great Lake vessels from 1818 to 1981. Additional industry was produced along this river including cement and the Ford Motor Company among others. Below is an abandoned industrial building.
As with the Cuyahoga, the Black River became polluted by industry. The industries died a slow death with steel surviving to this day as an industry and employer. But, the river has been revived with ecological renovations along its banks. Newer, better-retaining walls have been built with shelving for fish. This has produced the spawning of many varieties of native fish including the famous Lake Erie Yellow Perch, Walleye, varieties of Bass and others. Below is more abandoned industrial equipment.
The 4 miles of industrial banks of the river have been cleaned up in that the sludge has been moved back, away from the banks so the natural soil is exposed and producing native foliage and trees. This has brought in nesting eagles and Blue Heron. The double-breasted Canadian Cormorants have invaded here and are profuse in the upper river toward the end of the 4 miles. Their nests can be seen in the trees that become stripped, although not killed, by their very acidic droppings. And, large webbings of caterpillars cling to the tree branches. Below you can see the sludge in the background and the reclaimed river bank in the foreground. Can you see the Blue Heron?
And here are the Cormorants.
And Caterpillars!
This industrial-related boat is sunk to the bottom and has been abandoned for some time.
The Lorain Port Authority sponsors a variety of tours on the Black River. One of them is a Nature Tour that travels out to the Historic Lorain Lighthouse and then slowly back up the river with narration about the aforementioned details. Captain Ron has been piloting on the Great Lakes for 34 years, and on the Black River for several. He is very knowledgeable about the historical industrial sites, many of which left large structures behind. At the same time, Captain Ron can explain all of the ecological renovations and improvements along the 4 miles of riverbank. And, he knows all about the returning fish and waterfowl. It is a fascinating 2 and 1/2 hour tour about the come back of a very polluted Black River. Contact the Lorain Port Authority for details.
Thanks, Captain Ron!
While steel is still very much an industry in Lorain, it no longer pollutes the Black River as this abandoned complex can attest to.