Where In The World Are We?
While we anticipate more travel stories from a few classmates (being written as we speak), here's a 'meanwhile' post from my recent travels all the way to the West Flats! It was a spectacularly fun night with these very talented musicians. Watch for them cuz they'll be back!
The California Guitar Trio and The Montreal Guitare Trio
In another life, I spent 5 years as the reviewer for concerts presented by the Seacoast Entertainment Association of Florence, Oregon. I loved every minute of this 'job,' but some moments stand out more than others. Enter the California Guitar Trio and The Montreal Guitare Trio (who are thoroughly French-Canadian). Below, somewhere at the bottom, is my original review written in 2013. Fast forward to May 7, 2019, in Cleveland, Ohio. Prior to this date, I had seen the CGT in Phoenix twice in one year, the second time being April 7, 2019, just one month before their Cleveland concert. I'm starting to feel like a groupie.
CGT – on stage, Chandler Center for the Arts (Arizona)
The Music Box Supper Club in the Cleveland Flats (east side) on the Cuyahoga River was host to these two trios on the date mentioned above. Yes, I went out of my way to attend bringing a guitar friend with me. There was not a disappointing moment all evening long. The earthy French-Canadian/Gypsy flavors were present as well as Johann Sebastian Bach's "Toccata and Fugue in D minor" by the CGT. CGT is blessed with Bert Lam's classical education at the Royal Conservatory of Music in Brussels, Belgium. Who expects some guitar trio to walk out on stage and play Bach (intricately arranged by Bert)?? But, it just lends to Bert's talents and the uniqueness of the CGT.
Bert Lams (All photos are mine unless otherwise noted)
CGT has their own 'style' because the minute anything by them starts, I immediately recognize that it is CGT which has amazed me. But, they definitely have their own uncommon sound, and, they are all composers of original music they perform such as Hideyo Moriya's "Fortune Island," a commemorative piece to the Fukushima disaster. A masterful composition by Hideyo who is also an amazing guitar percussionist!
Hideyo Moriya
CGT is often billed as a 'jazz' trio which I find odd. First of all, I don't much like jazz and while some of what they perform actually is jazz, I like pretty much anything they play. However, they are much more eclectic in their styles of music and 'jazz musicians' is a misleading description for this trio. "The Train To Lamy" is a collaborative composition written by Bert, Hideyo and Paul Richards. It is actually a suite and starts out quite jazzy, sounds very country/western in the middle and then becomes one of the most beautiful pieces of music I've ever heard.
The California Guitar Trio–photo by permission of CGT
Paul Richards naturally has the look of a California-Surfer (think Beach Boys). And, he has the charm to go with it. They all smile because they all love and enjoy what they are doing. But, Paul's smile is perpetual and at the same time genuine. And he never misses a beat as he is usually in motion with the music. Not quite dancing, but close. Paul plays several different types of guitars and causes engaging sounds to stream out of them that I've never heard from a guitar before.
Paul Richards (in motion, as usual)
The Montreal Guitare Trio is based in, well, Montreal, Canada. They grew up speaking French and Marc Morin describes their speech as, "A sexy, French-Canadian accent." They even visit with each other during performances in French. The CGT and MGT have been collaborating and touring together for about ten years. And they do it very well. They have very different music styles but blend with each other flawlessly.
BTW, I am now the proud owner of 5 CGT and/or MGT CDs and will no doubt own more as it goes. Great traveling companions! You can visit their websites for the inventory of CDs and other neat stuff. https://cgtrio.com https://www.mg3.ca They each also have Facebook pages plus one together. You can query the names to find those pages. But, don't leave until you've finished reading this!
It would be difficult to describe Glenn Levesque, of MGT, without mentioning his voice. "Weird Fishes" (Radiohead) has grown on me but came home when I heard Glenn sing it in concert. His clear tones resonate into your soul. For me, it was a shut- your-eyes and let that awesome voice fill everything around you moment. And it did. There's an accent over the first e in Glenn's last name but this program hasn't a clue how to do that.
Glenn Levesque
Sebastien Dufour (accent over the first e) is the man in the middle. I had a friend with me who plays/performs guitar and he wanted to know HOW does he, Sebastien, get his fingers to travel that quickly over the strings?! I don't know but I wouldn't be surprised to see sparks flying out of Sebastien's guitar. Or even his charango which is a kind of Bolivian guitar. A charango is an ethnic instrument which means it is very similar to its original design that can be centuries or even thousands of years old. Original instruments aren't always easy to play but Sebastien makes it look easy. A charango looks much like a ukulele and sounds a bit like a mandolin.
Sebastien Dufour
Marc Morin is the one the other two claim is 'wearing' hair. They all play more than one instrument but Marc is the only one who plays accordion. Usually with his eyes closed. That's how good he is on anything he plays. Marc was worried that we were sitting in the 'loud' seats but we didn't notice. It was all just more than good. And fun. Lots and lots of fun!
Marc Morin
The MGT is also often toted as a jazz trio but that is a misnomer in their case too. They play a variety of music styles and do some unique mixing—opera with klezmer, Indian with Arabic. And often there is gypsy woven into many of their selections, and/or Flamenco and/or French-Canadian folk music. And they, too, compose. Marc said one of his favorite things is to play for folk dancing in Montreal. Being a folk dance teacher I just said: "La Bastringue." They immediately knew what I meant. Sebastian assures me that it is now on their set list. I can't wait to hear it next time (and there WILL be a next time as I've become a guitar junky and big fan of these 2 trios). I may get up and dance if I can find a partner!
The Montreal Guitare Trio – photo by permission of MGT
Watch for them to come your way as they play everywhere, even some small towns like Florence, Oregon. Don't miss any opportunity to see/hear them! You will be glad you did. BTW, they are great fun so you will be immersed in fun you didn't know would be happening in a concert filled with top-notch musicians. They were kind enough to pose for this photo. We're not sure where Glenn was. As Marc said, we were trying to herd cats. I need a better camera!
I leave you with one of the pieces they have much fun with! You will like it! Listen for the French-Canadian folk tune….video by permission of CGT & MGT
Oh, yes, the review from 2013:
SIX GUITARS ROCK FEC
In a mix of "Once Upon A Time In The West" written by Ennio Morricone blending with traditional Eastern European and Russian tunes, the distinct sounds of nylon guitar strings flowed across Florence Events Center performance hall on Saturday, November 23.
Following introductions by SEAcoast Entertainment Association President Ernie Doud and SEA Producer Sandy Kuhlman, the eclectic music stylings of the Montreal Guitar Trio opened this exciting evening of entertainment.
Rooted in traditional French-Canadian music, Glenn Levesque, Marc Morin and Sebastien Dufour have gathered into their musical characteristics many of the earthy, ancient traditional sounds and stylings of the world.
Composed by Dufour, "Garam Masala" displays the musical spicy blend that its name suggests. This piece requires special tuning to acquire the sounds of the traditional sitars of India. Melding traditional Indian and Middle Eastern music perfectly, the many talents of this trio stand out. The ancient vocals put forth by Levesque transport one to the deserts of the Bedouin.
Suddenly we are transported to Classical Era drawing rooms by the evening's second group, the California Guitar Trio, with their steel string rendition of Beethoven's "Ode To Joy". A definite change in styling, there is now a blend of classical, blues and more by these world-class musicians.
Hailing from Japan, Belgium, Utah and having met in England, Bert Lams, Hideyo Moriya and Paul Richards eventually settled in the U.S. 22 years ago to become the California Guitar Trio.
One repeated element of the evening stands out during a nostalgic and very California surfer moment, "Walk Don't Run" written by Johnny Smith and made famous by The Ventures. Richards, Lams and Moriya actually appear to be engaged in happy conversation with each other through their execution of the music. Conversation is again evident in Richards' unique "Chacarera."
Following the intermission, both trios returned to the stage to perform original and arranged compositions together. "Breizh Tango" written by Levesque combines the traditional folk music of Brittany in France and tango that leans toward gypsy styling to heights unimagined until now. Audience participation is encouraged to the gypsy rhythm.
One of the more beautiful moments of the evening was during George Harrison's "My Guitar Gently Weeps". In an artfully extended arrangement, Levesque sang the former Beatle's composition with all the emotion it deserves to the accompaniment of six guitars.
The audience was on its feet more than once during the evening clapping and vocalizing their appreciation. At the end, the attendees refused to sit or leave or stop clapping and cheering until the two trios returned for an encore.
It is impossible not to recognize the opening strains of Freddy Mercury's "Bohemian Rhapsody". While playing their elegant arrangement, Morin turned the microphone toward the audience encouraging them to sing along. Surprisingly they did reflecting a youthful presence in this almost sold out hall.
One audience member summed up for all attendees in her statement: "This was the best concert they've ever had!"
Mike Callahan is on a cruise ship to exotic places (well, exotic to me at least). He is sharing his adventure in pictures with all of us. Enjoy!
I think this is a typical view aboard ship!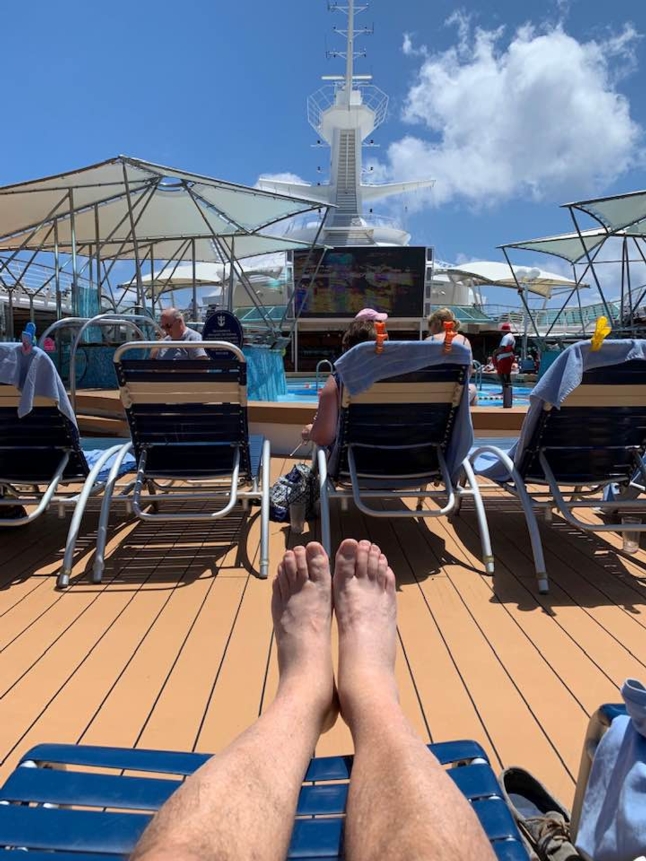 Mike is traveling on the Rapsody At Sea to Barcelona with stops along the way. Below he is in the Canary Islands.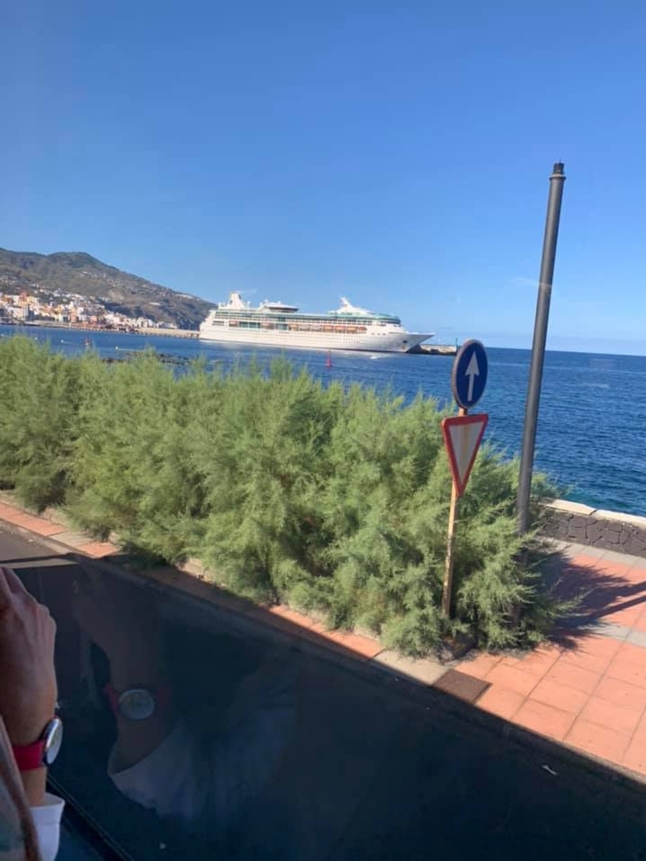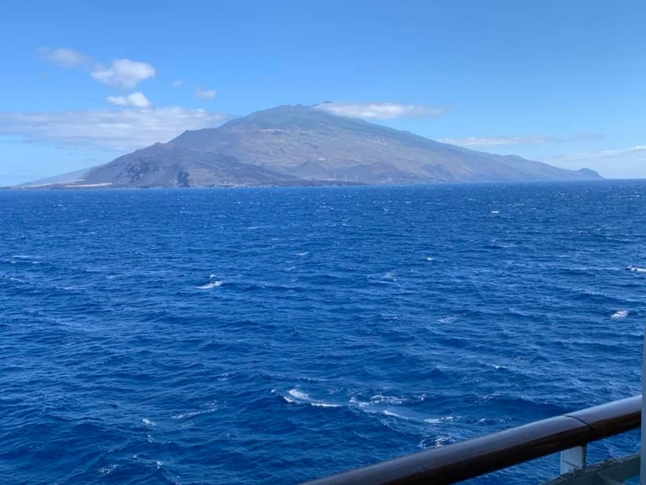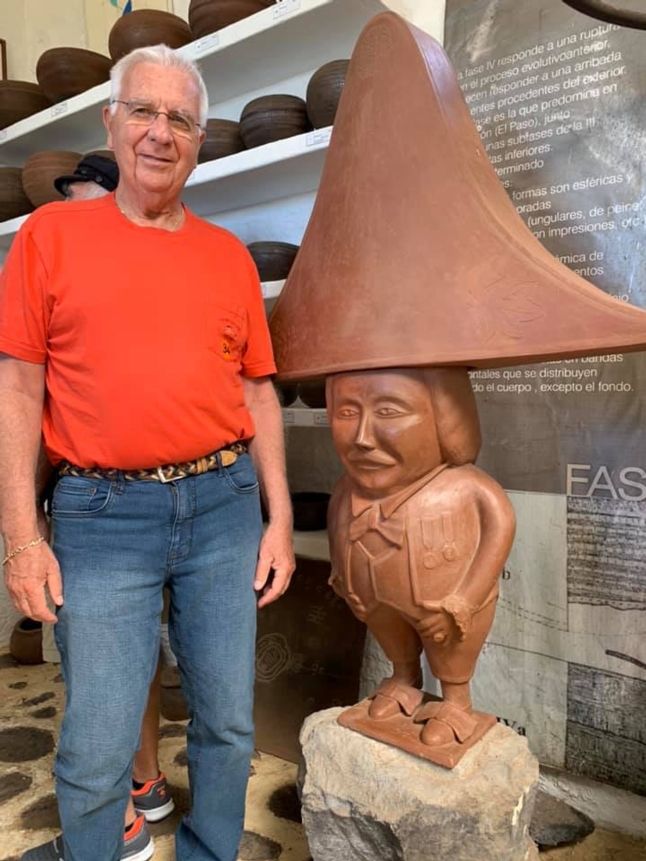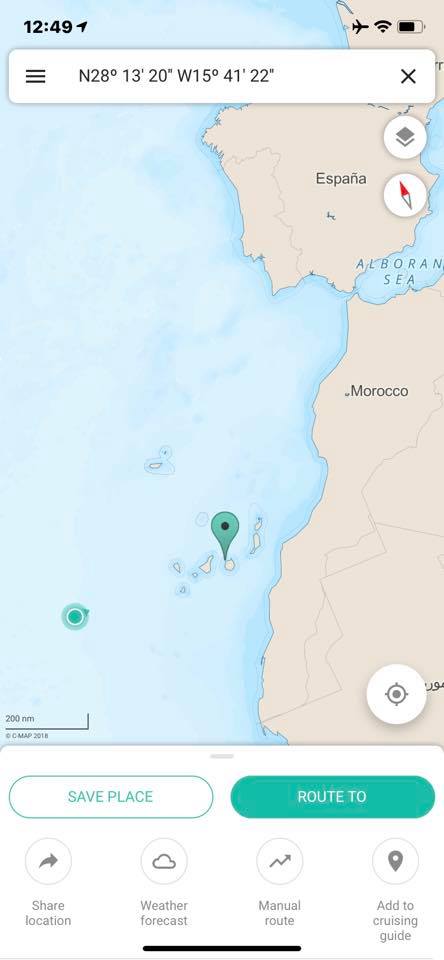 Off the Coast of Africa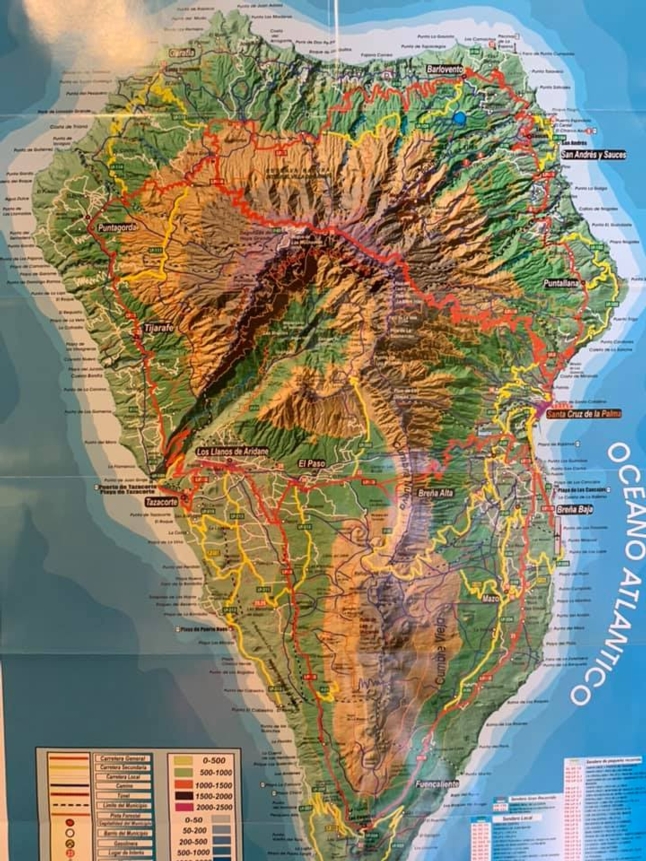 You'll need to ask Mike about these when he returns. Beer? Wine? Scotch?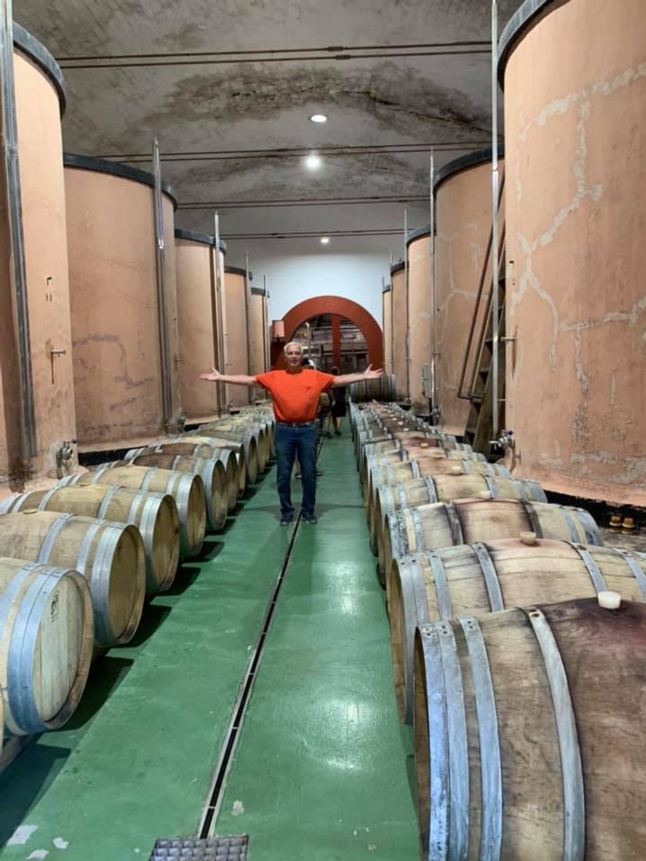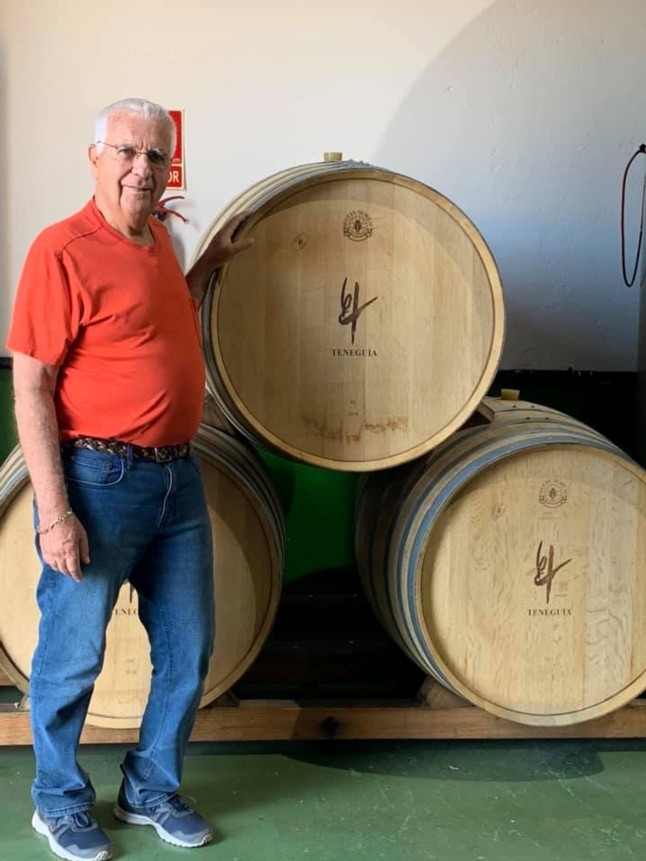 Passing the Rock of Gibraltar at Sunrise on the way to Malaga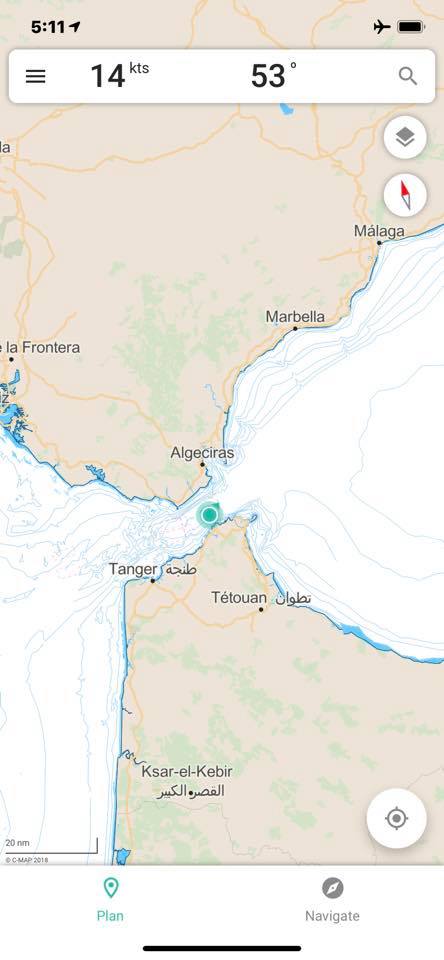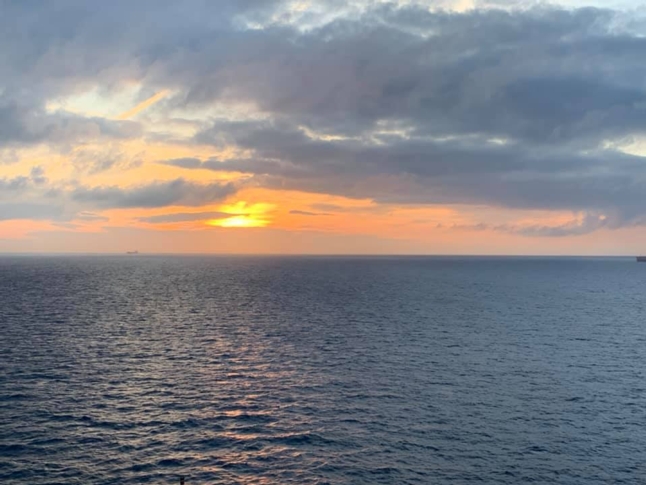 And some more sights along the way: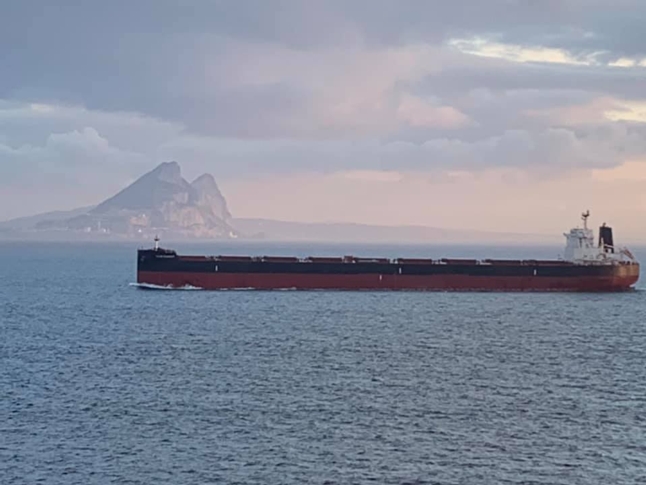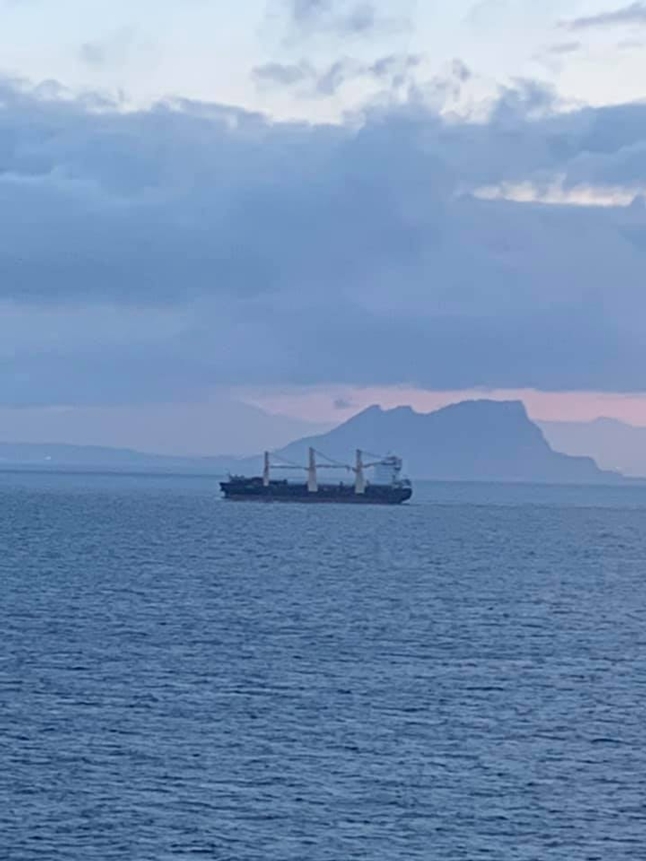 Thanks for sharing, Mike!! Watch for more from Mike as he cruises on.....
And here are a few more photos from Mike today: Birthplace of Pablo Piccaso. One of the oldest cities in Europe on the Spanish Costa del Sol. Malaga, Spain. The weather is a lot better than Northern Ohio!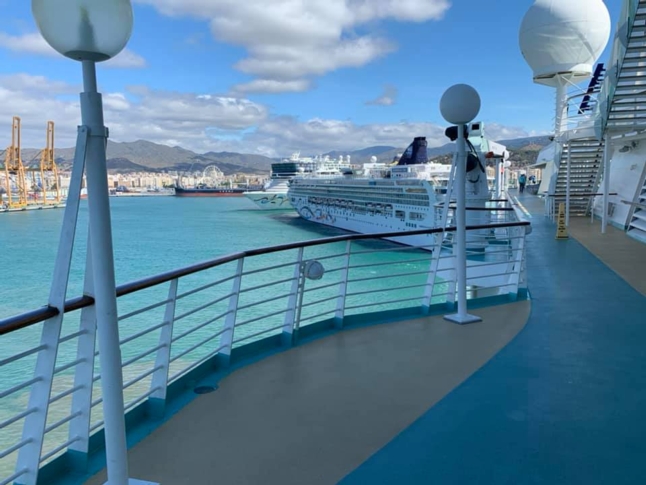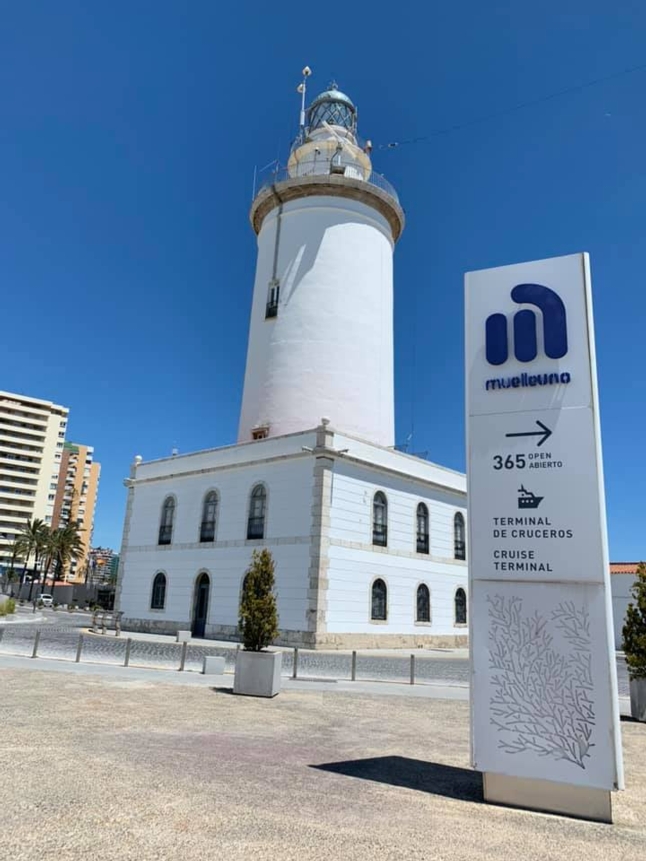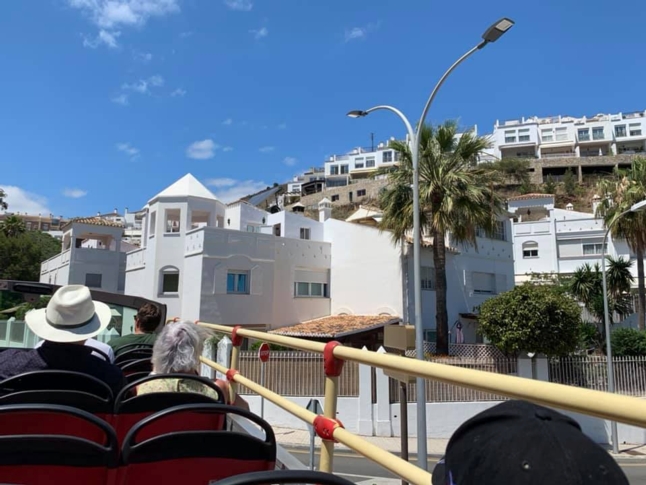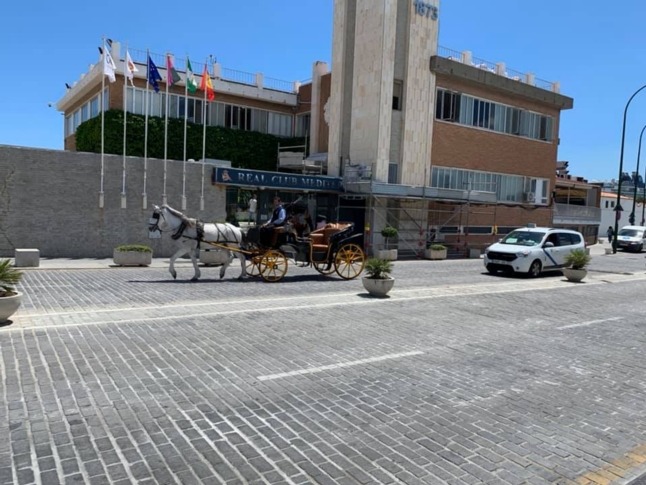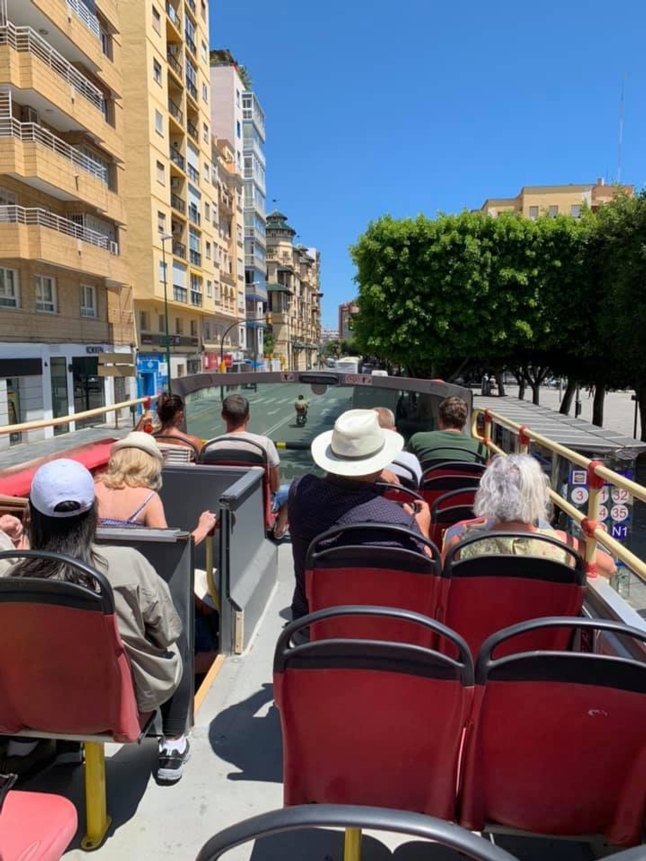 Watch for more to come!.
Mike is in Barcelona, Spain right now and says: "Barcelona is a city best seen on foot. We walked over 15 miles in three days. And I would do it again. Great wines and Tapas!" Here are some photos he took at the Hotel Jazz and Las Ramblas Plaza Catalunya.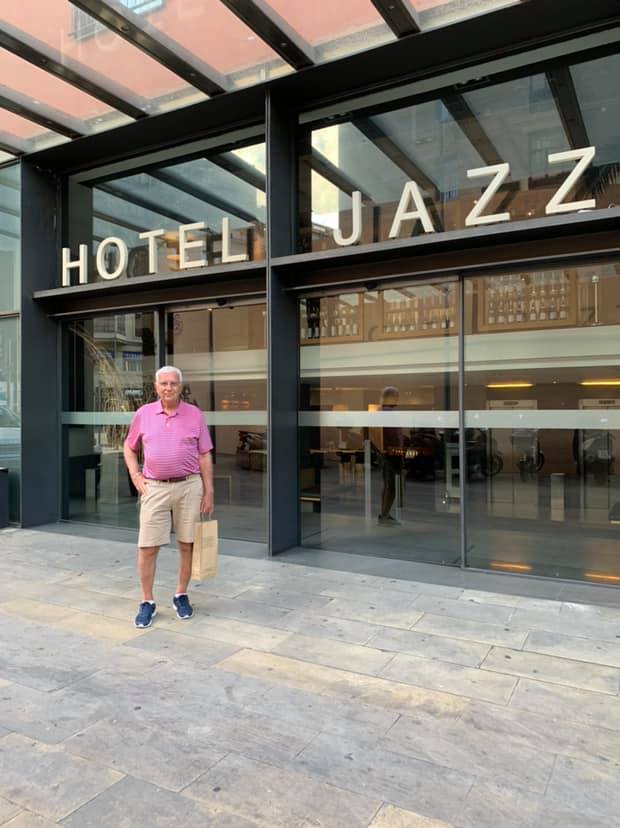 These photos were taken from the rooftop of the Hotel Jazz which has a pool and a bar and is located in the heart of the city.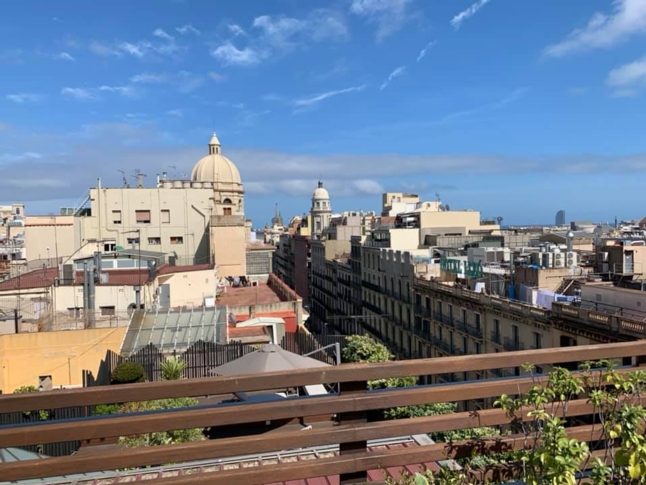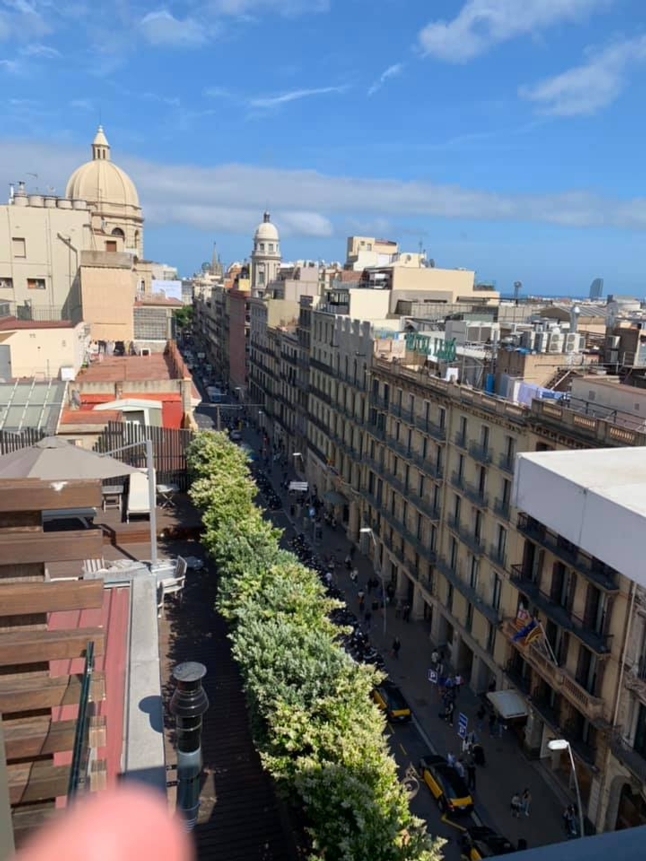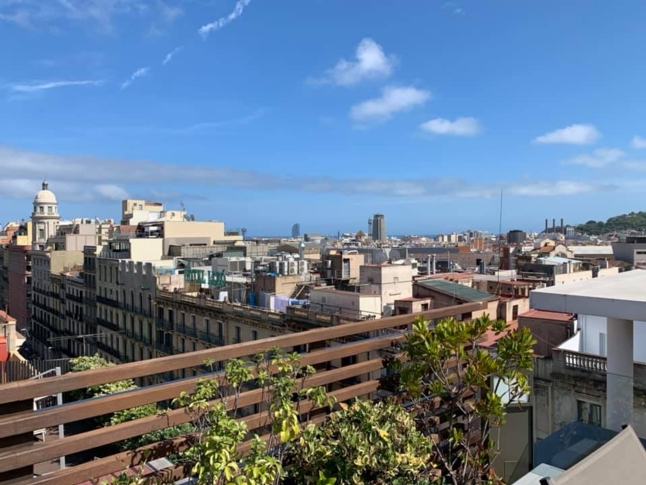 And now to Las Ramblas Plaza Catalunya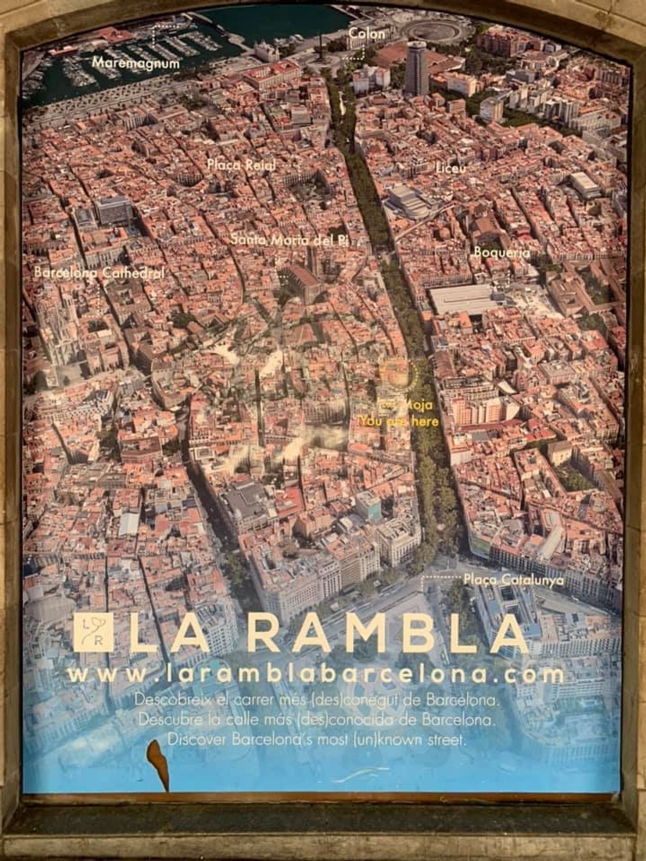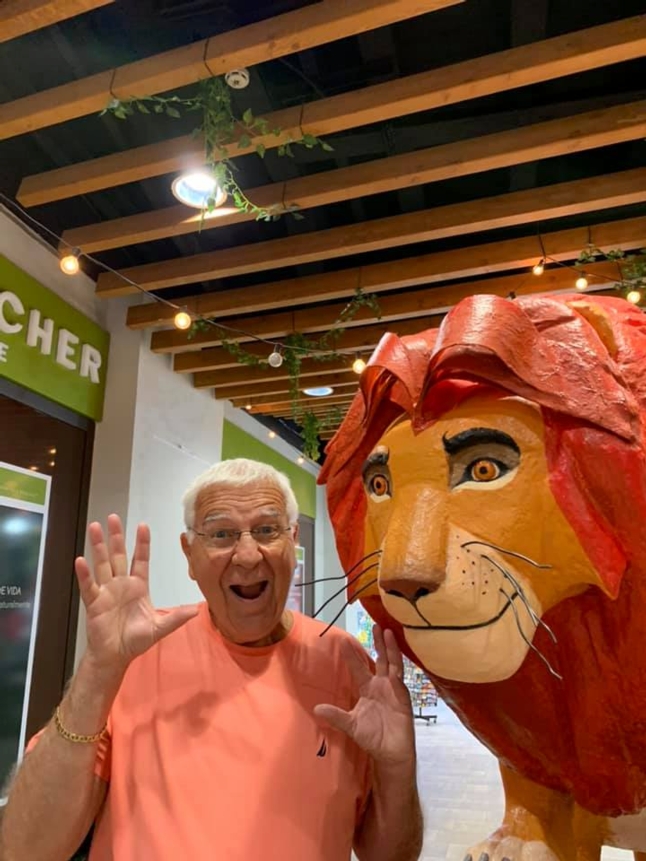 Don't you love the KFC sign in such an ancient city??!!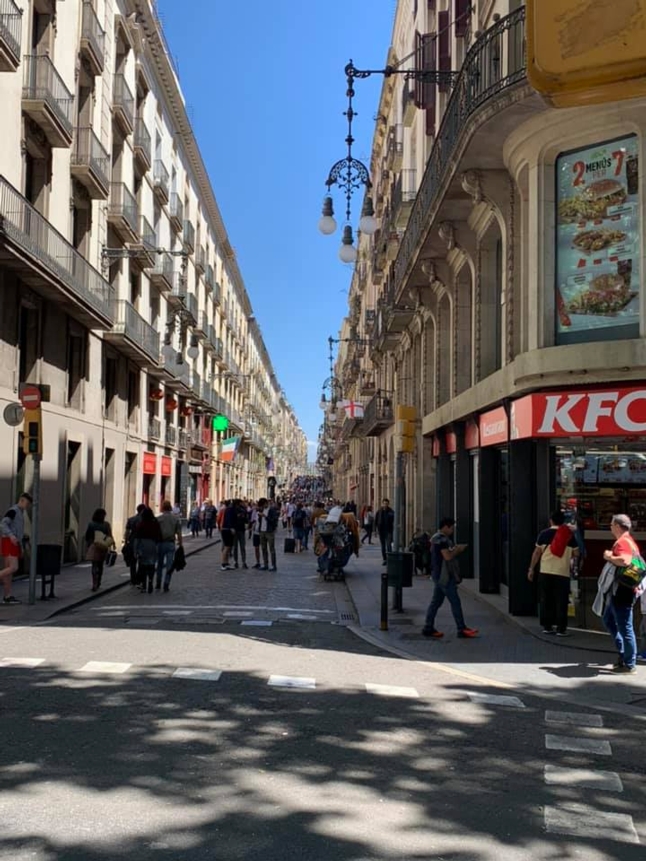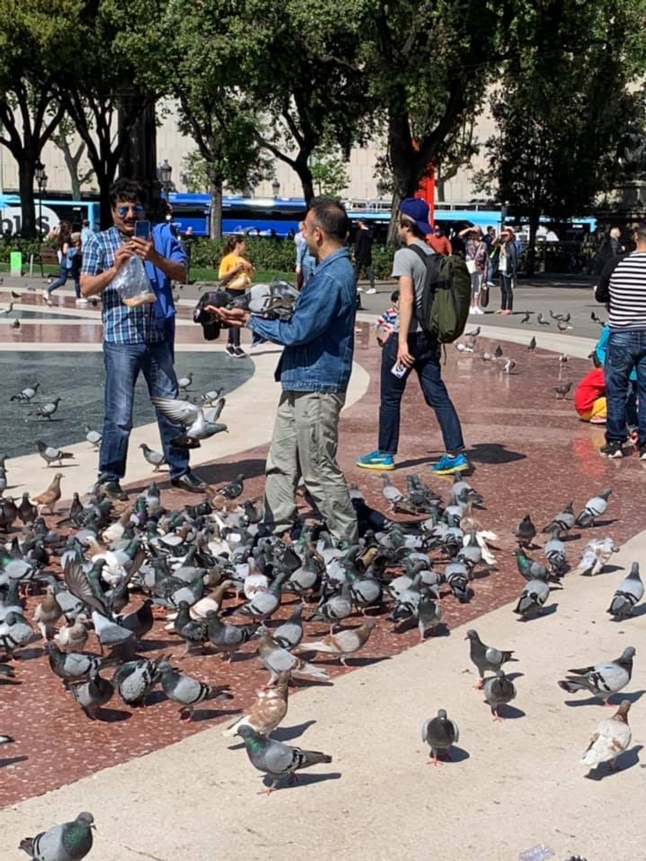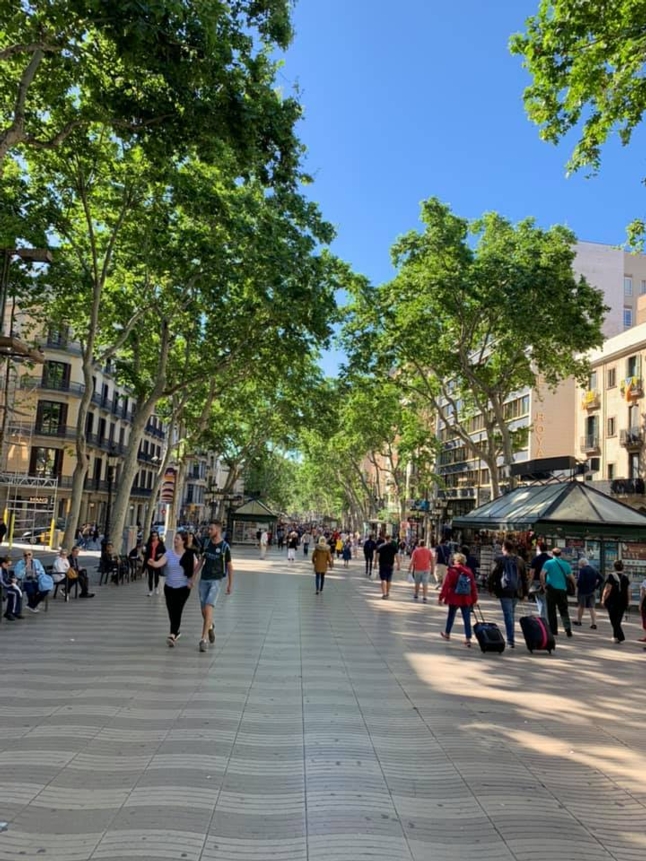 Mike is on his way home to Catawba today!
It will soon be bike week in Ohio and it is bike awareness month. The signs are up to be aware of bikes on the road. Here is a blog post I wrote a year ago about traveling bikes in Ohio:
It's Ohio Bike Week in Sandusky, Ohio right now. All those bikers you may have seen in Florence, Oregon last weekend at Rhody Days are now in Nothern Ohio on Lake Erie. This is toted as the "home of the Midwest's largest motorcycle rally." So while you are heading to the mountains, forests or beach for Memorial Day, the roads in Ohio are filled with Harleys. Beautiful riding machines!
The Mad-River Harley Davidson Store on Milan Rd in Sandusky hosts this annual week's event. The parking lot is filled with Harleys and with trailers that often carry them behind pickups from bike event to bike event. There are also many vendors hosted here with items for sale geared to the bikers. They also host a few events, give away a brand new Harley, and a trip to the H-D 115th Anniversary Celebration in Milwaukee during the week.
There is a lot going on through Memorial Day including live music, rides, a saloon and eats. There are a lot of bikes on the highways and streets in towns. There is a highway theme stating: There Are Motorcycles Everywhere! Look Twice, Save A Life!
There isn't a much freer feeling than cruising down the road on a Harley. But, remember that that freedom isn't free!
Here's our own Ron Hanson who says: "It's April, after all! What a great time to be in Paris with my daughter. April in Paris!" Thanks for sharing with us, Ron!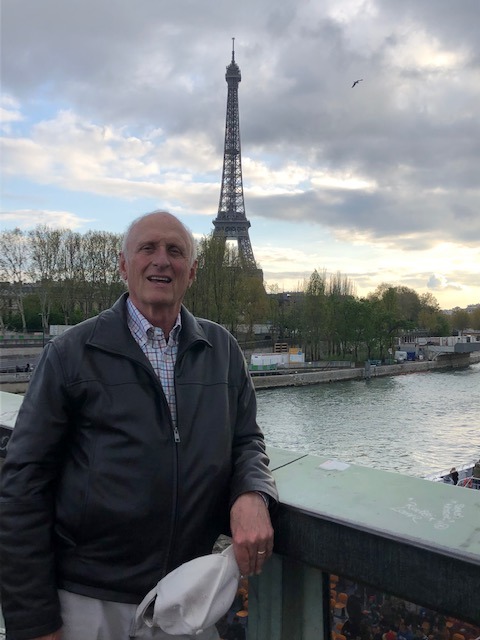 The Black River, Lorain, Ohio
Formed by the confluence of the West and East Branches of the Black River at Elyria, Ohio, the Canesadooharie River, once known as the Riviere en Gyrs, flows gently past Sheffield, Ohio and into Lorain, Ohio. The two named rivers were probably actually different rivers nearby.
It gets confusing because in the 1700s this river was known as both the Reneshoua River and la Riviere de la Cuiliere by early French and British explorers as the safest harboring spot along the 'cliffs.' These cliffs extended many miles along the Southern Lake Erie shoreline from here almost to the mouth of the Cuyahoga (the Crooked River). There were no beaches along the cliffs for landing even small boats and the cliffs were too steep and high to climb.
There is more convoluted history about this river involving falls, Native Americans, Col. James Smith who was captured by Native Americans, additional names and references to 'black pearls.' But most of it is conjecture and not confirmed as fact.
How the Black River got its name is unknown by historians although there is a hint that shale lined its banks and that was possibly the origin of this name.
Whatever that name origin, the river was home to Native Americans and eventually settlers. Development along the river into a major industrial area started in the 1800s.The United States Steel Corporation lived here, and, the steamboat "Lexington" was constructed by the Black River Steamboats Association. Shipbuilding eventually evolved into the American Ship Building Company producing the Great Lake vessels from 1818 to 1981. Additional industry was produced along this river including cement and the Ford Motor Company among others. Below is an abandoned industrial building.
As with the Cuyahoga, the Black River became polluted by industry. The industries died a slow death with steel surviving to this day as an industry and employer. But, the river has been revived with ecological renovations along its banks. Newer, better-retaining walls have been built with shelving for fish. This has produced the spawning of many varieties of native fish including the famous Lake Erie Yellow Perch, Walleye, varieties of Bass and others. Below is more abandoned industrial equipment.
The 4 miles of industrial banks of the river have been cleaned up in that the sludge has been moved back, away from the banks so the natural soil is exposed and producing native foliage and trees. This has brought in nesting eagles and Blue Heron. The double-breasted Canadian Cormorants have invaded here and are profuse in the upper river toward the end of the 4 miles. Their nests can be seen in the trees that become stripped, although not killed, by their very acidic droppings. And, large webbings of caterpillars cling to the tree branches. Below you can see the sludge in the background and the reclaimed river bank in the foreground. Can you see the Blue Heron?
And here are the Cormorants.
And Caterpillars!
This industrial-related boat is sunk to the bottom and has been abandoned for some time.
The Lorain Port Authority sponsors a variety of tours on the Black River. One of them is a Nature Tour that travels out to the Historic Lorain Lighthouse and then slowly back up the river with narration about the aforementioned details. Captain Ron has been piloting on the Great Lakes for 34 years, and on the Black River for several. He is very knowledgeable about the historical industrial sites, many of which left large structures behind. At the same time, Captain Ron can explain all of the ecological renovations and improvements along the 4 miles of riverbank. And, he knows all about the returning fish and waterfowl. It is a fascinating 2 and 1/2 hour tour about the come back of a very polluted Black River. Contact the Lorain Port Authority for details.
Thanks, Captain Ron!
While steel is still very much an industry in Lorain, it no longer pollutes the Black River as this abandoned complex can attest to.